What is LOOK! Albany Center Gallery's Youth Art Program Series?
---
LOOK! is a year-round workshop series for youth interested in the arts with organizations and young creative professionals of the Capital Region. Through collaboration with local artist mentors and their personal creative voices, the youth produce artwork of a myriad of mediums and varieties. Each youth has the opportunity to come up with their own concept and together, we help make their visions come to life. Each year the program grows to meet the art needs of the community.

ACG wants to ensure that underrepresented communities and individuals (for example, youth of color, as this is a population often overlooked by arts institutions) are receiving opportunities for thoughtful, free art activities. LOOK! adds vibrant color and activates spaces while creating sustainable lessons in teamwork, professionalism, literacy, and creativity. Art uplifts and inspires. The more art that is everywhere, the more demand and acceptance for an artfully vibrant Albany and beyond there will be.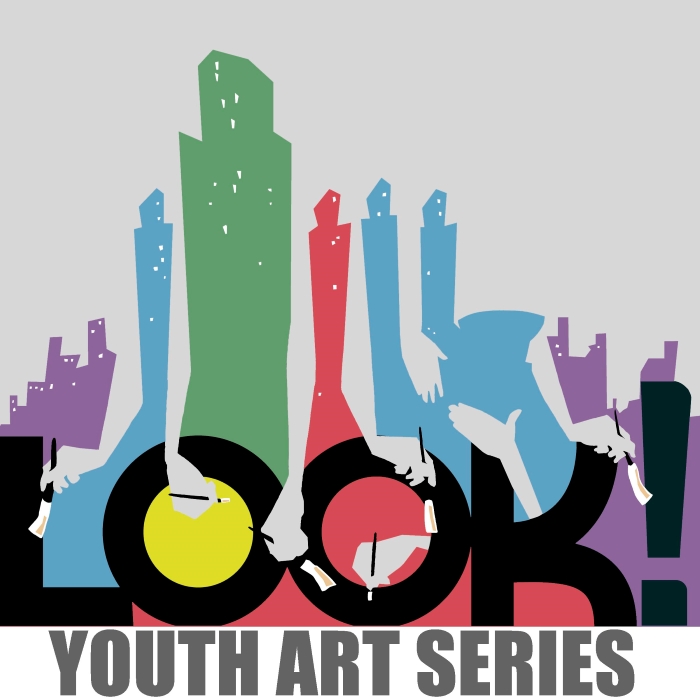 LOOK! 2022: Art.Work.Space.
ACG hosts monthly youth art workshops (coined Art.Work.Space.) in partnership with The RED Bookshelf. The programs are led by local artist mentors on the 2nd Saturday of each month throughout the year. The themes of the workshops will depend on what the youth want and the medium(s) of each artist. We will have workshops in writing, mural painting, screen printing, comic book making, collaging, clothing design, graphic design, watercolor painting, music, poetry, literacy, and more!
The physical Art.Work.Space. showcases the youth's artwork, hosts additional community programming and celebrations, and is utilized as a creative workspace. It is a vibrant, colorful environment for artmaking, art-sharing, and dialogue about art!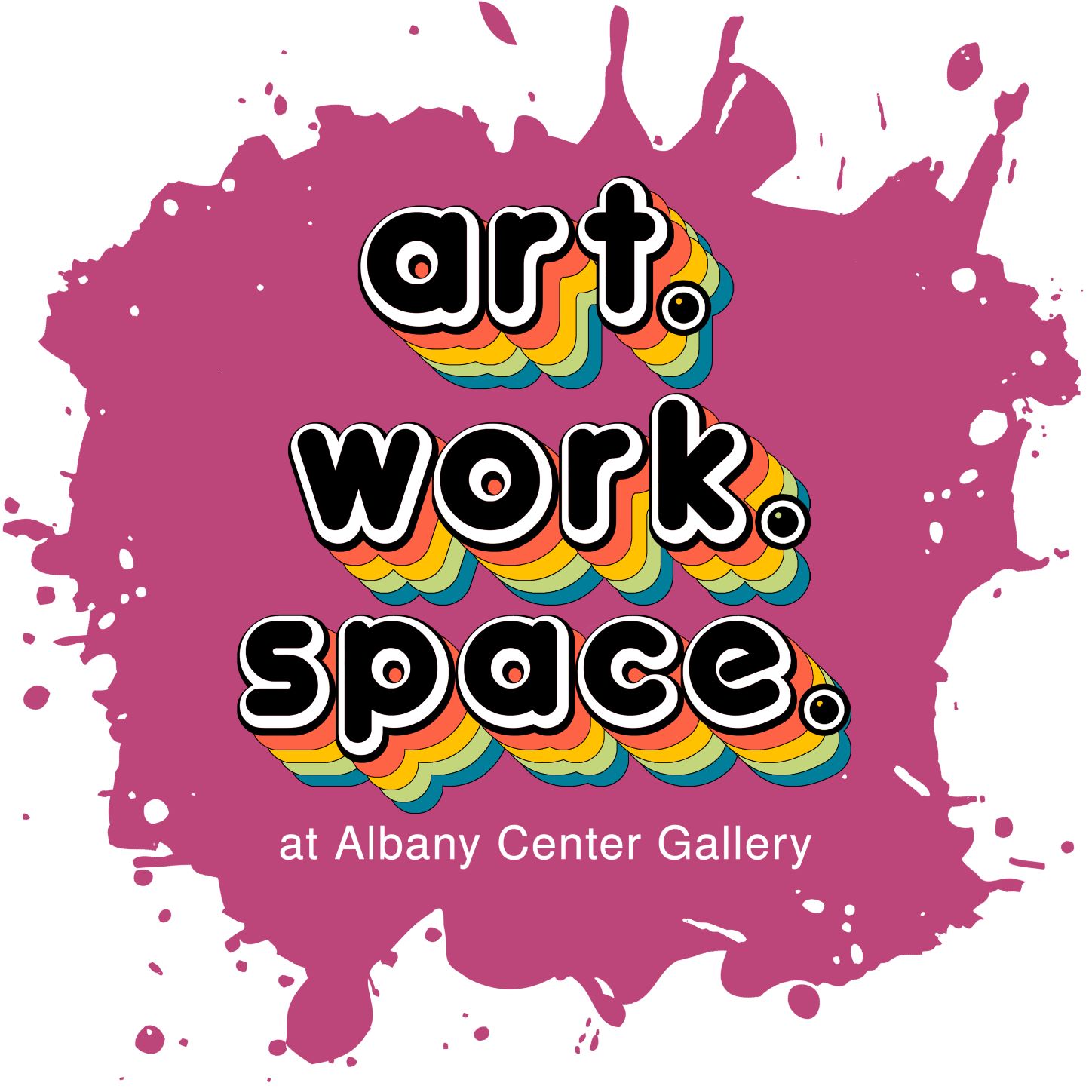 LOOK! 2022: ACG & United Way Summer Meals Collaborative Program
Beginning July 5 and going until August 24, Artist Mentors will be at the Creighton Storey location of the United Way Summer Meals Program in Albany every week on Tuesdays and Wednesdays! Artists will work with youth on creating a large mural, spending a week on each letter that will eventually spell out "DREAM BIG" that will be displayed at Creighton Storey once complete. The artists will also work with the youth to paint and draw on small tiles, donated by Hudson Valley Tile, to be able to have small works of art to take home with them at the end of the program!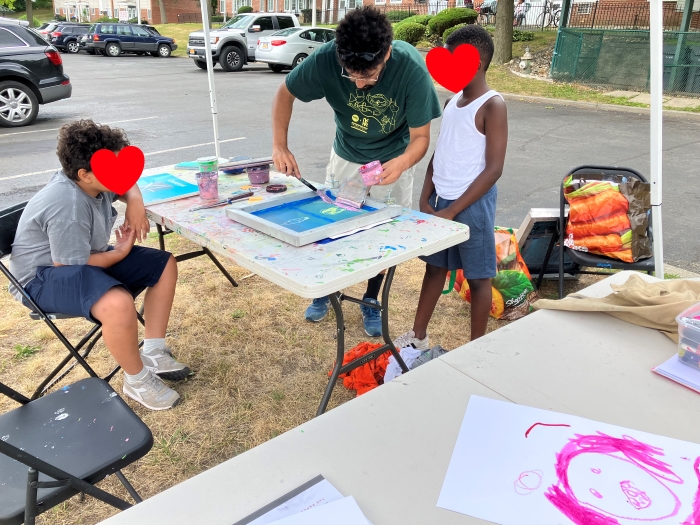 LOOK! 2022: (2) YMCA and ACG Youth Art Workshops
ACG Partnered with the Capital District YMCA for 2 Youth Art Programs, located at Jerry Burrell Park in Schenectady; as well as Giffen Memorial Elementary School in Albany!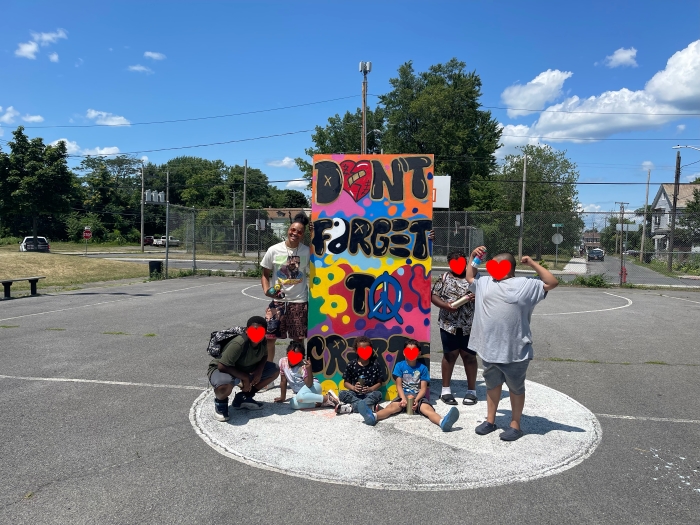 LOOK! 2022: Connect Center for Youth Canva Art Workshop
Albany Center Gallery partnered and worked with the Connect Center for Youth to create a free workshop for Cohoes Youth to learn the program Canva. ACG Staff and Artist Mentor Molly led the workshop and taught the kids about the Canva program and the endless possibilities it has for art making!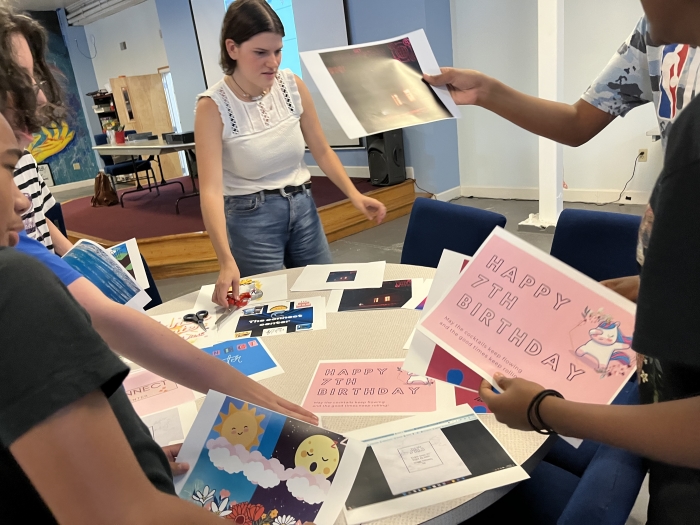 LOOK! 2022: Berkshire Farm Center & Services for Youth Art Program
ACG, Berkshire Farm Center & Services for Youth, and Artist Mentor Oscar held a Youth Art Program to teach kids about mural art, spoken word, and collaboration. They painted a mural at Berkshire Farm Center that reads Sky's the Limit in vibrant colors!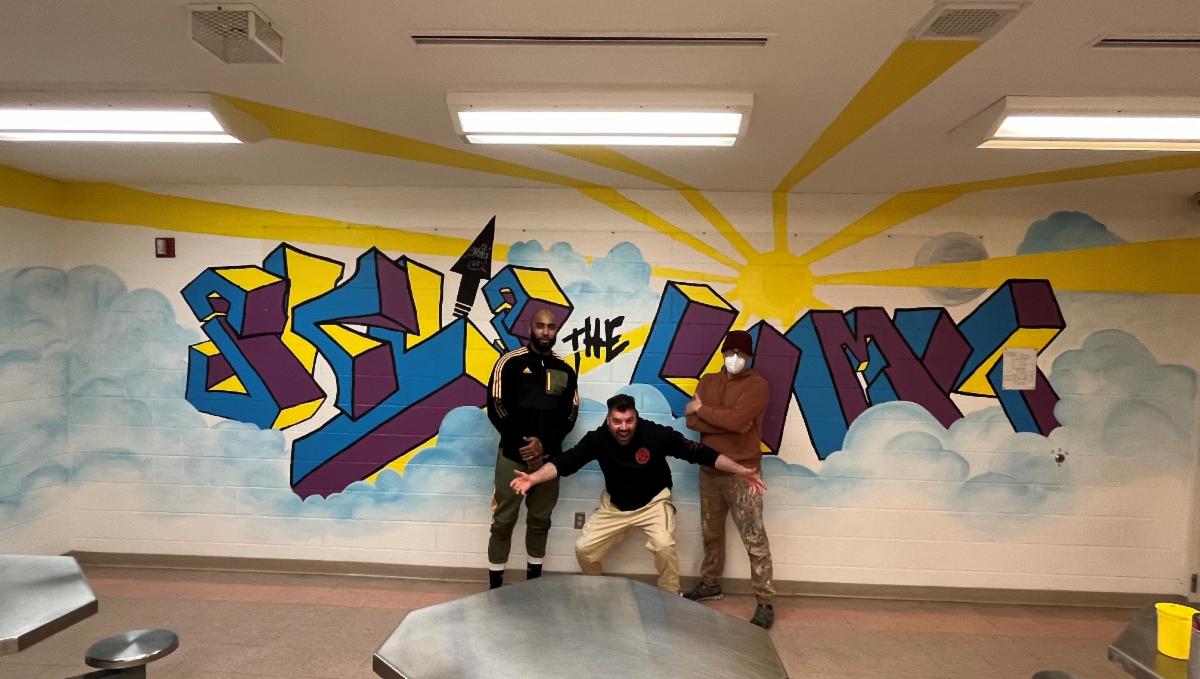 LOOK! 2021: RISSE & ACG Youth Summer Program
ACG teamed up with RISSE (Refugee and Immigrant Support Services of Emmaus) for a 4 week long youth art program lead by multi-disciplinary artist mentor D. Colin. This art component was an additional element to RISSE's already existing 6 week long summer program. Artist Mentor Jordan Hill also held an African drumming and dancing class with the participants.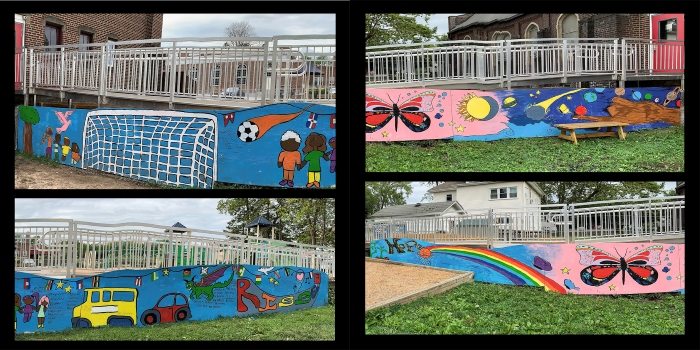 LOOK! 2021: Frank Chapman Memorial Institute Youth Art Program
Albany Center Gallery teamed up with Frank Chapman Memorial Institute with additional support from The RED Bookshelf to bring a new LOOK! Youth Art Program-- led by Artist Mentors Kim Tateo  & Sean McLaughlin! Artist mentors Kim & Sean worked with 15-20 students from FCMI to create murals on site filled with the youth's inspirational, colorful, and uplifting visions.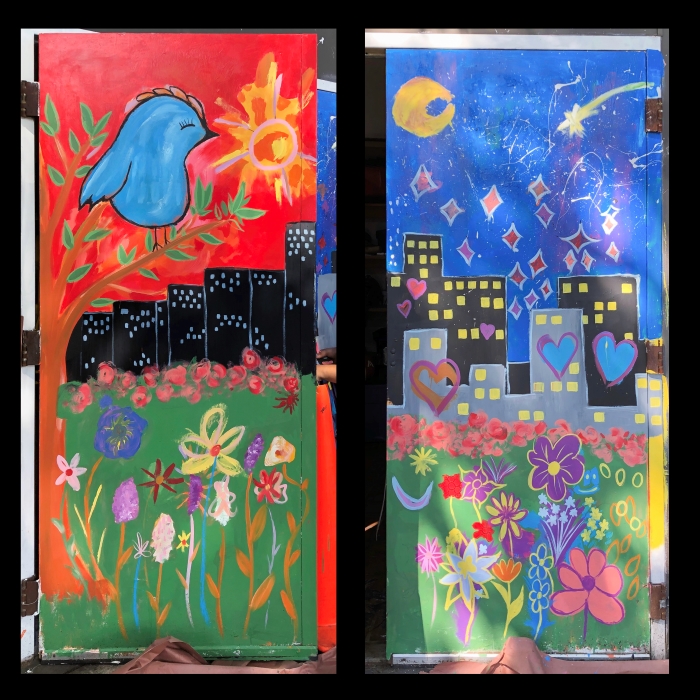 LOOK! 2021: ArtStreet Youth Art Workshop
ACG partnered with Grand Street Community Arts for the ArtStreet Youth Art Workshop! Youth participants created their own unique art pieces, guided by local artist mentors on a subject or topic of their choosing. Their completed paintings were then shown at the Albany Capital Center in the front lobby of their exhibition, "Michelangelo - A Different View." 
See photos and learn more, click here.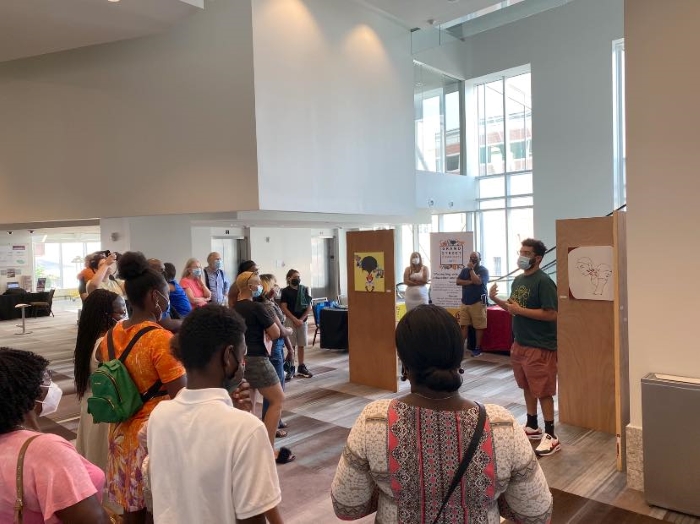 LOOK! 2021: The RED Bookshelf 1000 Word Contest
Participants of the contest wrote an essay inspired by a Capital Walls Mural throughout downtown Albany. This community contest was brought to you by The RED Bookshelf, Albany Barn, and Albany Center Gallery. Capital Walls is a partnership between Albany Barn, Albany Center Gallery, and Albany Parking Authority.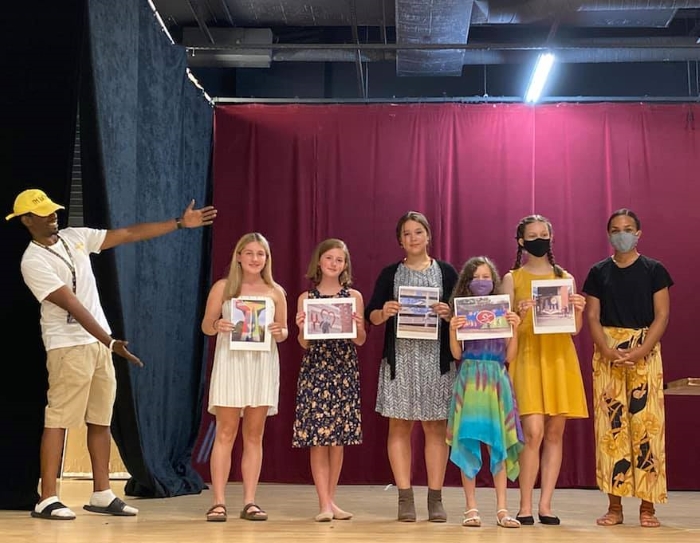 LOOK! 2021: Connect Cohoes Youth Art Program
The Connect Center and Albany Center Gallery held a collaborative youth art workshop weekend which was designed to encourage creativity, collaboration, and youth empowerment. We worked together with the Connect Center, youth, the Duane X Arts Foundation, and local artist mentors (D. Colin, DeSean Skillz, and Brian White) to fill the Connect Center with youth created murals. Here's to more artful walls by the young artists' of the community!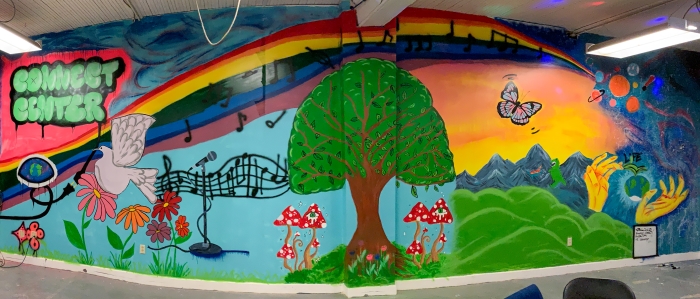 LOOK! 2020: Summer Youth Employment Program
The youth have workshops by local artist mentors, visit public art, and work closely with each other, and Lead Artist Mentor Eugene O'Neill and ACG Staff. By the end of the program, each participant will have created their very own 4'x8' moveable mural that will be put in public. More Art Everywhere.
Read more and see photos here.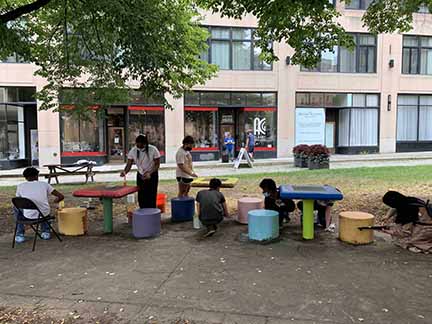 LOOK! 2019: Corner Canvas
Corner Canvas provides resources for creativity and empowerment to the community and by utilizing the rich cultural assets in the region. This program gives an opportunity for the youth in the community to share their creative imagination and capabilities, through the restructure of vacant buildings and sparse lots. They come together to foster positive change through leading by example, creative expression, and the power of collaboration.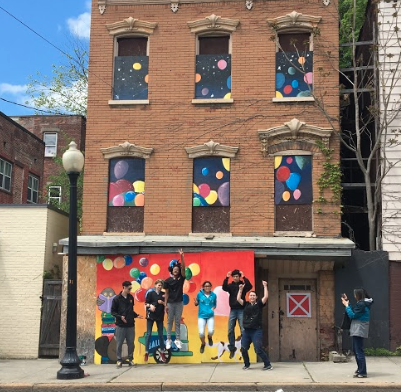 LOOK! 2018: The Art of Recycling
LOOK! gives local youth the opportunity to work with professional artists to explore art centered around a theme; in 2018, that theme was the art of recycling. Kids toured the 2018 Mohawk Hudson Regional Invitational and learned about how artists repurpose found materials to create works of art.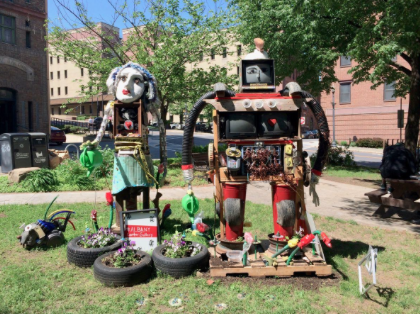 LOOK! 2017: Kids' Eye View ALB
ACG paired members of the Bus Stop Club aged 8-14 with professional photographers for an afternoon exploring and photographing the area around ACG. Then, the high-resolution images were wheat-pasted on the building next door to the arcade on Maiden Lane. The result was a youth-focused public photography project that brightened the space by ACG.