Berkshire Farm Center & Services for Youth Art Program
Tags: Gallery News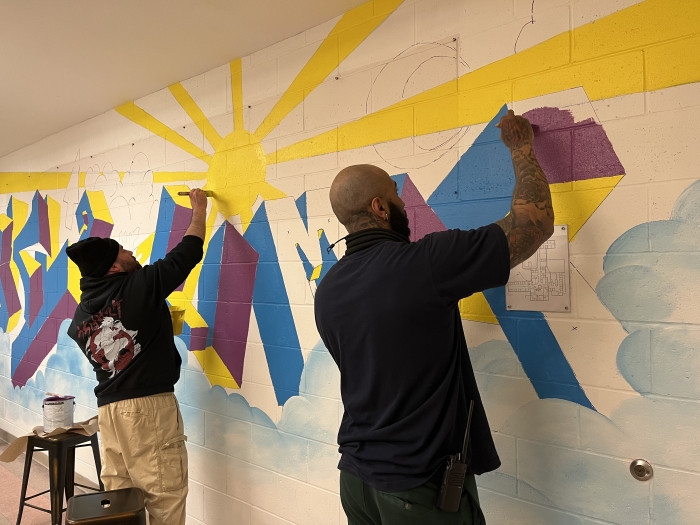 Oscar and Berkshire Staff Mr. T working on the mural.
---
ACG, Berkshire Farm Center & Services for Youth, and Artist Mentor Oscar held a Youth Art Program – check out the final mural result below!
Artist Mentor Oscar taught kids about mural art, spoken word, and collaboration. They painted a mural at Berkshire Farm Center that reads Sky's the Limit in vibrant colors!With more workshops to come in partnership with both the Center and Oscar, we are so excited to see what each youth will bring and what amazing art everyone creates. Stay tuned for more updates and images!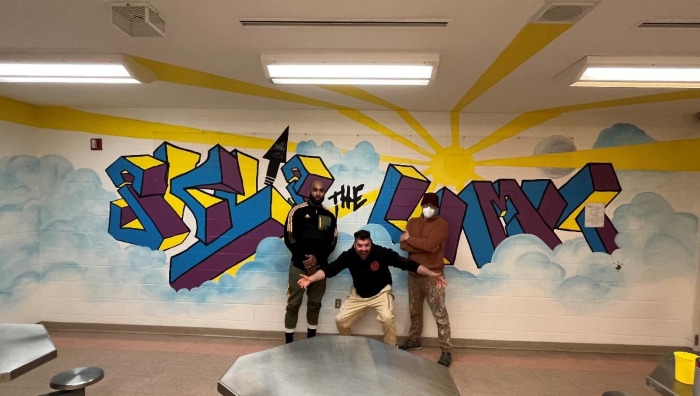 See more photos of the mural painting here. 

From Berkshire Farm Center & Services for Youth:
'"Art allows us to use our creativity to tap into our innate power for growth and healing"

🎨Thanks to our friends at the Albany Center Gallery, Tony Iadicicco, and Oscar Bogran, it's "Skys the Limit" for our youth! Thank you, Tony, for making this opportunity possible to partner with local artists and create something inspiring!

🎨Thank you to artist, Oscar Bogran, for providing a 4-day artist workshop - bringing the fine arts fundamentals and history, street art, and other contemporary art forms to our youth. Mr. Bogran created the mural concept with ideas from our youth. The youth wanted a phrase that would uplift not only themselves but any future youth at the Center.

🎨What does the message mean? - 'Skys the Limit' means don't set limits on yourself. Reach for the stars!"

A special thank you to Artist Mentor Oscar, Berkshire Staff Mr. T (who also helped paint and work with the youth), and Berkshire Farm Center & Services for Youth.