RISSE & ACG Youth Summer Program
Tags: Gallery News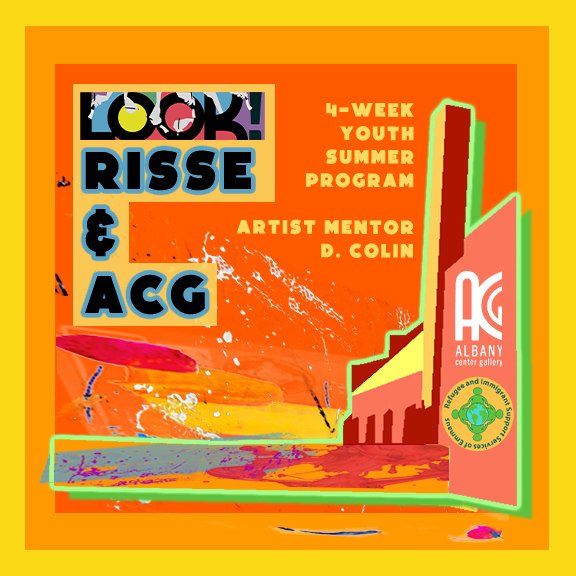 ---
To view photos of the program and murals, click here. 
ACG teamed up with RISSE (Refugee and Immigrant Support Services of Emmaus) for a 4 week long youth art program lead by multi-disciplinary artist mentor D. Colin. This art component was an additional element to RISSE's already existing 6 week long summer program. Artist Mentor Jordan Hill also held an African drumming and dancing class with the participants.

Karina from Albany Center Gallery and D. Colin worked with 40-50 summer youths to reimagine and activate the entrance ramp walkway and other walls around RISSE's location in Pine Hills. Together, we added vibrant colors and fostered safe spaces with the youth while creating sustainable lessons in teamwork, professionalism, literacy, and creativity.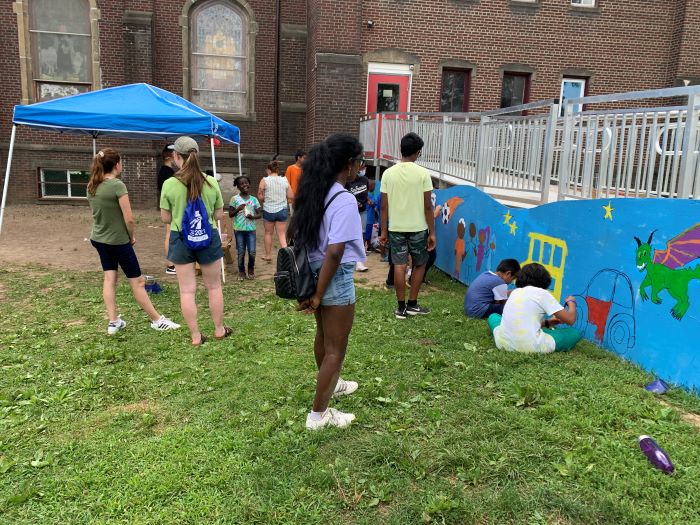 The students planned the murals by drawing, coloring, and talking about what kinds of images, colors, and shapes they would enjoy seeing each day! We also had discussions about what represents them and RISSE. The murals were painted vibrantly and creatively each day of the program.

About the lead artist: D. Colin is a poet, actor, and visual artist living in Troy, NY. As a multidisciplinary artist, she aims to inspire, empower and educate through poetry, paint and performance and is passionate about cultivating space for stories, healing and community.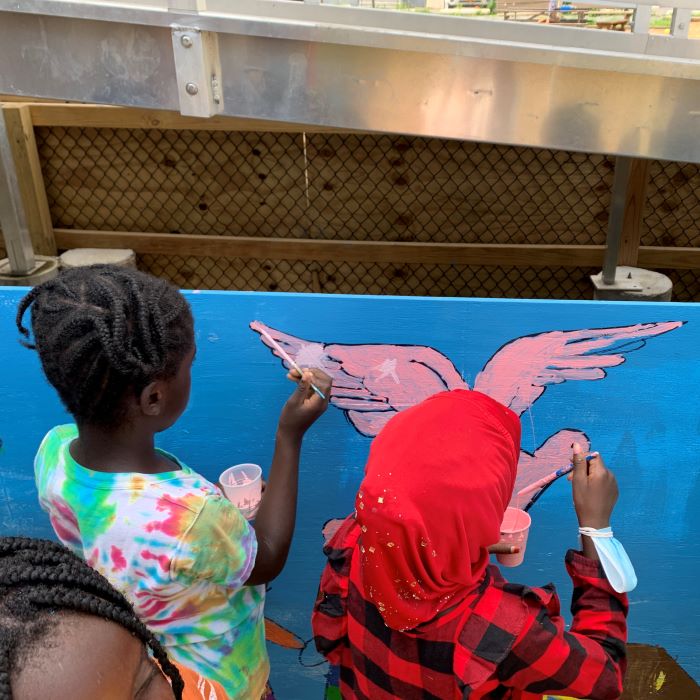 LOOK! Youth Art Donors & Supporters
(as of 6/1/2021)
Anonymous, Dorice Brickman, Ellen B. Brickman, Lisa Brown, Charles Buchanan, Steven C. Carberry, James Carr, Capital District Physicians' Health Plan, Inc (CDPHP), Krysia Cording, Dale Crisafulli, Maria DeAngelo, Kevin & Cindi Dubner, Fenimore Asset Management, Eugene & Barbara Garber, Honorable James Gaughan & Keith Lee, Benjamin Gleeksman & Belinda Colon, Carlsbury Gonzalez, Robin & Larry Gordon, Kirby Haizlip, Jessica Hansen, William M. Harris & Holly Katz, Honest Weight Food Co-op, Camille & Kevin Jobin-Davis, Mary P. LaFleur, Lori Lawrence, M&T Charitable Foundation, Willie Marlowe, Lisa Miller, Annette Nanes, Mary Catherine O'Neill, John & Patty Paduano, Georgiana G. Panton, Rita Papandrea, David Phaff, Ellie Prakken & John Smolinsky, Price Chopper Golub Foundation, Susan Richardson, Rosemarie Rosen, Susan Schmader, Donald Stauffer, Stewart's Holiday Match, Theresa Swidorski, Congressman Paul Tonko, Stephen Tyson, Edytta Wojnar
Thank you to Bank of America for their generous support of the LOOK! Youth Art Program. 
Special thanks to the Duane X Arts Foundation for their on-going involvement and uplifting of LOOK! Youth Art Program.