Frank Chapman Memorial Institute Youth Art Program
Tags: Gallery News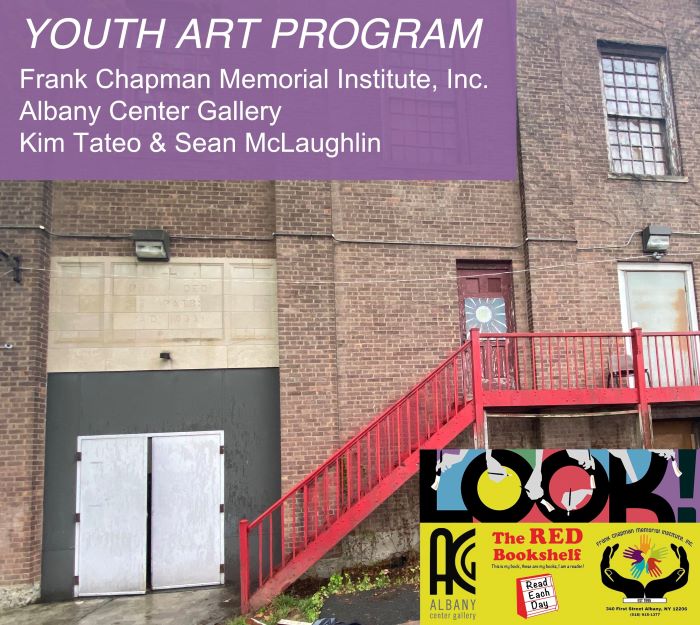 ---
To view photos from the program, click here. 
Albany Center Gallery teamed up with Frank Chapman Memorial Institute with additional support from The RED Bookshelf to bring a new LOOK! Youth Art Program-- led by Artist Mentors Kim Tateo  & Sean McLaughlin! Artist mentors Kim & Sean worked with 15-20 students from FCMI to create murals on site filled with the youth's inspirational, colorful, and uplifting visions.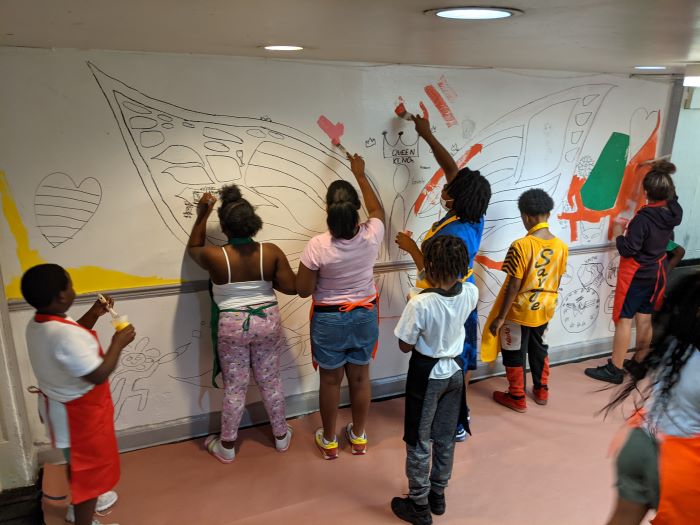 Frank Chapman Memorial Institute, aka "The Center for All", is driven to supply its service area residents with the life skills, work training, and personal development resources necessary for the quality-of-life improvement of each resident and the overall community. Learn more about FCMI here: fcmialbany.org 
 
About the artist mentors:
Kim Tateo is an artist, musician and educator living in Troy, NY. She is also the Executive Director and Farm Manager of Friends of Tivoli Lake Preserve and Farm. As an artist, Kim explores connections of the seen and unseen and works in all mediums including paint, glitter, plants, and anything that creates color. Her work is meant to evoke a sense of dreaming, playfulness, peace and gently pull on the heartstrings of whimsy that are in all beings. ♥ She has been part of several group exhibitions in NYC and the Capital Region. She has a BA in Music from the University of Iowa.

Sean McLaughlin is a painter and mural artist based in Albany, New York. His work includes bold compositions combining elements of the natural world, mystic icons and celebratory colors, alongside lively, cartoon-inspired figures. Alongside his painting practice, McLaughlin is heavily involved in community creative learning and has led several mural projects with children and created the curriculum for workshop programs for young people. He graduated from the State University of New York Purchase College with a BA in Liberal Studies in 2010.