ArtStreet Workshop Pop Up Exhibition at the Albany Capital Center
Tags: Gallery News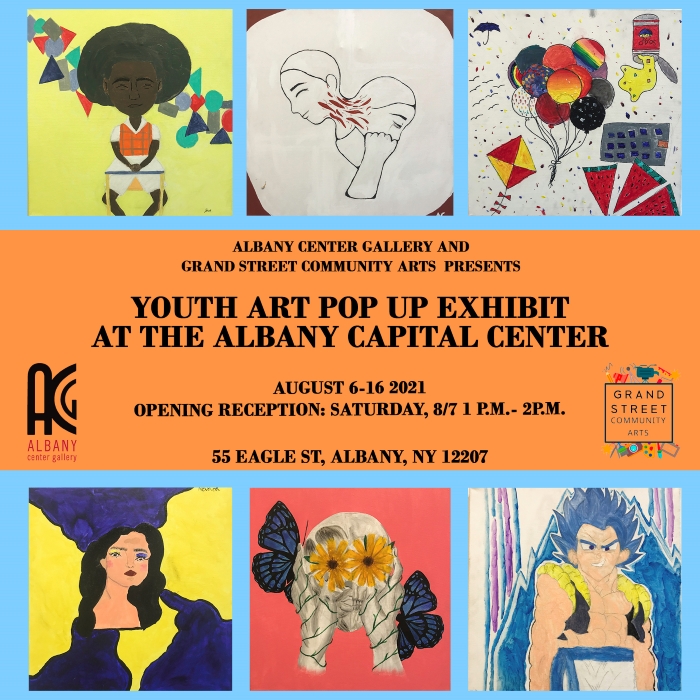 ---
To view more images of the event in the ArtStreet Youth Art Workshop Gallery, click here.
Albany Center Gallery and Grand Street Community Arts, Inc. hosted a Pop-Up Exhibit at the Albany Capital Center featuring the artwork created during the "ArtStreet" Youth Art Workshop in July. The students' artwork was on display in the main lobby as guests enter the Capital Center from August 6-16, 2021! The students' artwork was shown in addition to the traveling Michelangelo Exhibit "Michelangelo—A Different View."
Here are some images from the Artists' Reception on 8/7. Thank you to the students, friends and family, for joining us as we celebrated their artistic creations.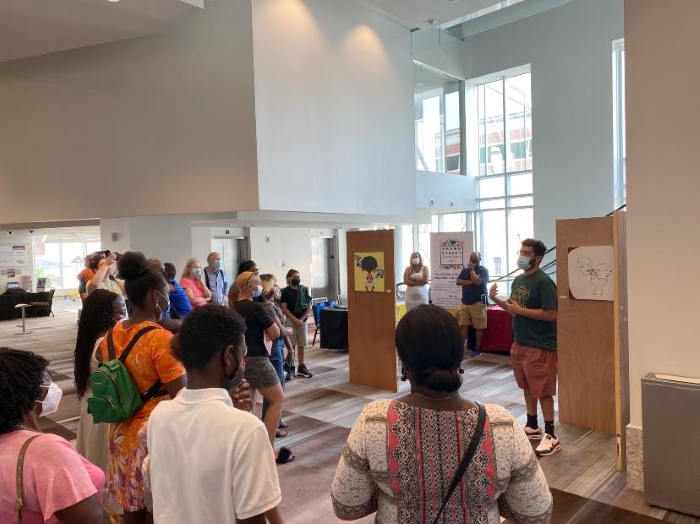 Shout out to local artist mentor Drew from Fifth Place for working with us and creating unique shirts that the students helped design.
Thank you to Michelle and the Duane X Arts Foundation for your support and donations of art supplies. We also want to thank all the young artists for their time and creativity!
Special Thanks to Bank of America for their support of ACG's on-going LOOK! Youth Art Programming.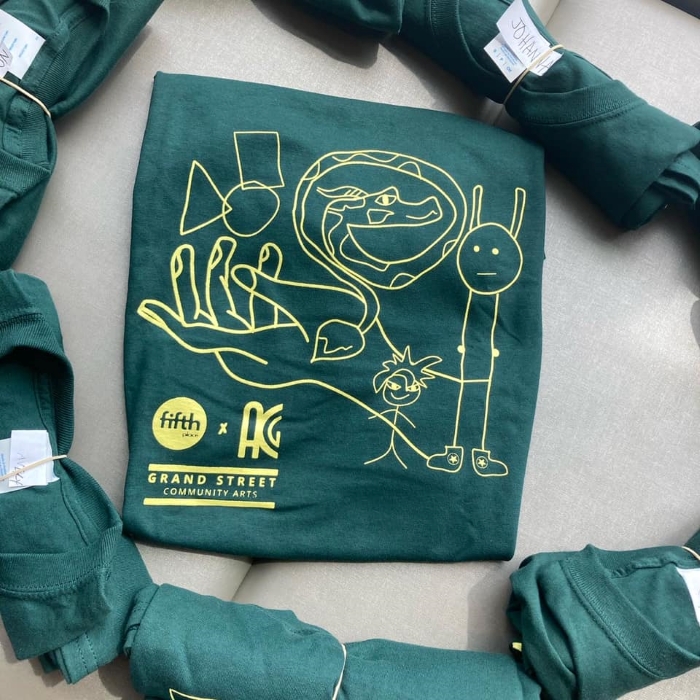 These are the T-Shirts that Artist Mentor Drew from Fifth Place created, with help from the students that participated in the workshop to design them. 
LOOK! Youth Art Donors & Supporters
(as of 6/1/2021)
Anonymous, Dorice Brickman, Ellen B. Brickman, Lisa Brown, Charles Buchanan, Steven C. Carberry, James Carr, Capital District Physicians' Health Plan, Inc (CDPHP), Krysia Cording, Dale Crisafulli, Maria DeAngelo, Kevin & Cindi Dubner, Fenimore Asset Management, Eugene & Barbara Garber, Honorable James Gaughan & Keith Lee, Benjamin Gleeksman & Belinda Colon, Carlsbury Gonzalez, Robin & Larry Gordon, Kirby Haizlip, Jessica Hansen, William M. Harris & Holly Katz, Honest Weight Food Co-op, Camille & Kevin Jobin-Davis, Mary P. LaFleur, Lori Lawrence, M&T Charitable Foundation, Willie Marlowe, Lisa Miller, Annette Nanes, Mary Catherine O'Neill, John & Patty Paduano, Georgiana G. Panton, Rita Papandrea, David Phaff, Ellie Prakken & John Smolinsky, Price Chopper Golub Foundation, Susan Richardson, Rosemarie Rosen, Susan Schmader, Donald Stauffer, Stewart's Holiday Match, Theresa Swidorski, Congressman Paul Tonko, Stephen Tyson, Edytta Wojnar
Thank you to Bank of America for their generous support of the LOOK! Youth Art Program. 
Special thanks to the Duane X Arts Foundation for their on-going involvement and uplifting of LOOK! Youth Art Program.