Every year our Youth Art program series, LOOK!, grows to meet the art needs of the community. In general, but notably throughout the pandemic, we turned to art for comfort, peace, nostalgia, and healing. Art inspires us, and especially youth, to participate in and process life.
We aim to raise $10,000 through this campaign to help cover the costs of increased artist mentor stipends, art supplies, and necessary program expenses. Starting in June, we will host monthly youth art workshops (coined Art.Work.Space.) in partnership with The RED Bookshelf. The programs are led by local artist mentors on the 2nd Saturday of each month throughout the year. The themes of the workshops will depend on what the youth want and the medium(s) of each artist. We plan to have workshops in writing, mural painting, screen printing, comic book making, collaging, clothing design, graphic design, watercolor painting, music, poetry, literacy, and more!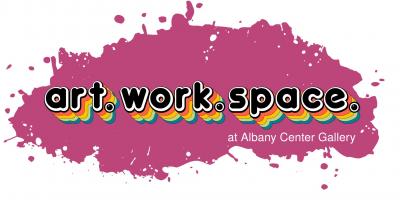 How does LOOK! help local youth?
You play an important role in keeping the visual arts alive and educating the youth for creative expression. Our programming teaches them how to hone creative skills and use their voices. ACG works to create a safe and creative space for the youth in our community to use at no cost to them. Underrepresented populations deserve equally positive opportunities and attention. We strive to create as many of these programs and art opportunities as possible.
Supporting local and regional budding and established artists is what ACG does. Last year, we paid over $32,000 to over 50 artists. However, the fact remains this work is only possible because it is wholly supported by you and the foundational funds we receive. Without your contributions, Albany Center Gallery cannot sustain its valuable art programming and redistribute funds to compensate local artists for their time and talent.
You are the difference! We hope you will consider contributing, and see it as an investment toward the future of young creatives and the arts in the region.
Special thanks to the Duane X Arts Foundation for their on-going involvement and uplifting of LOOK! Youth Art Program.
We hope you will consider donating to support our creative youth with expressing themselves in healthy, proactive, and artful ways.
Every dollar counts! If you'd like to donate, you can do so here:
To donate by check, mail check to Albany Center Gallery at 488 Broadway, Suite 107, Albany, NY 12207, and write "LOOK! 2022" in the memo line.
On behalf of the young artists and local mentors you'd be assisting, thank you for considering this request.

Donation Levels:
Student Supporter - $50: pays for supplies for student(s).
Donor Recognition: Listed in LOOK! related virtual promotional materials as dates allow for inclusion (i.e. e-newsletters, social media, and website.)
Sustenance Sustainer - $100: pays for food & supplies for student(s).
Donor Recognition: Above benefits, as well as listed in LOOK! related printed promotional materials.
Art Ambassador - $250: pays an artist stipend for a mentor to give a single workshop.
Donor Recognition: Above benefits, as well as recognition in Annual Report and listing on gallery thank you TV for a year.
Creative Connector - $500: pays for 2 artist mentors or 1 full-time mentor stipend.
Donor Recognition: Above benefits, as well as optional business logo and website hyperlinked on ACG's Community Sponsors site. Also, a special thank you listing in the new location.
Program Provider - $1,000: Pays for all the above, as well as helping to cover administrative and promotional costs.
Donor Recognition: Above benefits, as well as 2 General admission tickets to ACG's Annual Fall Gala and listing in the Gala Program.

If you have any questions, please reach out to Karina at kwojnar@albanycentergallery.org.
To learn more about current and past programs, click here! 
2021 LOOK! Programs:
Connect Cohoes Youth Art Program
Selection of photos from programs last year below: