Art.Work.Space.
THANK YOU! Albany Center Gallery is so grateful for all of the support given so we can give our creative youth more resources to express themselves in healthy, proactive, and artful ways. ACG works to create a safe and creative space for the youth in our community to use at no cost to them. The physical Art.Work.Space. showcases the youth's artwork, hosts additional community programming and celebrations, and is utilized as a creative workspace. It is a vibrant, colorful environment for artmaking, art-sharing, and dialogue about art!
ACG hosts monthly youth art workshops (coined Art.Work.Space.) in partnership with The RED Bookshelf. The programs are led by local artist mentors on the 2nd Saturday of each month throughout the year. The themes of the workshops will depend on what the youth want and the medium(s) of each artist. We will have workshops in writing, mural painting, screen printing, comic book making, collaging, clothing design, graphic design, watercolor painting, music, poetry, literacy, and more!
How does LOOK! help local youth?
You play an important role in keeping the visual arts alive and educating the youth for creative expression. Our programming teaches them how to hone creative skills and use their voices. ACG works to create a safe and creative space for the youth in our community to use at no cost to them. Underrepresented populations deserve equally positive opportunities and attention. We strive to create as many of these programs and art opportunities as possible.
Supporting local and regional budding and established artists is what ACG does. Last year, we paid over $32,000 to over 50 artists. However, the fact remains this work is only possible because it is wholly supported by you and the foundational funds we receive. Without your contributions, Albany Center Gallery cannot sustain its valuable art programming and redistribute funds to compensate local artists for their time and talent.
Thank you to everyone who donated for this cause! We are always accepting donations if you wish to contribute.
​
Above: Youth Artists painting during the 2021 Frank Chapman Memorial Institute Youth Art Program.
Donors listed (as of 5/31/2022)
Individuals:
Christine Averill, Henry & Anne Bankhead, Dorice Brickman, Ellen Brickman, Steven Carberry, Maria DeAngelo, Kevin & Cindi Dubner, Gerda Katharina Frank & Edward T. Atkeson, James M. Gaughan & Keith C. Lee, Benj Gleeksman & Belinda Colon, Carlsbury Gonzalez & Patricia Triller, William Hetzer, Andrew & Virginia Koski, Mary Pierce LaFleur, Linda Macaione, Willie Marlowe, Robert C. Miller, Catherine W. Minnery, Annette Nanes & Scott Meyer, Mary Catherine O'Neill, Esq., John & Patty Paduano, Thomas Pfeiffer, Alysia Plaza, Ellie Prakken & John Smolinsky, Theresa & Carl Swidorski, Mary Ellen Riell, Rosemarie V. Rosen
Business, Foundation, & Government:
Fenimore Asset Management, Inc.; Honest Weight Food Co-op; Omni Management Group, LTD. & I. David Swawite; Stewart's Holiday Match; Bank of America Foundation; Carl E. Touhey Foundation; Price Chopper Golub Foundation;  as well as the NYS Legislative Initiative Grant through the Office of Children & Family Services
Special thanks to the Duane X Arts Foundation for their on-going involvement and uplifting of LOOK! Youth Art Program.
We hope you will consider donating to support our creative youth with expressing themselves in healthy, proactive, and artful ways.
Every dollar counts! If you'd like to donate, you can do so here:
To donate by check, mail check to Albany Center Gallery at 488 Broadway, Suite 107, Albany, NY 12207, and write "LOOK! 2022" in the memo line.
On behalf of the young artists and local mentors you'd be assisting, thank you for considering this request.

Donation Levels:
Student Supporter - $50: pays for supplies for student(s).
Donor Recognition: Listed in LOOK! related virtual promotional materials as dates allow for inclusion (i.e. e-newsletters, social media, and website.)
Sustenance Sustainer - $100: pays for food & supplies for student(s).
Donor Recognition: Above benefits, as well as listed in LOOK! related printed promotional materials.
Art Ambassador - $250: pays an artist stipend for a mentor to give a single workshop.
Donor Recognition: Above benefits, as well as recognition in Annual Report and listing on gallery thank you TV for a year.
Creative Connector - $500: pays for 2 artist mentors or 1 full-time mentor stipend.
Donor Recognition: Above benefits, as well as optional business logo and website hyperlinked on ACG's Community Sponsors site. Also, a special thank you listing in the new location.
Program Provider - $1,000: Pays for all the above, as well as helping to cover administrative and promotional costs.
Donor Recognition: Above benefits, as well as 2 General admission tickets to ACG's Annual Fall Gala and listing in the Gala Program.

If you have any questions, please reach out to Karina at kwojnar@albanycentergallery.org.
To learn more about current and past programs, click here! 
2022 LOOK! Youth Art Programs
United Way Summer Meals Collaborative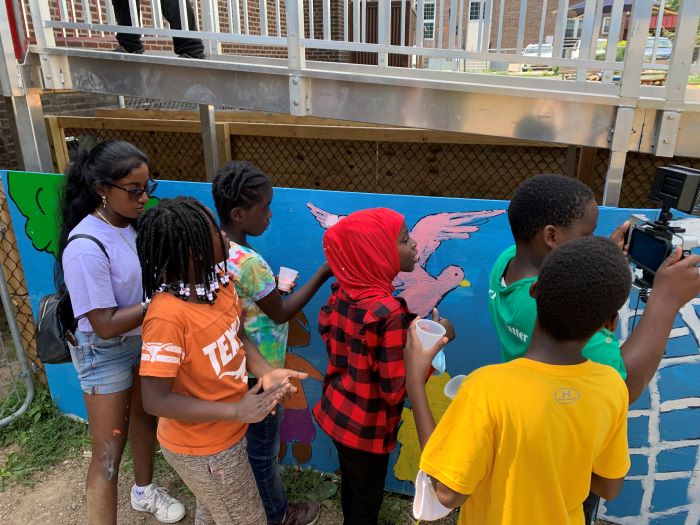 Above: 2021 RISSE Summer Workshop Participants painting a mural. 
2021 LOOK! Programs:
Connect Cohoes Youth Art Program
Selection of photos from programs last year below: