EVERYTHING YOU NEED TO KNOW: ACG's Sweetest Soirée Gala
Tags: Gallery News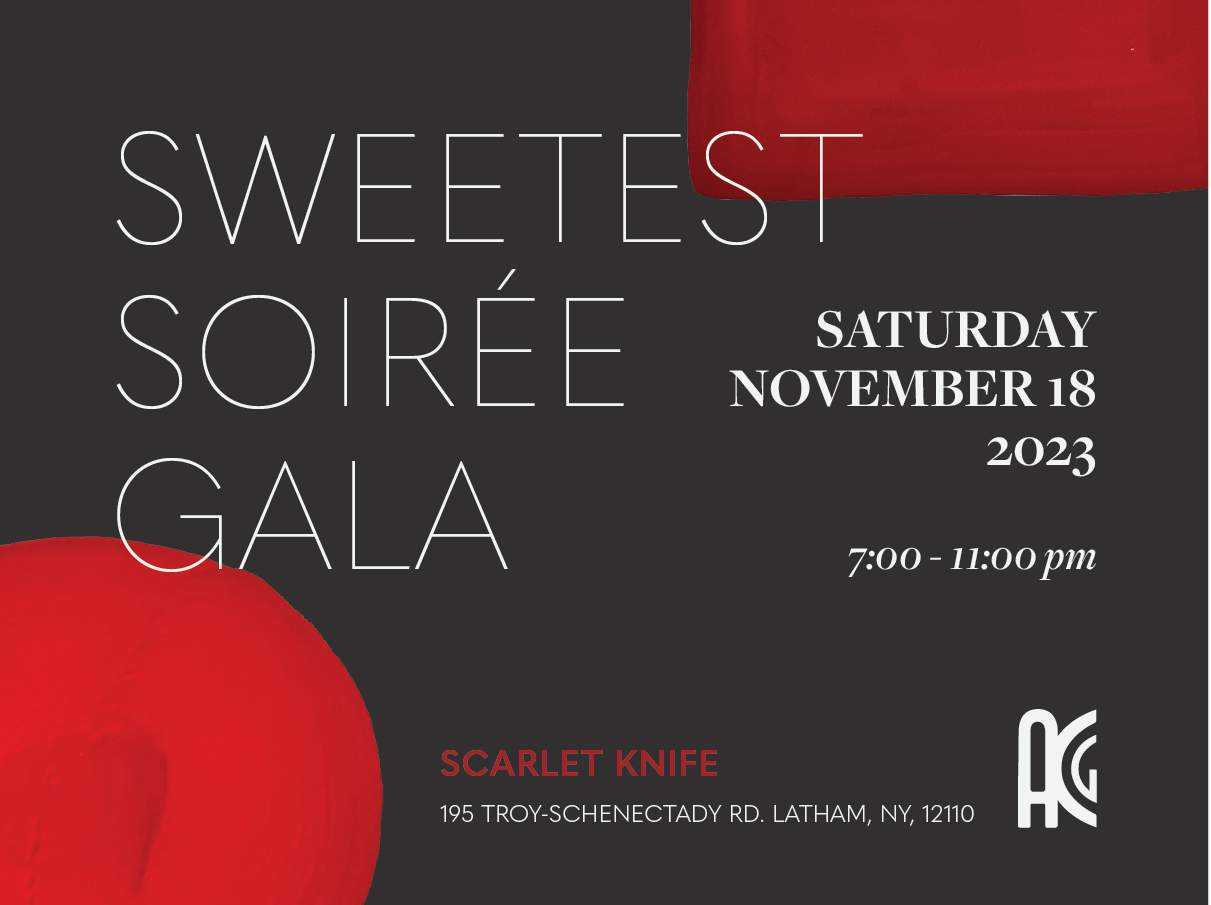 RSVP designed by Tulip City Creative.
---
SOLD OUT!!!!
*UPDATE 11/17/2023* Tickets are sold out for this event and are no longer on sale. See you there. If not, you can still participate by bidding in the Silent Auction by November 19, at 2 p.m.
---
You're invited to the sweetest soirée of the year.
When: 7:00 p.m. Saturday, November 18, 2023
Where: Scarlet Knife
195 Troy-Schenectady Rd, Latham, NY 12110
Why: to celebrate community and art!
All proceeds raised during the Sweetest Soirée Gala recognize your leadership and dedication to Albany Center Gallery's mission of supporting and showcasing regional artists.
easy-to-read version of the latest updates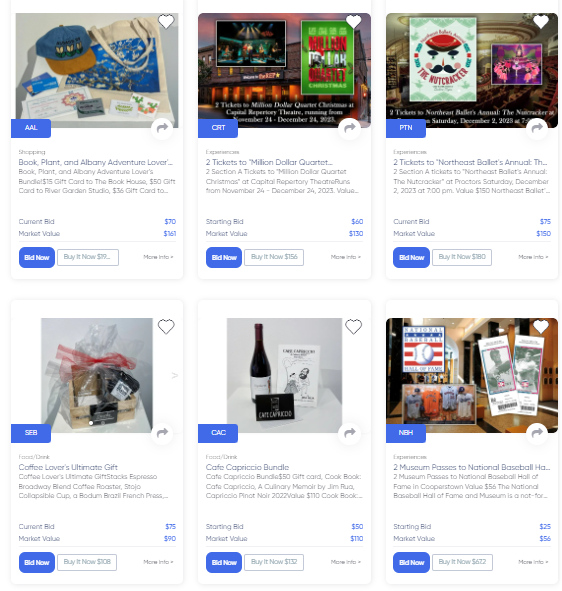 bidding ends Sunday, Nov 19 at 2:00 p.m but don't wait, items are already being purchased through the "buy it now" option​
During the Gala, we host an awards ceremony presenting the Mona Ruth Brickman Memorial Artist of the Year Award, Dr. Joel Spiro Community Impact Award, and Les Urbach Lifetime Achievement Award; there will also be silent and live auctions filled with art and other sought-after items, refreshments, music, artist performances, live art, entertainment, and oh, so much more!
2023 Gala Award Recipients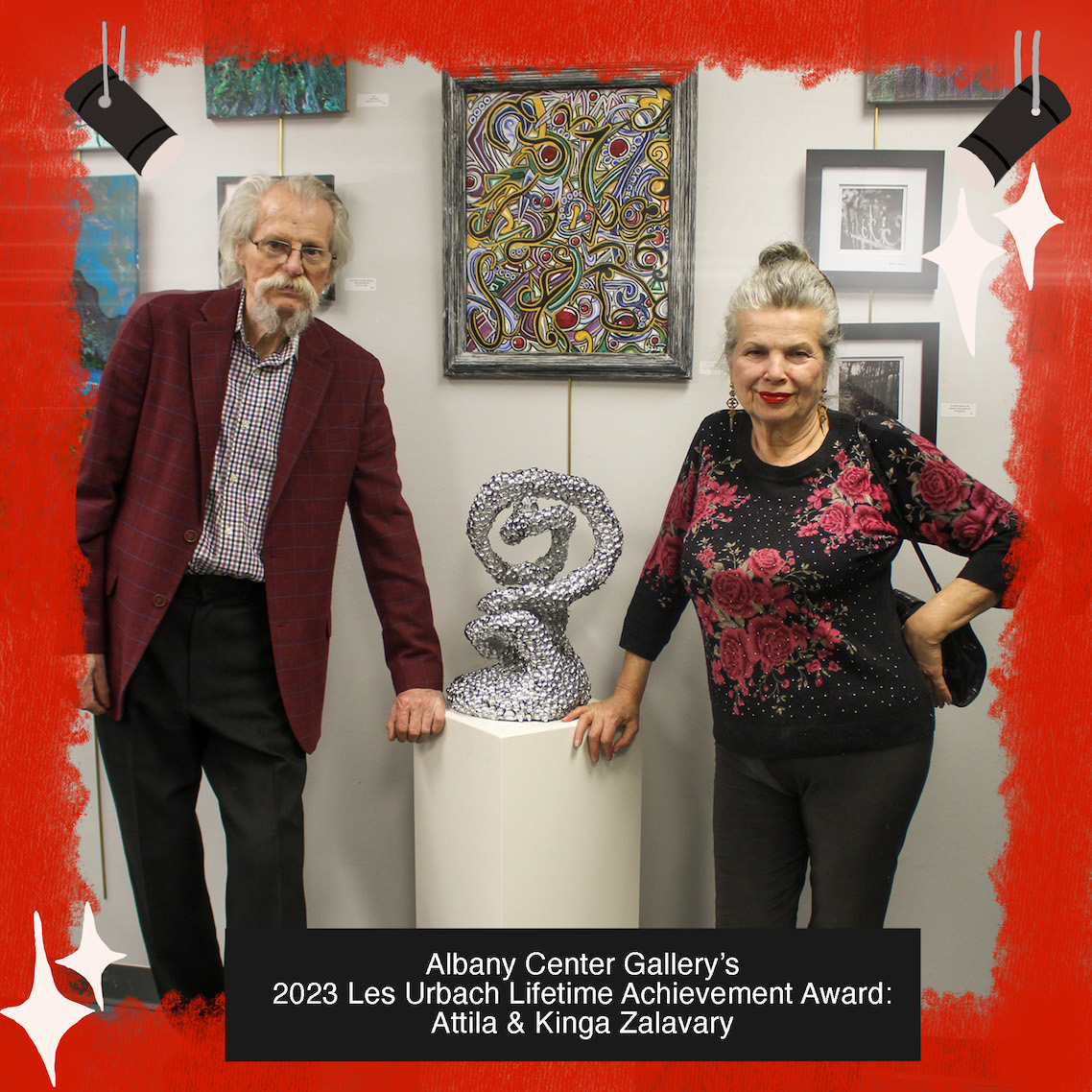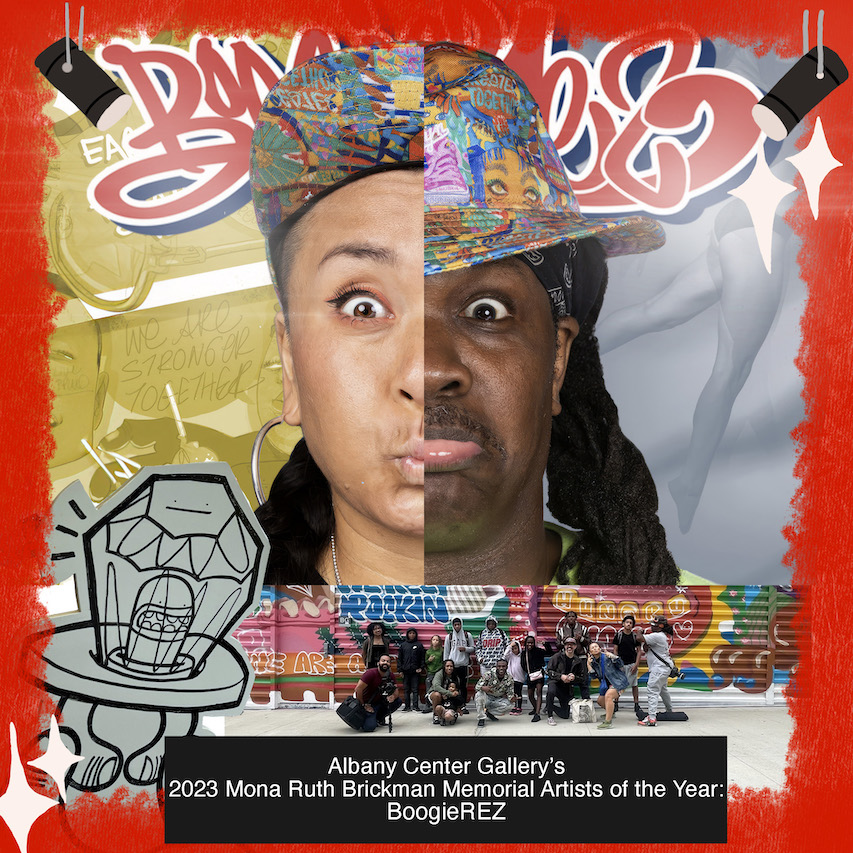 ​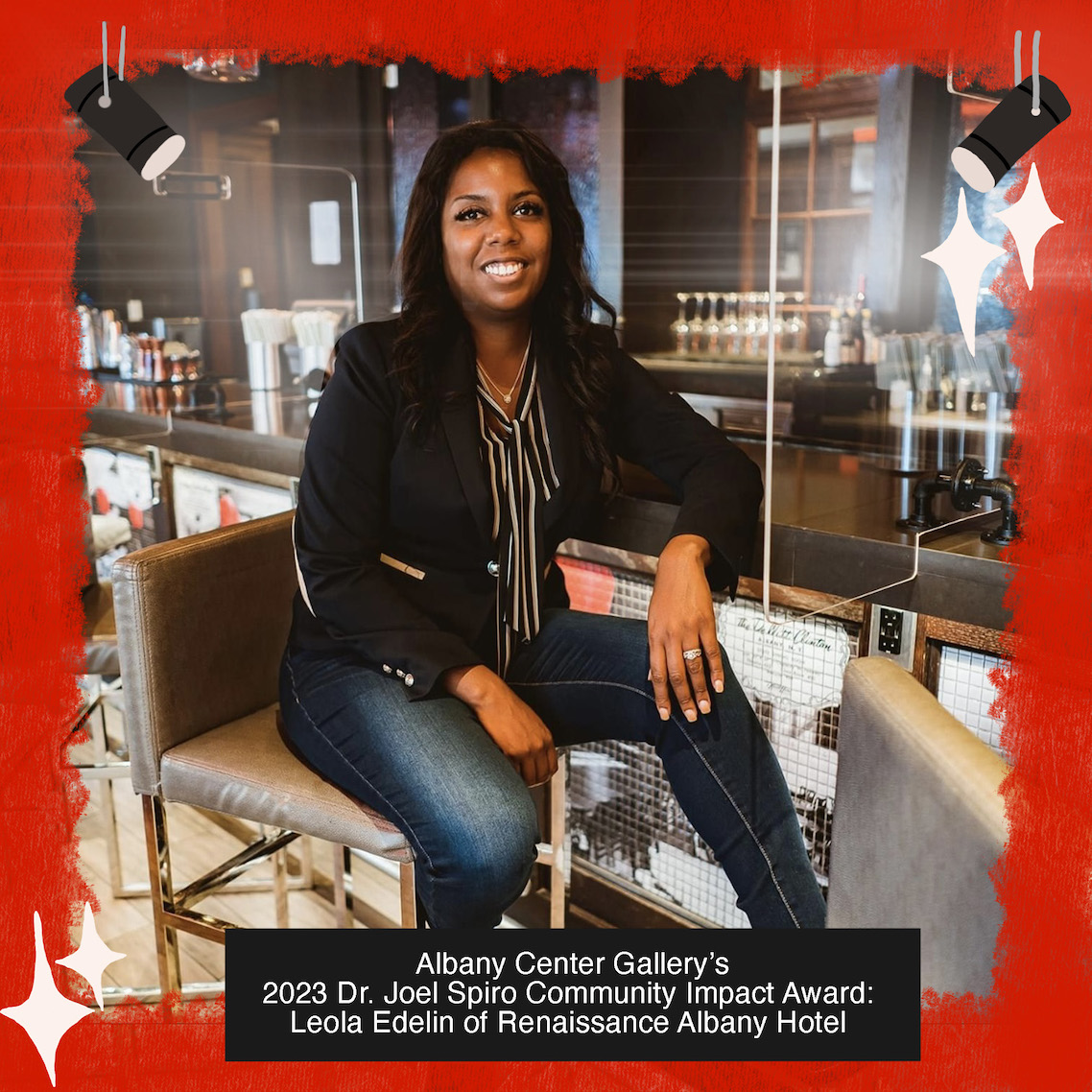 ​
Sponsors
As of 10.14.2023
Diamond
Kevin Dubner, Partner & Wealth Manager at Sentinel Wealth Advisors of Steward Partners*
Scarlet Knife
Ruby
M&T Bank
Tulip City Creative
Emerald
Accounting for All
Around Albany
Christ's Church Albany
DJ Trumastr
Fairbank Properties
Nicky Lightz
Sapphire
Albany Parking Authority
Jankow Companies
Jeff Buell
Monticello Real Estate
Amethyst
The Balloonary
Barbera Homes
Best Frame Forward
Broadway Marketing
Business for Good
CDTA
Discover Albany
Downtown Albany Business Improvement District
HIG Construction
Meier Law Firm, PLLC 
RJ McNamara - Financial Consultants
Rosenblum Development Corp.
Stewart's Shops
Topaz
Alias Coffee
Emack & Bolio's
I Am Not Prepared Podcast
Nine Pin Ciderworks LLC
Robert C. Miller
Sorelle Gallery
thoughtsfornow
Honorary Committee
As of 10.14.2023
Gold
Ellen B. Brickman; Kevin & Cindi Dubner; Assemblywoman Pat Fahy; Peter Gannon; Carol Anne Germain; Mara Ginsberg; Carlsbury Gonzalez & Patricia Triller; Robin Gordon; Tammis Groft; William Harris, Esq & Holly Katz; David Hochfelder & Ann Pfau; Ellen Jabbur; Annette Nanes & Scott Meyer; Chet & Karen Opalka; Rita & Dan Papandrea; David Phaff ; Tim & Ellen Pierce; Dr. Charles & Ann-Marie Schwartz; Scott & Helen Spiro; I. David Swawite-Omni Development Co.
Silver
Lisa Brown; Barbara Downs & George Weissman; James M. Gaughan & Keith C. Lee; Gary Gold & Nancy Pierson; Mark Harris & Melanie Greenspan; Irina Kaplan; Mary Kate & Mark McCarty; John & Patty Paduano; Joann Ryan; Linda K. Ryder; Melanie Stevenson
Bronze
Peggy & Richard Becker; Eileen & Rick Bird; Julie Brennan & Marcus Mohalland; Chris DeMarco; Ned Foss & Margaret Inderhees; Kendall Gardner & Ethan Ballard; Bernadette & Tony Giardina / Giardina Fine Art Appraisals; Jessica Hansen; Lori Lawrence; Tina Lincer & Ron Levine; Willie Marlowe; Alfredo Medina Jr. & Jeannine Trimboli; Susan Richardson; Julia Rosen & Charles Braverman; Rosemarie V. Rosen; Caite & Michael Santiago; Mayor Kathy Sheehan; Sarah Spiro; Taliesin Thomas; Congressman Paul Tonko; Susan Ungerman & Allan Greenberg
Auction & Artist Donors
As of 10.14.2023
Albany Barn; Albany Foreign Auto Service; Albany Institute of History & Art; Alex Nye; Apple Green's Golf Course; Arlene's Artist Materials; Banh Mi 47; Bear & Bird Boutique and Gallery; Blooms by Marie; Bombshell Hair and Beauty Studio; The Book House; Capital Repertory Theatre; Cafe Capriccio; Cafe Euphoria; Carlsbury Gonzalez; City Line Bar & Grill; Cold River Body Arts; Colonial Cleaners; Crafty Fox Home; Delmar Laser Spa; Emack & Bolio's; Goats & Coconuts; Grace Lang; Hemstitch Mill; Hoffman Development Corporation; The Hollow Bar & Kitchen; Holly Katz; Honest Weight Food Co-op; The Hyde Collection; I Love Books; Jeanne Finley; J.Gernon Picture Framing & Fine Art; Karina of @kooksbooknook; Kevin & Cindi Dubner; Laura Cannamela; Leslie Yolen; Matt Schiesel; Musicians of Ma'alwyck; National Baseball Hall of Fame; Nine Pin Cider; Playhouse Stage Company; Proctors; Rad Soap; Ramiro Davaro-Comas; Rita Papandrea; River Garden Studio; Robert Gullie; Saratoga Performing Arts Center; Shaker Heritage Society; Silver Parrot; Stacks Espresso Bar; Stram Center for Integrative Medicine; Sylvie Kantorovitz; Takeyce Walter; Tina Lincer; Troy Savings Bank Music Hall; Uncommon Grounds; Union College Athletic Department; USS Slater; Western Turnpike Golf Course
Special thank you to our LIVE AUCTION Donors: Albany Center Gallery's Board of Directors, Kevin & Cindi Dubner, Hollow Bar & Kitchen, Hampton Inn Albany, as well as James & Heather Warren
Learn more about:
Check out the photo album from last year's 2022 Through the Decades Gala.
PURCHASE "ADD-ON" Ticket(s): $75 each 
Sponsor a community member's admission ticket! These funds will be used to offer community members complimentary tickets so they can attend the Gala with us. This is an "add-on" ticket because you still need to purchase a ticket, honorary committee level, or corporate sponsorship in order to attend yourself.