Silent Auction Donor | Through the Decades Gala
Tags: Gallery News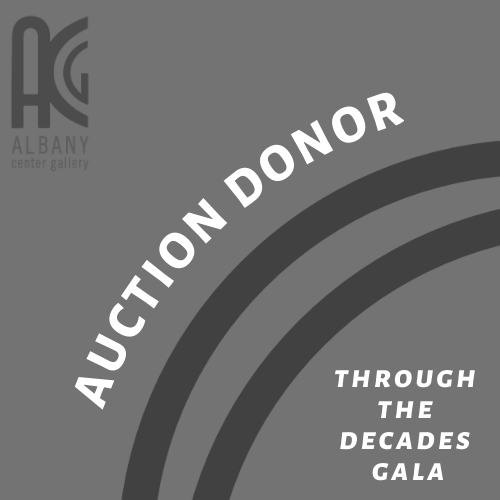 ---
On behalf of our staff, Board of Directors, Gala Committee, and all members of our community, we graciously invite you to join us as a donor for the silent auction at Albany Center Gallery's (ACG) Through the Decades Gala. By donating a product or service for the gala's silent auction, your local business is keeping the visual arts thriving in the region. You are supporting Albany Center Gallery continue to bring "more art everywhere, together!"
The event will take place in-person at 7 p.m. on Saturday, November 19, 2022 at the Kenmore Ballroom in Downtown Albany! However, the silent auction will take place virtually for a longer period of time.

For 45 years, ACG has been promoting and exhibiting art produced by the region's emerging and established artists as well as engaging, enriching, and inspiring the community to appreciate the importance of art. Thousands of the area's finest contemporary artists have exhibited at Albany Center Gallery, and many of the artists gain national and international recognition afterwards. Our reach extends beyond the walls of the Gallery, working with the community through public art projects (like #CapitalWalls) and art programming. Through these pursuits, the Gallery consistently reaches over 50,000 individuals annually.
To ensure your business name appears on promotional material as a donor, please complete and return the enclosed Auction Donor Form along with your donation or call the Gallery no later than October 1. The deadline for recognition in the program book is October 22. Auction donors will also receive recognition as on ACG's website, signage at the event, and on the silent auction website page.

We value your support! We know times are still difficult and appreciate what you can offer us. Please consider contributing, as well as enjoying an exciting evening at the Through the Decades Gala with ACG to celebrate creative minds with the
community.
For the full list of benefits and a formal letter of request, click here
Learn about other ways to support ACG via the Through the Decades Gala.
Thank you to our Silent Auction donors!
As of 10.22.22
518 Profiles Magazine; 8th House by crystal; ABC Sports & Fitness; Albany Barn; Albany Center Gallery; Albany Symphony; Annette Nanes; Apple Green's Golf Course; Arlene's Artist Materials; Around Albany; Art Associates Gallery; Bear and Bird Gallery; Blooms by Marie; Burnt Barn Studio; Capital Walls Partners; Carlsbury Gonzalez; Christman's Windham House; City Line Bar & Grill; Colonial Cleaners; Crafty Fox Home; David Phaff; Ellen Brickman; Free Humanity; Goats & Coconuts; Hazal Ozturk; Hoffman Development Corporation; Holly Katz; Honest Weight Food Co-op; Hyde Collection; Jade Warrick / Trashkid Art; Jason Medicine Eagle Martinez; Jennifer Caviola; Jovilla White; Kevin & Cindi Dubner; Kim Tateo; Lark Street; Mercantile Vendors; Lark Street Tattoo; Lexi Hannah; Mark McCarty; Peter Leue; Playhouse Stage Company; Robert Gullie; Rita Papandrea; Robert Cartmell; Robert Cooper; Saratoga Performing Arts Center; South End Powder Coating; Spun by Greenjeans; Sylvie Kantorovitz; The Musicians of Ma'alwyck; Tina Lincer; Trader Joe's; Troy Savings Bank Music Hall; USS Slater; Victoria van der Laan; William Harris, Esq.; Willie Marlowe