23rd Annual High School Regional Juried Exhibition
Tags: Gallery News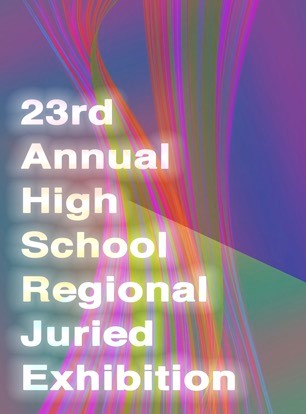 ---
Exhibition Dates: Tuesday, March 22 – Friday, April 22, 2022
March was National Youth Art Month, and Albany Center Gallery is thrilled to have hosted the 23rd Annual High School Regional Juried Exhibition. The Regional is a highly anticipated annual juried exhibition which showcased the artwork of 107 high school students from 25 regional high schools. The exhibit showcased a variety of talented student work in all mediums, including: painting, drawing, photography, film, digital media, and sculpture.
The High School Regional highlights the importance of having arts programming in schools, cultivating  imagination, and sharing the arts with youth; even at a young age. In years past, teachers from all over the Capital Region have sent in hundreds of diverse student works that demonstrate the varying skills and ideas of a large body of young, burgeoning creatives. The wide-ranging selection of works reflect the unique perspectives of our next generation through the powerful outlet of art. The High School Regional was put together in collaboration with the New York State Art Teacher's Association, Region 6, and the Capital Area Art Supervisors.
Art inspires youth to be engaged with their community and themselves. The youth are the future; let's continue to support them and their creative voices.
The juror for the 23rd Annual High School Regional Juried Exhibition included:
Elizabeth Dubben
Jennie Tang
Thom Williams
Check out the awards below in the Featured Students Section. 
The exhibit was be free and open to the public Tuesday – Saturday, Noon - 5 p.m. 
Featured Students: Lawrence Abernathy, Madison Anderson, Corinne Anderson, Robyn Arnason, Ashlee Bayer, Kehmani Billups, Stephanie Brown, Brielle Bucher, Ella Buff, Pepper Butler, Brianna Cail, Megan Calos, Emma Cardamone, Natalie Carvey, Samantha Castle, Kseniya Chunayeva, Katherine Conjalka, Mia Corazzini, Jonathan Costa, Moira Cruz, JoHanna Cullen, Chloe Cunningham, Taylor Cusano, Silvio D'arcangelis, Emma Dai, Sky de Jong, Finn De Rosier, Sage Dirtadian, Cecila Dobbs, Sierra Doherty, Madison Dominguez-Norris, Carlianna Ewing, Sophia Fantauzzi, Evan Fecko, Sarah Fish, Will Frazier, Julieta Gil-Marin, Serafin Gordon-Oster, Madeline Green, Yashwitha Gunji, Alexis Haviland, Nia Hughes, Moses Isaiah, Somyong Jee, Kathryn Joslin, Justin Kahler, Owen Karmel, Candance Keefe, Parker Krasney, Katie Lamica, Clara Law, Esme Lazar, Chaehyeon Lee, Amelia MacNeil, Renée Manzella, Ella McDonald, Guinevere Menyuk, Emily Miller, Mya Monroe, Darren Moon, Sophia Morales, Fionn Mullany, Katherine Myers, Elsa Newman, Jonah O'Flanagan, Janet Pan, Hyerin Park, Amy-Elizabeth Parody, Chloe Pascoe, Tahreem Pizada, Grace Pizza, Micayla Price, Alicia Prieto, Nyasia Pugh, Melisa Ramirez, Jessie Reed, Christian Romer, Liam Rounds, Kaitlyn Ryan, Sara Sadaat, Ethan Saunders, Lii Scolaro, Tess Sheremeta, Jamima Saddiqui, Ella Simpson, Josh Singh, Mary Sinnott, Sydney Speanburg, Ansley Teal, Christopher Terry, Michaela Toomey, Patrick Tracey, Melissa Travis, Pitta Triyanond, Carley Walsh, Akashi Walsh, Eddie Wang, Adam Williams, Lee Wilson, Sam Winig, Londan Witter, Joy Wu, Lilith Yan, Kayley Yip, Himeka Yokoyama, Tatyana Young, Hannah Yu, Ash Zimmerman.
Students accepted into the 23rd Annual High School Regional Juried Exhibition are invited to submit artwork for consideration for the Russell Sage College Art + Design Scholarship Competition. Learn more about the scholarship opportunities here.
Helpful resources on how/when/why/if to apply to higher education for participating students here.
STUDENT AWARD WINNERS - View the Awards Video below.
Winsor Prize Award: Serafin Gordon-Oster, Grade 10, "Cabinet of Curiosities"
The Vibrational Energy Award In memory of Upstate Artists Guild board member Thomas D'Ambrose: Mia Corazzini, Grade 9, "Contour Chaos"
The Collar Works Emerging Artist Award: Jessie Reed, Grade 12, "Study Hall in October"
Juror's Choice Award: Ashlee Bayer, Grade 12, "Yearning"; Janet Pan, Grade 12, "Underwater Room"; Jessie Reed, Grade 12, "God Save the Queen"; Hyerin Park, Grade 12, "Nostalgia"
Honorable Mention Award: Evan Fecko, Grade 12, "100 Gigabytes of Sugar"; Owen Karmel, Grade 11, "Stairway to the Lights"; Brielle Bucher, Grade 12, "Desperate to Live Among Fantasy"; Emma Dai, Grade 11, "Capitalism found in food"; Katherine Conjalka, Grade 11, "12 AM"; Himeka Yokoyama, Grade 11, "Disillusioned"; Natalie Carvey, Grade 10, "Bagged Lunch"; Londan Witter, Grade 12, "Waffle House"; Somyong Jee, Grade 12, "Untitled"
Lory Tansky 3D Award: Justin Kahler, Grade 11, "Chest to Cherish"
Sponsor Spotlight Award: Corinne Anderson, Grade 11, "When it Comes Down to it"; Sam Winig, Grade 11, "Solace"; Tess Sheremeta, Grade 12, "Say Goodnight Gracie"
ACG President's Award: Lilith Yan, Grade 10, "Autumn Memories"
Director's Choice Award: Yashwitha Gunji, Grade 12, "Invisible"
Albany Center Gallery Award: Finn DeRosier, Grade 12, "The Widow"
Participating High Schools: Albany Academy, Albany City Schools, Averill Park, Berlin, Berne-Knox-Westerlo, Bethlehem, Burnt Hills-Ballston Lake, Cairo-Durham, Doane Stuart School, East Greenbush, Emma Willard, Greenville, Guilderland, Hoosic Valley, Ichabod Crane, Mohonasen, Niskayuna, North Colonie, Schalmont, Schenectady, Scotia-Glenville, Shenendehowa, South Colonie, Troy, and Voorheesville.
The Private Online Student, Family, and Teacher Reception was held on Friday, March 25, 2022 at 6:30 p.m. There was NOT an in-person Public Reception. 
This exhibit was sponsored by ACG Premier Sponsors: David Phaff & Howard Hanna Real Estate Services; and Kevin Dubner, Partner & Wealth Manager at Steward Partners Global Advisory, LLC. Additional support was provided by James Gaughan & Keith Lee, Kevin & Cindi Dubner, and the New York State Council on the Arts with the Support of the Office of the Governor and the New York State Legislature.
Special thanks to the regional colleges and universities who supported this exhibition: Russell Sage College, Union College, the Department of Art and Art History, University at Albany, SUNY, & Hudson Valley Community College.
**Additional sponsors needed. If you are a representative from a regional college or university, please contact Karina at kwojnar@albanycentergallery.org to learn about specific benefits of sponsoring the 23rd High School Regional.**
Albany Center Gallery is a 501(c)(3) Organization for your tax purposes, contributions are tax-deductible within the limits of the law. We are always accepting donations, please consider contributing so we can continue energizing the community through art and empowering the next generation of ARTISTS. We are better together, donate here.