MasquerAid for Art Gala
Tags: Gallery News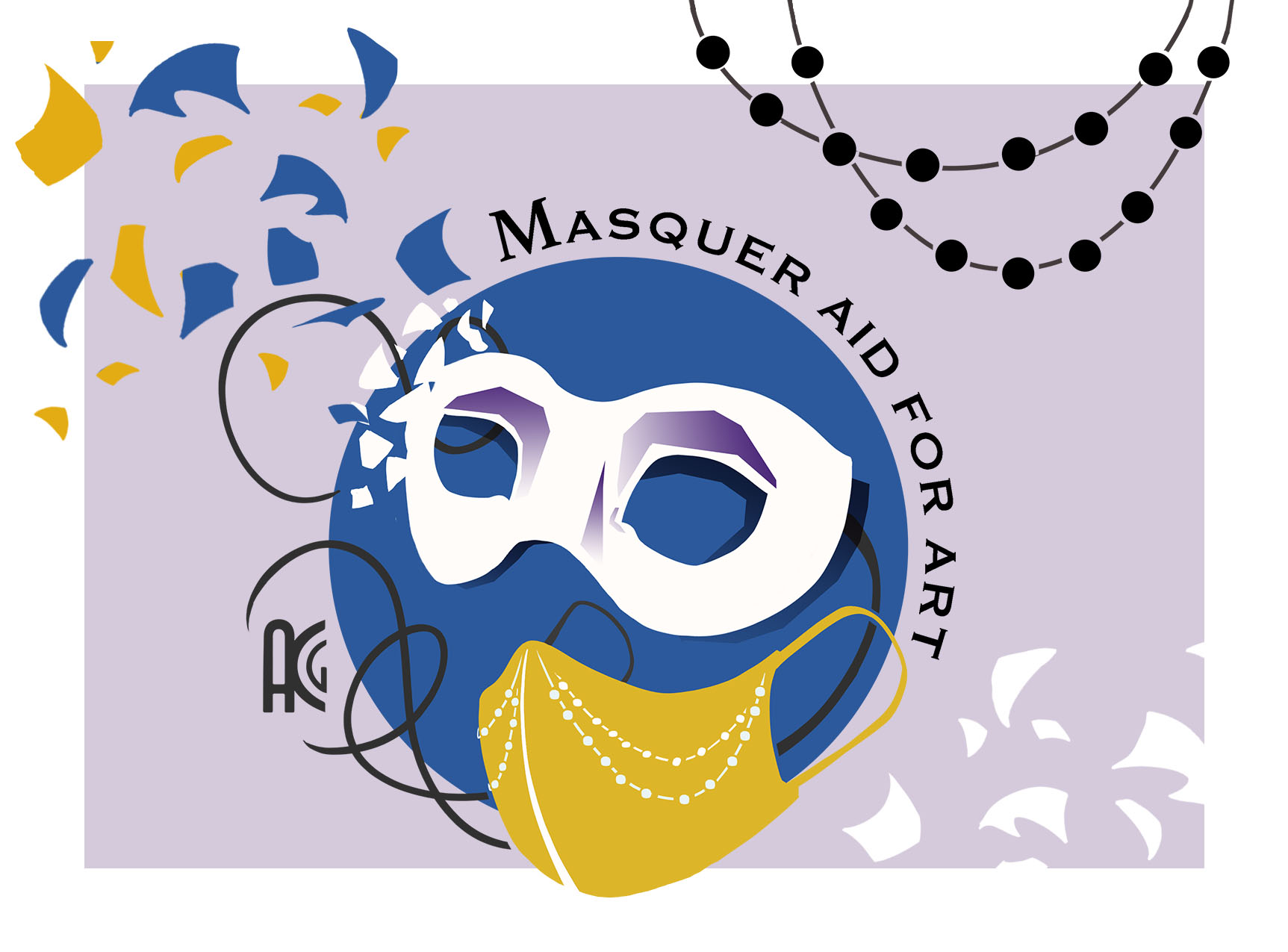 ---
MasquerAid for Art Gala, A Benefit for ACG (VIRTUAL)
Friday, November 20, 2020
6:45 p.m. "cocktail hour" entertainment
7 p.m. - 8 p.m., virtual Speakeasy dance party hosted by DJ Trumastr from  8 p.m. - 10 p.m.
GALA TICKETS NO LONGER ON SALE. 
All proceeds go towards the mission of Albany Center Gallery for supporting and promoting local and regional artists.
$20 - admission to the event, program book, Support Local Art sticker, a specialized drink menu, admission to the afterparty and more!
$50 - all the above benefits AND two drink coasters, MasquerAid for Art Gala stickers, and surprise coupons to local businesses
$75 - all the above benefits AND a never before seen ACG magnet and canvas tote bag screen-printed by local artist business Made in Truth Clothing
$100 - all the above benefits AND a free raffle ticket
Note: admission tickets will not be mailed to you. You will receive email reminders with event links, so please make sure the email you provide during check out is one you frequently use.
Tickets may also be purchased by mailing cash or check to Albany Center Gallery, 488 Broadway, Suite 107, Albany NY, 12207. Please include your full name, phone number, and valid email address.
This year we are offering different levels of general admission. It will be a virtual event, but you will receive physical items in a Gala Care Package (GCP). Levels correspond to what will be included in your GCP. Each General Admission ticket sold to the MasquerAid for Art Gala will be entered into a separate raffle specifically to win a special, private dinner at ACG. More details in regard to this dinner coming soon. 
Each ticket purchase enters you to win a special prize!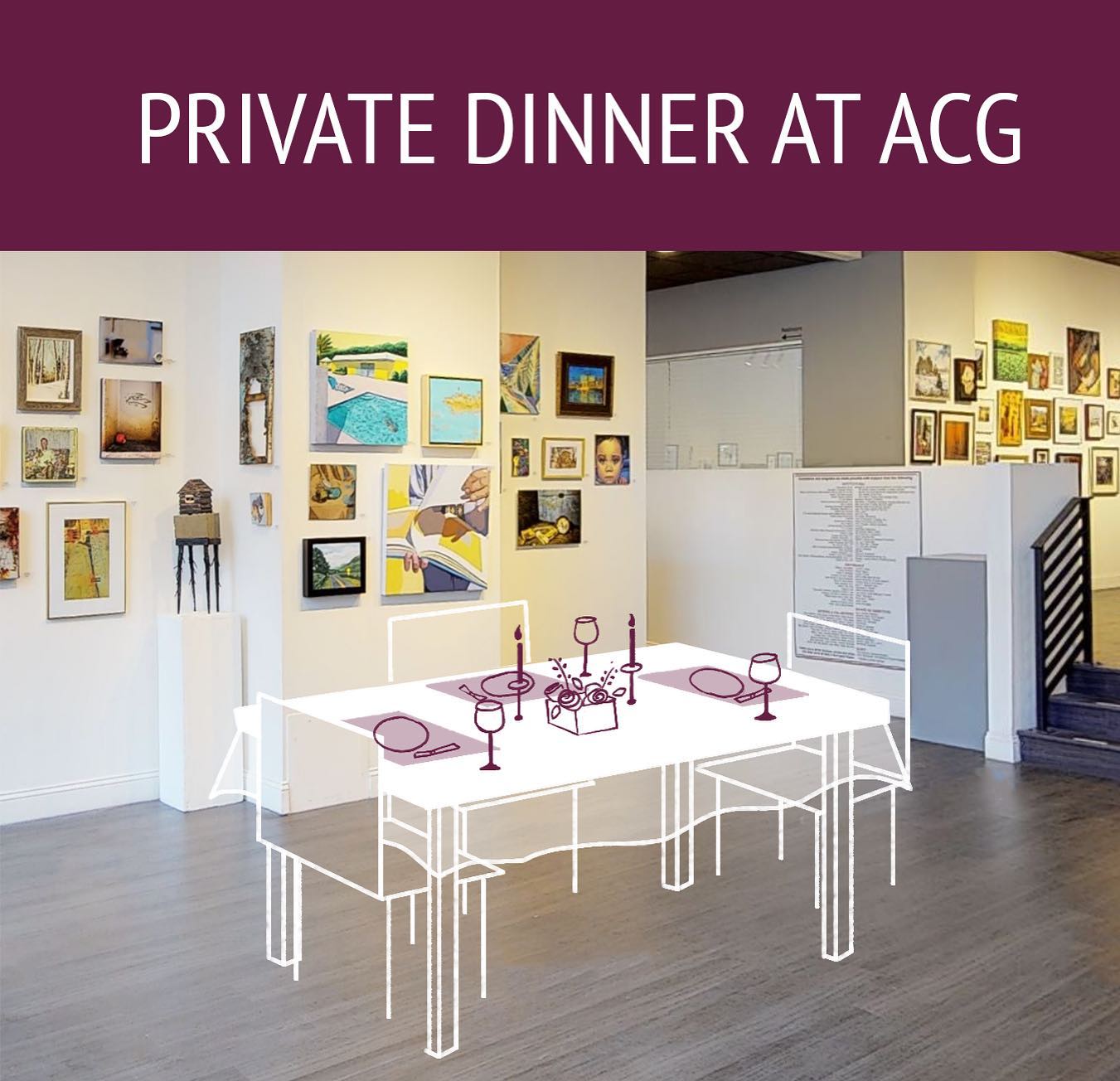 Want ACG all to yourself? Each ticket purchased for general admission for our MasquerAid for Art Gala enters you to win a private candlelit dinner at the Gallery for you and up to three guests! 

This prize includes:
-Up to $100 in food from a local restaurant
-2 bottles of wine (or non-alcoholic beverage)
-Flowers from a local florist
-Optional movie projected in the gallery for your enjoyment
-Private viewing of the Gallery exhibit, as you'll have the entire space to yourself after-hours

Don't miss out on this exciting and socially distanced event opportunity! Click the link in bio and buy your ticket for a chance to win!

In addition to this chance to win, we will also be auctioning off a second private dinner at ACG at the Live Auction during the Gala on Friday, November 20! Starting bid starts at $200. Be sure to tune in for your chance to bid!

This prize is valued at $750. The winner may schedule this dinner on any evening Wednesday-Friday (excluding holidays and days of previously scheduled ACG events) before 11/20/21. Everyone who has already purchased a general admission ticket has been entered to win.
SILENT AUCTION SITE LIVE NOW until day after event, Saturday, Nov 21 at noon. Bid often, bid early. Check it out here.
Congratulations to our 2020 Award Winners:
ACG is proud to bestow Jessica Hansen with the 2020 Les Urbach Lifetime Achievement Award.
For the first time in its nine-year history, this year's Mona Ruth Brickman Memorial Artist of the Year award will honor two recipients: Duane Ivan Todman and Yeachin Tsai.
Tune into the Gala to learn more about the recipients.
Art is essential, in both good and bad times. We invite our community to come together to "aid art" at ACG's 2020 MasquerAid for Art Gala. 
The event will take place virtually on Friday, November 20th from 7 p.m. to 8 p.m. with a virtual Speakeasy dance party hosted by DJ Trumastr from 8 p.m. to 10 p.m..
For decades, we have been hosting an annual fundraising art party that attendees are not quick to forget. This will not be your typical virtual gathering. We will have our awards ceremony (presenting the Mona Ruth Brickman Memorial Artist of the Year Award and the Les Urbach Lifetime Achievement Award), an online silent auction filled with art and other sought after items, a virtual dance party, and oh so much more! This year we get the best of both worlds, the party as well as being able to enjoy it from the comfort of home. 
By participating, you will be taking an active role in keeping visual art alive in Albany, while contributing firsthand to our region's rich culture, economic livelihood, and history. 
Thank you to our supporters for the Gala so far (as of 11/18/20):
Corporate Sponsors:
Diamond-
Albany Parking Authority, Albany Wine & Dine for the Arts Festival, David Phaff & Howard Hanna Real Estate Services
Ruby-
Kevin Dubner - VP & Wealth Manager, Steward Partners Global Advisory
Emerald- 
Lavelle & Finn, LLP, Redburn Development Partners
Sapphire-
Accounting for All, RJ McNamara Financial Advisors
Amethyst-
Rosenblum Companies, Stewart's Shops, Ten Eyck Group, Troy Web Consulting
Topaz-
Downtown Albany BID,  Fort Orange Press, Key Private Bank
Honorary Committee:
Gold-
Ellen Brickman, Kevin & Cindi Dubner, Kendall Gardner, Carol Anne Germain, Mara Ginsberg, Carlsbury Gonzalez & Patricia Triller, William M. Harris & Holly Katz, David Hochfelder & Ann Pfau, Ellen Jabbur, Annette Nanes & Scott Meyer, Chet & Karen Opalka, William O. Pettit III, David Phaff, Hillary Raimo, Joann Ryan, I. David Swawite, Congressman Paul Tonko,  Upstate Artists Guild
Silver-
David Brickman & Karen Ciancetta, Dorice Brickman, James J. Carr, Sue & Mickey Cleary, Colón/Gleeksman Family, James M Gaughan & Keith Lee, Gary Gold & Nancy Pierson, Melanie Stevenson, Tammis Groft,  Daniel & Rita Papandrea, Theresa & Carl Swidorski
Bronze-
Assemblymember Patricia Fahy, Peter & Lauren Gannon, Mark & Melanie Greenspan, Jessica & Thomas Hansen, Stuart Horn & Kathleen Sole, Mary Kate & Mark McCarty,  Susan Richardson, Julia Rosen, Rosemarie V. Rosen, Mayor Kathy Sheehan, Joel & Kira Spiro
Auction & Artist Donors:
Albany Foreign Auto Service, Alchemist Salon, Ania Hair Studio, Fern Apfel, Arlene's Artist Materials, Art Associates Gallery, The Arts Center of the Capital Region, Balance Massage and Healing Arts Studio, Bella Napoli, Michelle Bowen, Ellen Brickman, Colonial Cleaners, Color Me Gorgeous, Ramiro Davaro-Comas, Dove & Deer, Kevin & Cindi Dubner, Fort Orange General Store, Carlsbury Gonzalez, Grate Expectations, Jessica and Tom Hansen, William Harris, Hoffman Car Wash, Honest Weight Food Co-op, Jovilla White, Holly Katz, Lark Street Tattoo, Lori Lawrence, Tina Lincer, Lysenko Dental, Linda Macaione, Willie Marlowe, Annette Nanes, National Baseball Hall of Fame, Nine Pin Ciderworks, Hazal Ozturk, David Phaff, Acadia Rae, Real [Fit] Life, River Garden Studio, Joann Ryan, Cindy Schultz, Shaker Heritage Society, South End Powder Coating, USS Slater, Takeyce Walter