Make a Gift for another 45+ Years of ACG!
Tags: Gallery News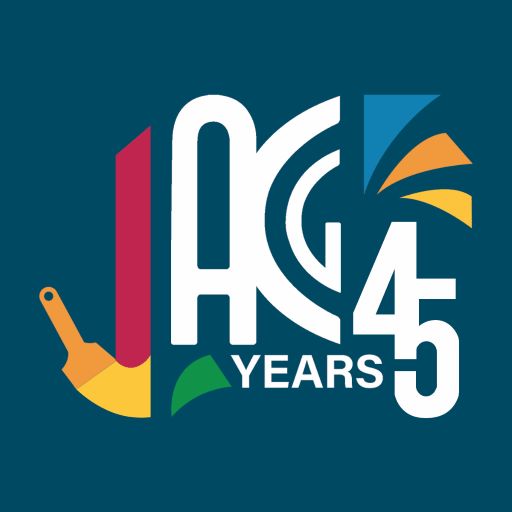 Celebrating 45 years of ACG! Design by Quill Harrison
---
**As of 2/7/2023, We have raised $16,207! Thank you so much for your support!**
In 2022, ACG hosted 8+ in-house exhibitions, 5 pop-up exhibits, 8+ #CapitalWalls tours, as well as 11 youth art programs, (5 in our newly opened Art.Work.Space. location). We also collaborated with 6+ local businesses for private art consulting, 20+ community organizations for programming, and presented 3 new #CapitalWalls murals in 2 cities with our partners Albany Barn and ParkAlbany. We served over 100 local youth through interactive free, art-making programs. It's been a record-breaking year: a wonderful way to celebrate 45 years of art and community. As a few members of the community have shared, ACG's founder Les Urbach would be proud.
Join us in celebrating and sustaining Albany Center Gallery for another 45+ years to come. Our vision is a community shaped and enhanced by the region's artists, who reflect and influence our evolving, inclusive, and multifaceted culture.
To donate to Albany Center Gallery's year end campaign, you can:
Do so online and submit your secure payment here.
Write out a check to "Albany Center Gallery" and mail it to 488 Broadway, Suite 107, Albany, NY 12207 with "Annual Appeal" in the memo
Visit ACG and hand cash or check to Karina or Emily in-person (and check out the Members' Show)
Send us your contribution via Venmo
Ask us about planned giving or stock gifts.
Email Karina at kwojnar@albanycentergallery.org if you have any questions about other methods of donating or need assistance to contribute!
Together, we've directly paid over $56,500 and another $30,000+ in connected opportunities to 95 artists. Yet, this is simply not enough to sustain the creatives who enrich our cultural identity, engage our imagination, and inspire us all.
We are only able to continue the art and accessibility we do with the creative community by working together with you. Thanks in advance for your generosity in helping us bring MORE ART EVERYWHERE, TOGETHER!
Art uplifts and inspires. In fact, ACG's Board of Directors have been inspired to match donations for this campaign totaling up to $7,150. When you give by January 31, your gift will have double the impact. Our goal is to raise $20,000 to sustain and expand ACG's programming, including continued opportunities for youth and emerging artists
Donations as of 2/1/2023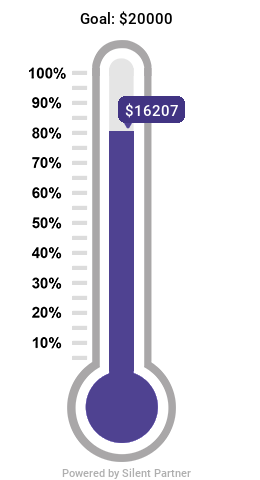 ​
If you give…

Here's an example of what it can do:

You will be recognized by…

$45

Covers costs of materials and supplies needed for daily operations and programs

Being listed on the annual appeal webpage and related promotional thank you materials (i.e. e-newsletters and social media posts)

$100

Covers costs of utilities, internet, and equipment needed in ACG

Above benefits, as well as

Receiving an annual ACG Artist Friend Membership ($60 value!)

$250

Covers costs of marketing and printing for exhibitions, events, and programming

Above benefits, as well as

Being listed in Annual Report, thank you TV sign in the Gallery, & "Sponsors" webpage for the year

$500

Partially covers costs of installing, curating, and presenting an in-house exhibition

Above benefits, as well as

Receiving your choice of ACG merch (t-shirt, tote bag, wine glass, magnet, pin, etc)

$1,000

Covers artist stipends for one in-house exhibition

Above benefits, as well as

Receiving 2 general admission tickets to ACG's Annual Fall Gala
Watch the video below to see a glimpse into the past year (and past 45!), and what the future may hold...
Video made by Dan Stephens.
WHAT ELSE CAN YOU DO? SHARE this campaign...
with 2-3 friends or family members and invite them to donate
Print out THIS flyer and distribute
THANK YOU TO OUR DONORS OF THIS CAMPAIGN: as of 2.1.2023
Accounting for All; Robyn Adair; Jeffrey R. All; Deyva Arthur; Celeste Balducci; Joel Best; Anita Bobersky; Ellen Brickman; Lisa Brown; Sandra B. Rowbo;Carol Bullard; Lynne Bunnell; Laura Cannamela; James Carr; Joseph Dalton; Maria DeAngelo; Kevin & Cindi Dubner; Jeanne Flanagan & Paul Mauren; Sid Fleisher & Gayle Anderson; James M. Gaughan & Keith C. Lee; Carlsbury Gonzalez; Robin Gordon; Susan Gould Fogerite; John & Christine Greenhut; Tammis Groft; Lorie Grund; Jessica Hansen; Mark Harris & Melanie Greenspan; William Harris, Esq & Holly Katz; Lucinda Huggins; Hume Charitable Fund; Ellen Jabbur; Irina Kaplan; Marilyn Kaplan & Robert Fullem; Naomi Lewis; Tina Lincer; Carmen Lookshire; Willie Marlowe; Mark & Mary Kate McCarty; Iona Megas; Gail Nadeau; Annette Nanes; Chet & Karen Opalka; Alan Opresko; John & Patty Paduano; Rita Papandrea; Andrew Pellettieri & Fern Apfel; Ann Pfau & David Hochfelder; Thomas Pfeiffer; David Phaff; Tim & Ellen Pierce; Nancy Pierson & Gary Gold; Lawrence Rappoport; Rosemarie V. Rosen; Jean Rosenthal; Joann Ryan; Melanie Stevenson; Theresa Swidorski; Scott Taylor; Patricia Testo; Ed Ticson; Terry & Doreen Tiernan; Venlue Williams-Leonard; Sandra Zwink