It's Members' Show Pick up time!
COVID related changes, please read and sign up for time slot. 
Thank you for showing a piece in ACG's 2020 Members' Show! The last day of the exhibit is January 15th, and we're scheduling socially distanced artwork pickup between Saturday 1/16 and Saturday 1/23.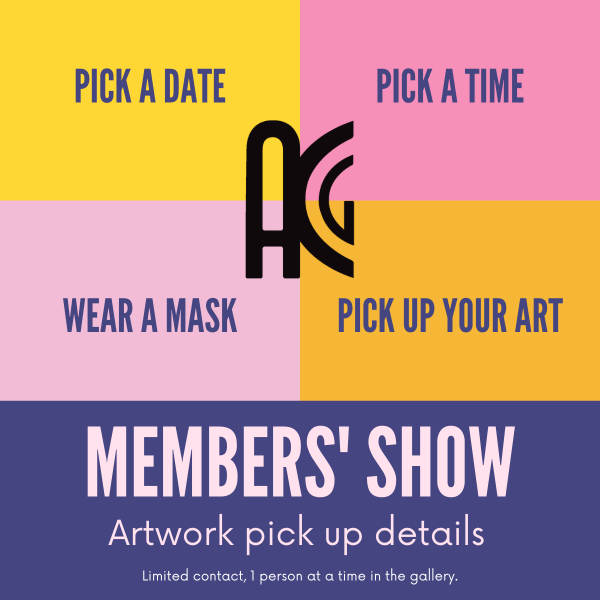 Please read the directions carefully as pickup will work as follows:
-Sign up for a pick-up time using this link 
-Time slots are first come first serve, please reply to this email if none of the available times work for you.
-Your artwork will be located at the front of the gallery space at your designated pickup time. If you dropped off packaging with your piece, your artwork will be wrapped and labeled.
-When you arrive at ACG at your designated time, please gather your artwork and then exit the Gallery.
-ACG staff members will remain in the back of the Gallery space to maintain a safe distance.

Please choose a pickup date via the link by 11:59 PM EST on Wednesday 1/13.

We ask that if at any point you develop COVID-related symptoms, have contact with someone who has a confirmed or suspected case of COVID, or if you've been out of state in the last 14 days, please contact us and we will coordinate pickup at a later date. There is no fee for delayed artwork pickup, due to circumstances, but please pick up your artwork if you can.

Thank you for your patience and cooperation during these challenging times! We here at ACG are committed to the health and safety of our community. Please don't hesitate to reach out if you have questions or concerns.

If your piece was sold, you will receive an email from us within 24 hours, you can then disregard this pick up arrangement. 

Thank you for supporting ACG, and we hope to show your work again in the future!

If you still need to renew your membership with us, you can do so online here.