Leigh Wen's Artwork Sweepstakes
Albany Center Gallery is excited to announce that the internationally known Taiwanese-American artist Leigh Li-Yun Wen has donated one of her rare works on metal, a stunning flower table to raise money in support of ACG's vision. Our mission is to promote and exhibit art produced by New York Capital Region's emerging and established artists and to engage, enrich, and inspire the community to appreciate the importance of art. This is a remarkable, unique opportunity to own work by this renowned artist who has strong ties to ACG and the Capital Region.  
Wen's work explores the four elements of western cosmology—earth, air, fire, water as well as focuses on issues related to nature, the environment, and women. She is best-known for creating monumental paintings highlighting the four elements, large-scale flowers on shaped canvases (some measuring up to 76 inches x 74 inches), landscapes on ceramic vessels, and smaller works on paper, metal, porcelain, and fabric. 
Words from the artist: My paintings express my personal and cultural histories. Having grown up on the island of Taiwan, I have a deep affinity for the elemental power of water and the forces of culture. As a Taiwanese-American artist, I feel the ebb and flow of competing cultures. The ancient philosophies of my homeland, which teach self-discipline and selflessness, collide and mingle with Western notions of ego, alienation and desire. 
Photography of table credited to Andrew Elder.
Prize Detail
Dimensions: Diameter 21.3 inches  x Height 23 inches
Materials: Table top: enamel on brushed stainless steel with detachable glass top. Table stand and base: stainless steel with brushed enamel.
Reproduction of Peony 22. (original artwork, 2020 oil on linen, 69 inches x 64 inches) 
Edition 2 of 10 tables. Value of this table is 10,000 USD.
Copyright 2022. 
Table top can be hung by itself as a wall piece, if desired.
Total Prize Weight: 56.85 lbs (Table top: 28 lb 5 oz; Table stand and base: 28 lb 8.6 oz)
Note prize will be shipped in two boxes via Priority Mail with Registered Mail (signature required for every step during process of delivery)
Albany Center Gallery will cover shipping fees up to $500.00.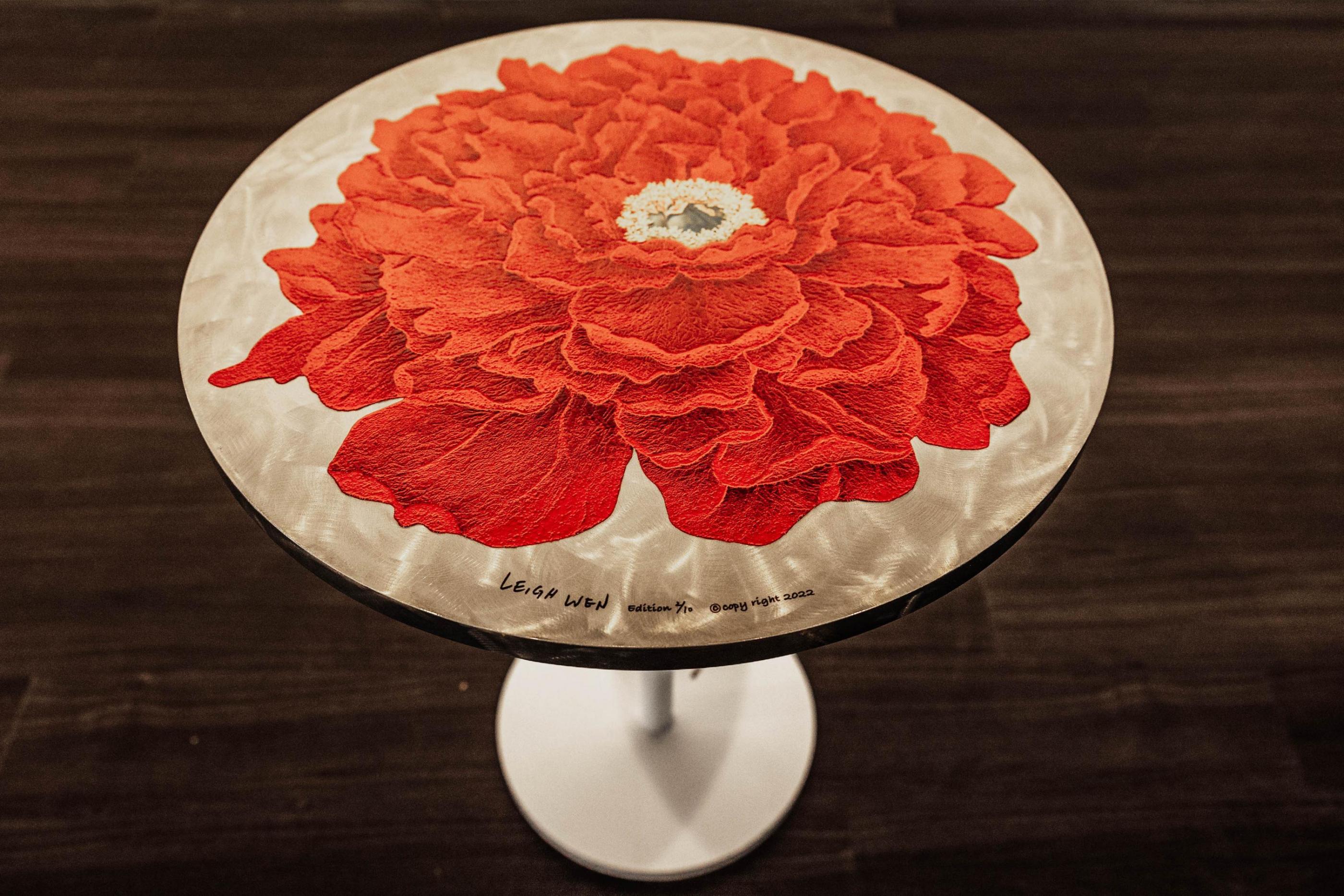 Sweepstakes Information
Each contribution made will go directly to the local creative community via stipends for artists and artist mentors, initiating new youth programs, creating new moveable murals as well as increasing accessibility to arts programming to the next generation of artists. Our youth programs provide free books, free food, and free art supplies directly to youth in the community. Any amount makes a difference.
When you enter the sweepstakes, you will be given one free ticket for entry. To increase the chances of winning this phenomenal artwork, you can submit a donation in the sweepstakes site. Each donation also will come with a certain number of tickets: 
$50 = 25 tickets
$100 = 65 tickets
$200 = 150 tickets
$350 = 300 tickets
$500 = 500 tickets
$1,000 = 1200 tickets
$2,000 = 2600 tickets
$3,000 = 4500 tickets 
*Please note staff and Board members of Albany Center Gallery and their immediate families and those living in the same household, whether or not related, are eligible to enter the sweepstakes.
Learn more about the sweepstakes here.
Artist's Bio
Her distinguished career includes serving as a cultural ambassador during the presidential administrations of Bill Clinton, George Bush, Barack Obama, Donald Trump, and Joe Biden. As a cultural ambassador, she has exhibited her work in 18 American embassies, consulates, and other government institutions in Jordan, Malaysia, Singapore, Namibia, Botswana, Philippines, Hong Kong, Taiwan, Denmark, and Poland. Wen received prestigious awards including The New York Foundation for the Arts, The Helena Rubinstein Foundation, the Pollock-Krasner Foundation and the Lorenzo de Medici Award for her work in the Florence Biennale. In 1997 she was recognized by the New York State Legislature, as an artist of  New York State. Her work has been exhibited in over 120 solo and group exhibitions around the world; her artwork is included in over 100 museums, corporate, government and private collections. She received an MFA from the State University of New York at Albany in 1994 and was awarded the Stoneman Distinguished Alumni Award from the New York State University Alumni Association in 2023. She had a solo exhibition at the University Art Gallery and several group shows at the Albany Institute of History & Art culminating in a forty-year retrospective of her work in 2022.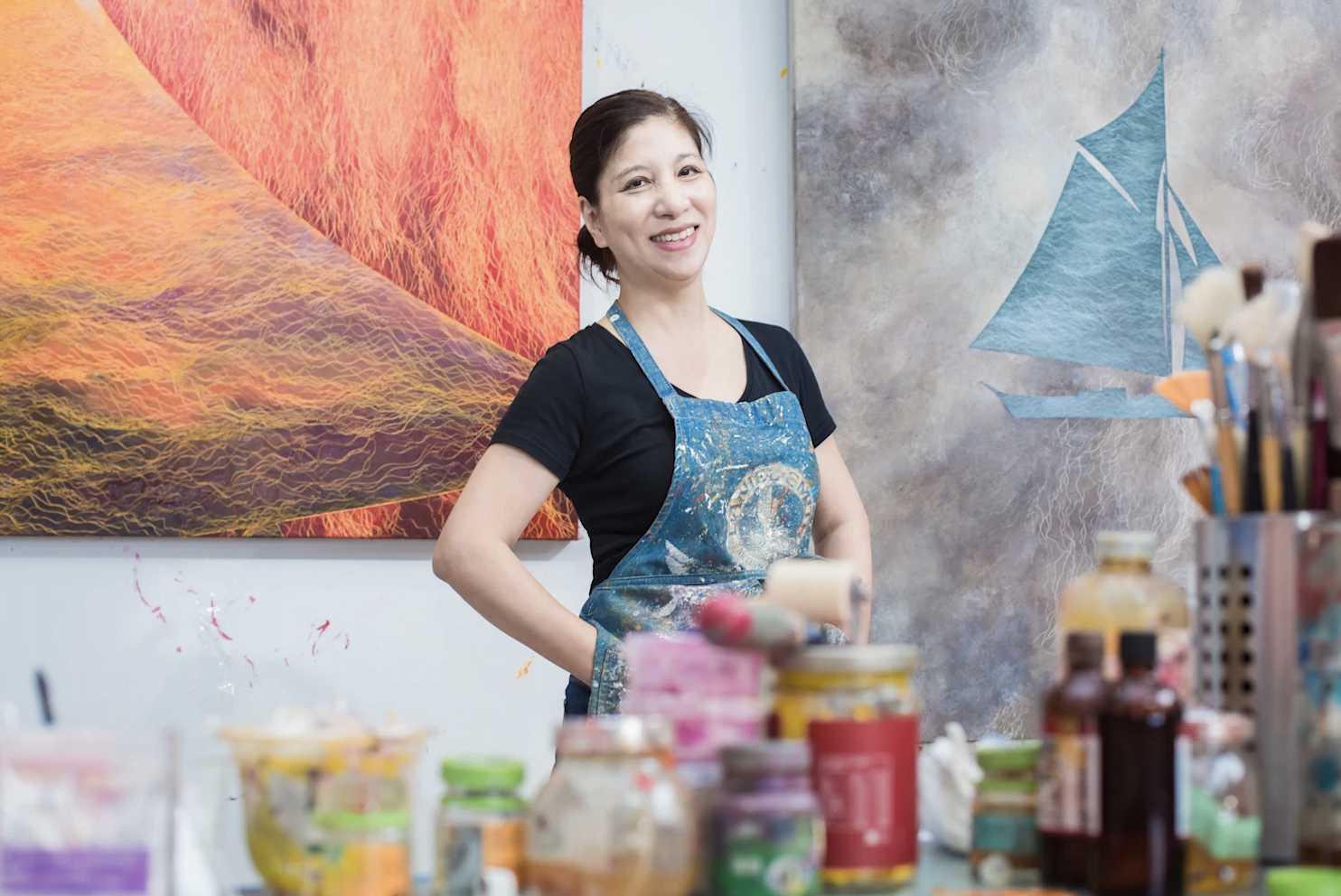 Artist's Process 
Wen's working method is a process of subtraction from darkness to light. "I carve into the paint with a stylus to bring forth the individual lines that are the central motif of my work," she notes. These lines flow across the canvas in rhythms and frequencies that create depths and swells on the painted surface. Something of the self is lost in the resulting tangle and then regained, only to be lost again. Simplicity and harmony exist within the chaos of the world. Wen began her artistic journey as a printmaker. After determining that she was unable to work with the chemicals, she moved to oil painting, but is still working with lines. Color is used to expand the emotional range in Wen's work: "my palette is drawn not from appearances but from the lyric and psychic necessities of my art." The uniformity of line, from edge to edge and painting to painting, implies suppression of the artist's hand in favor of objectivity learned from nature. In spite of this, her work remains deeply autobiographical. 
Learn more about the artist on her website (http://leighwen.com/)