June 10 Art.Work.Space. Workshop with Ira Marcks
Tags: Gallery News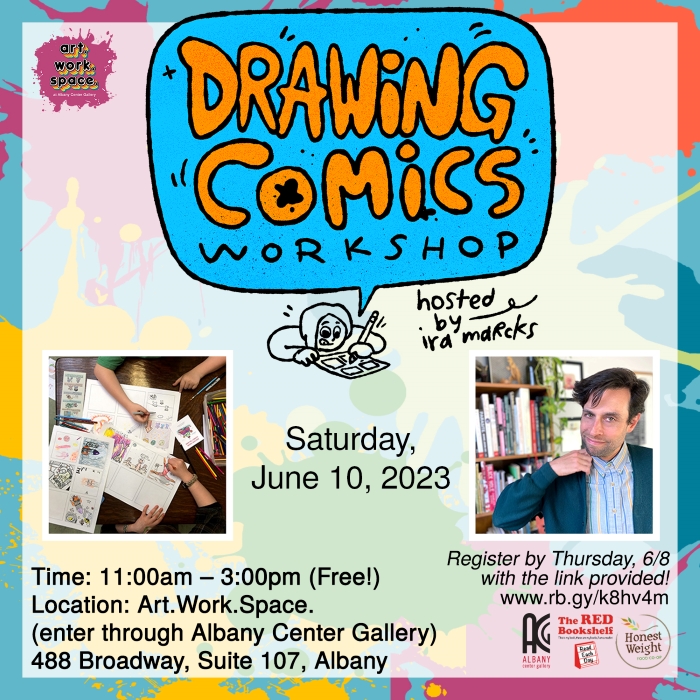 ---
Join us for DRAWING COMICS: an Art.Work.Space. workshop with Artist Ira Marcks happening on Saturday, June 10 from 11 a.m. – 3 p.m.!
DRAWING COMICS is a workshop for young artists interested in creating sequential art. Learn the drawing and storytelling skills you'll need to create your own comics and find a deeper appreciation for the stories you love to read. All supplies provided. Hosted by graphic novelist Ira Marcks.
About Artist Mentor Ira: Ira Marcks is a graphic novelist in Troy, NY. He writes and draws graphic novels for young readers who love a creepy mystery. Ira's books SHARK SUMMER and SPIRIT WEEK have been recommended by The New York Times and American Library Association and he has taught 80,000+ students cartooning on the learning platform, Skillshare.
All youth between the ages of 13-18 are invited to attend. The workshops are free, and there is limited space in order to foster a proactive learning environment. Registration is REQUIRED. No prior knowledge or experience in the arts nor topic of specific workshops is necessary. Please include a valid email with registration, as we will be reaching out to you for sharing logistics and waiver details.
Partners of Art.Work.Space. include: The RED Bookshelf and the Honest Weight Food Co-op.
Funders and supporters of Art.Work.Space. include: The Carl E. Touhey Foundation and you?? Help keep our shelves stocked and sustain programs like these. Email Karina at kwojnar@albanycentergallery.org for more info or click here.