Annual Meeting 2021
Tags: Gallery News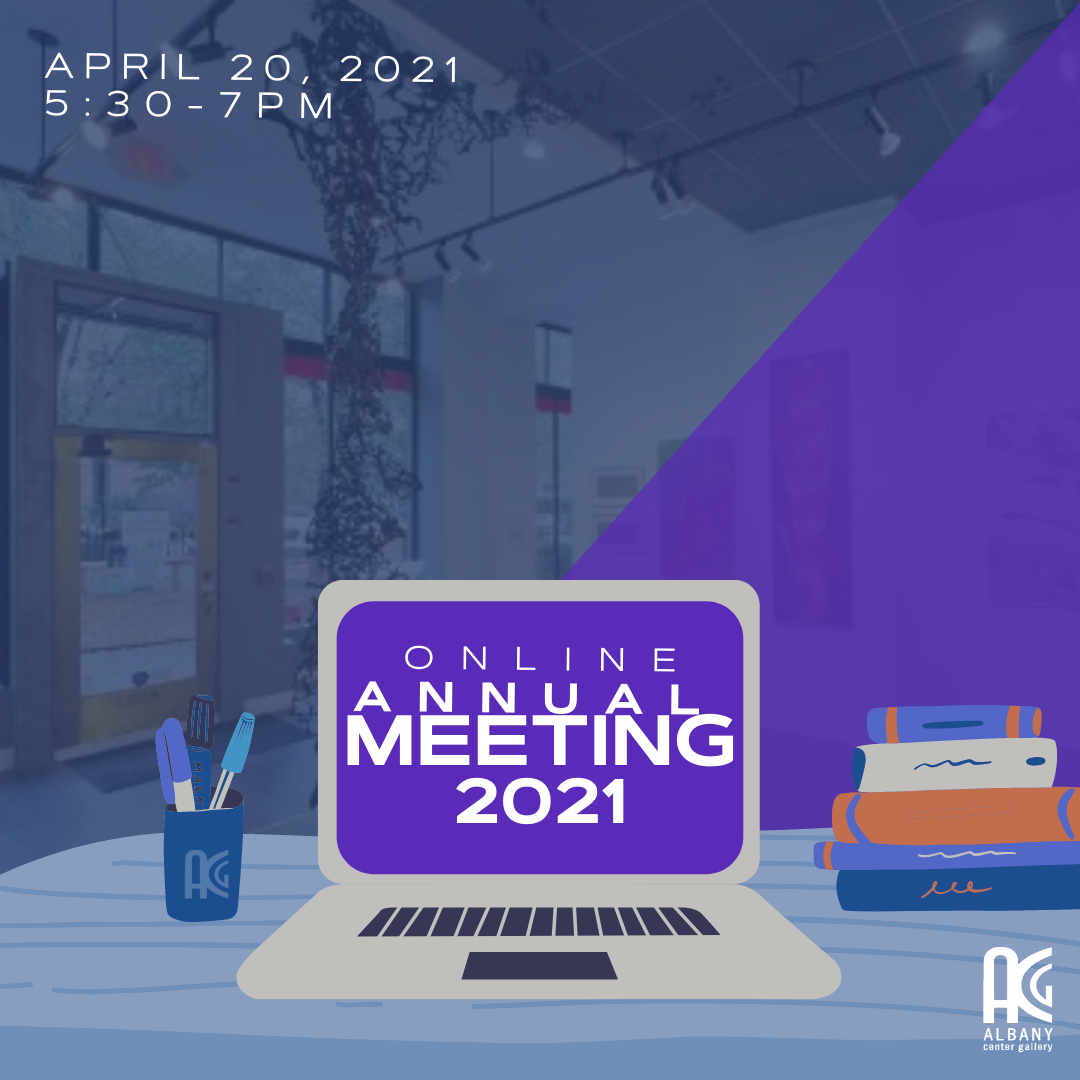 ---
On Tuesday, April 20, ACG's Board of Directors is hosting an Annual meeting over ZOOM at 5:30 PM.
Did you know that members of Albany Center Gallery get a vote?
On Tuesday, April 20, ACG's Board of Directors is hosting an Annual meeting, where we present the Fiscal Year (FY) 2022 Slate of Officers & Directors, recap successes and challenges of the last year, and celebrate all of you! You get to vote on the Slate of Officers & Directors for our upcoming FY.
ACG is hosting the Annual Meeting on Zoom starting at 5:30 PM on Tuesday, April 20. You must be an ACG Member to attend the Annual Meeting and register in advance via this EventBrite. Only those who registered will receive the event link.
After registering, you will receive a confirmation email containing information about joining the meeting.
If you'd like to join as a member, you can click here. If you are unsure of your membership status, please reach out to Karina at kwojnar@albanycentergallery.org prior to registration.
We hope you will join us for a recap of what was certainly a challenging year for everyone. Learn more about the exhibitions, programs, and art initiatives we hosted. Tell us what else you'd like to see and hear from ACG. This is an opportunity for all of us to have a conversation about the future of the arts in the Capital Region (& beyond).
See you on the 20th. Stay safe!
If you are not able to log in to ZOOM on a device, you can call in. Once you register, you will be given a number to call. Registration ends the day before (Monday, April 19) at 11:00PM.
Our Slate of Directors for FY22 is as follows: 
Executive Committee: David Phaff, President; Rita Papandrea, Vice President; William O. Pettit III, Treasurer; James Carr, Secretary; Kevin Dubner, Immediate Past President.
Board Members: Lisa Brown; Arzu Fallahi; Carlsbury Gonzalez; William Harris, Esq.; Jessica Hansen, MNA; Annette Nanes; Hazal Canisag Ozturk; Jillian Platt; Ruby Silvious; Melanie Stevenson; Edward Ticson
Graphic design work by awesome intern Nyla McKenzie-Isaac