Imagine by Oscar Bogran and Dha'Sean "Skillz' Serrano
---
The mural, "Imagine," is the first of a series of three new murals within the city of Schenectady thanks to a statewide Downtown Revitalization Initiative award of $67,000. The newest mural, located at 115 North Broadway, Schenectady, NY on the expansive Habitat For Humanity Restore building, is titled "Imagine" and was created by local Schenectady-based artists Dha'Sean Serrano & Oscar Bográn. 
Mural Artist Dha'Sean Serrano said, "Schenectady has powered my imagination ever since I was a little kid. It had all the right elements to bring my dreams to life. Throughout my years as a local resident, I encountered many teachers from various areas of teachings who all encouraged one common message… 'to imagine.' To imagine yourself as this or that, to imagine yourself as anything you wish. This mural is dedicated to that message, philosophy, and the youth of Schenectady."
Mural Artist Oscar Alberto Bográn said, "Our goal is to empower the community of Schenectady, particularly youth of color who long for role models in their lives. As a father and a Latino dealing with the struggles of today, I want to leave a legacy that will help empower them. To encourage those who are following in my footsteps to never stop dreaming and never stop imagining the possibilities, because truly, they are endless. I dedicate this mural to my son Oscar."
Albany Center Gallery, Albany Barn, Electric City Barn, Habitat for Humanity of Schenectady County, & Schenectady Habitat Restore collaborated in development, management, and execution of the #CapitalWalls mural. Additional support was provided by Schenectady County Metroplex Development Authority and the Schenectady County Legislature County Initiative Program. The DRI award is administered by NYS Homes and Community Renewal. Foundational support for Capital Walls by Albany Parking Authority.
"Imagine" was completed in September 2022.
Images may be subject to copyright; please contact ACG before sharing.
To see more photos of the process, click here.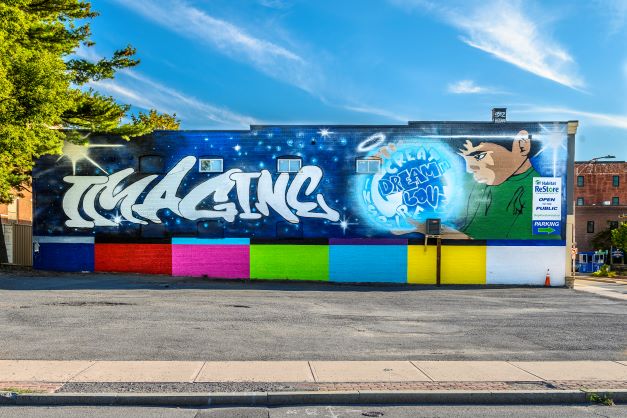 Photo Credit: Vincent Giordano