Times Union Preview | Fall arts guide: Cornucopia of culture
Tags: Press Coverage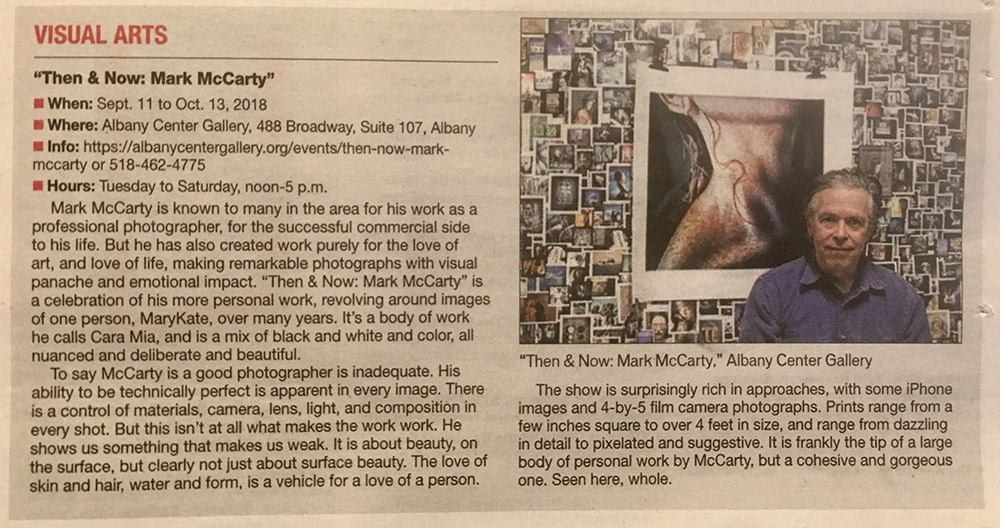 ---
Preview of Then & Now: Mark McCarty by William Jaeger in the Times Union's Preview section
 
"Then & Now: Mark McCarty"
When: Sept. 11 to Oct. 13, 2018
Where: Albany Center Gallery, 488 Broadway, Suite 107, Albany
Info: https://albanycentergallery.org/events/then-now-mark-mccarty or 518-462-4775
Hours: Tuesday to Saturday, noon-5 p.m.
Mark McCarty is known to many in the area for his work as a professional photographer, for the successful commercial side to his life. But he has also created work purely for the love of art, and love of life, making remarkable photographs with visual panache and emotional impact. "Then & Now: Mark McCarty" is a celebration of his more personal work, revolving around images of one person, MaryKate, over many years. It's a body of work he calls Cara Mia, and is a mix of black and white and color, all nuanced and deliberate and beautiful.
To say McCarty is a good photographer is inadequate. His ability to be technically perfect is apparent in every image. There is a control of materials, camera, lens, light, and composition in every shot. But this isn't at all what makes the work work. He shows us something that makes us weak. It is about beauty, on the surface, but clearly not just about surface beauty. The love of skin and hair, water and form, is a vehicle for a love of a person.
The show is surprisingly rich in approaches, with some iPhone images and 4-by-5 film camera photographs. Prints range from a few inches square to over 4 feet in size, and range from dazzling in detail to pixelated and suggestive. It is frankly the tip of a large body of personal work by McCarty, but a cohesive and gorgeous one. Seen here, whole.
See the complete Fall Arts Guide here: https://www.timesunion.com/entertainment/article/Fall-arts-guide-Cornucopia-of-culture-13206888.php