Summer Youth Arts Program Celebration!
Tags: Gallery News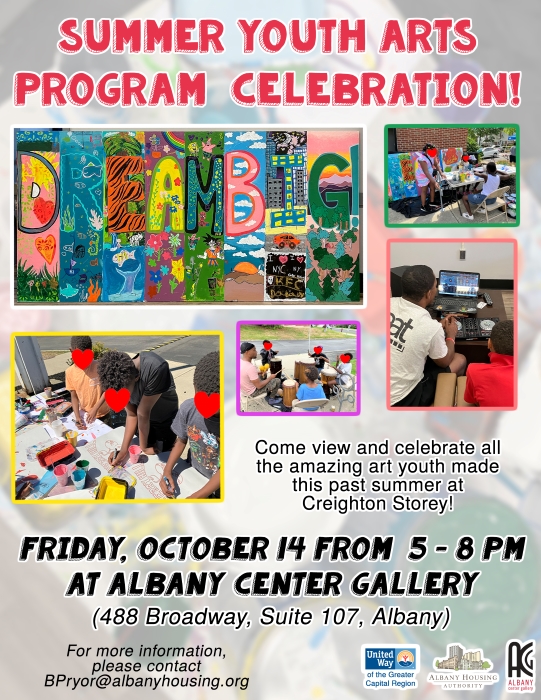 ---
On Friday, October 14 from 5 - 8 p.m., there was an Artists' Reception celebrating the youth that participated in the 2022 Summer Meals Collaborative Program at Creighton Storey Homes! The smaller works of art made by the youth as well as the 4 by 8 foot moveable mural titled "DREAM BIG" that they created was on display in Art.Work.Space. (right across the hall from ACG, located at 488 Broadway, Suite 107 in Downtown Albany).

This pop-up was held in tandem with the Artists' Reception for Ecosystems at ACG.

This celebration was hosted by Albany Center Gallery (ACG), Albany Housing Authority (AHA) and United Way of the Greater Capital Region (UWGCR). If you were not able to attend, you can view the mural at Creighton Storey Homes where it was permanently installed.

These young artists were part of a summer-long collaboration between the three nonprofit partners. The children literally dreamed big by designing, imagining, and creating an eight-foot-long mural; while also experiencing other forms of art like African Drumming, screen printing, painting, and DJ'ing to name a few with many local Artist Mentors as guides. Each Artist Mentor used their area of expertise to show the youth new ways of being creative, which brought so many different mediums, perspectives, and cultures for the youth to experience! The children also made smaller, unique works of art on ceramic tiles, foam board, and paper.

This collaboration was part of a region-wide effort through the Summer Meals Collaborative that brings together health and human service organizations, local government, advocacy leaders, research institutions and the creative sector to ensure kids and teens have access to nutritious and delicious meals along with fun and enriching programs. Led by the United Way of the Greater Capital Region, the Collaborative is on a mission to ensure no kid goes hungry in the summer months.

Email bpryor@albanyhousing.org for more information about the celebration!