"Shared Connections" Movable Mural Event
Tags: Press Coverage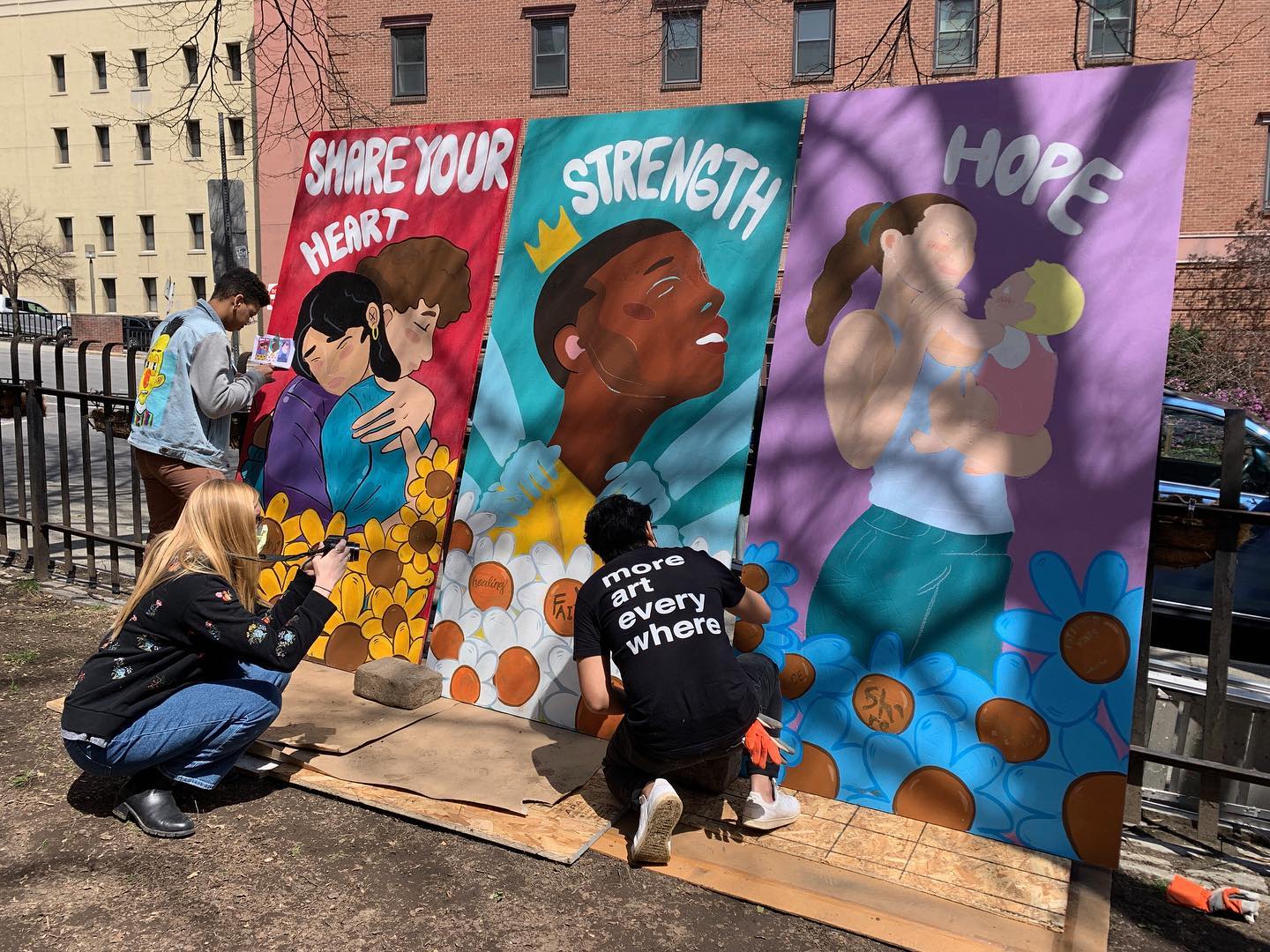 ---
Albany Med Students Showcase "Shared Connections" Through A Movable Mural Event
Art Title: Shared Connections
Art Theme: "Art harnesses the power to connect and share stories. To highlight and validate. My inspiration for this piece came from interviews conducted by Albany Med, IPH, and Family Promise. I wanted to showcase elements of those stories to highlight the importance of connection and community. And how we should connect to uplift our neighbors and each other." - Artist, Jade Warrick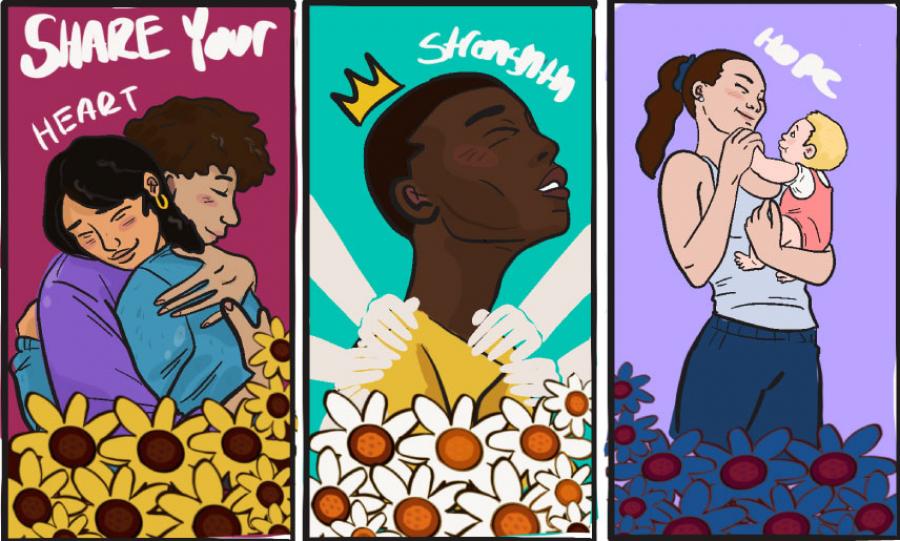 • Panel A: This panel's art was inspired by a story of two siblings, along with their mother. They fled El Salvador and became displaced as a result of seeking safety. The two siblings expressed that spending time with their mother and making her laugh and happy was a significant source of their happiness during their most challenging times. Quote from interview: "Share. But share with your heart. Sharing with the condition that you think that you will get something back is not sharing."
• Panel B: This panel's art was inspired by a mixture of interviews where interviewees expressed hurt as a reaction to the stigma associated with homelessness. How there is a yearning to be seen as human and supported. Quote from an interview: "I feel like I have to hide the fact that I am homeless because people may change their opinion on me."
• Panel C: This panel's art was inspired by the story of a mother who escaped from a rigid re-education center in Denmark to protect her daughter, who has a disability, from being placed in foster care w/o parental consent. Quote from interview: "Asylums are super important. Knowing how Denmark handles children is something that needs to be sent worldwide."
A collaborative effort between the Albany Medical College service learning program Empowering Arts, IPH, Family Promise of the Capital Region, Albany Center Gallery and artist Jade Warrick culminates in an event where community members are celebrated and encouraged to share their stories through words of affirmation on a movable mural.
The Shared Connections project was born out of a goal to spread awareness by interviewing individuals experiencing homelessness, creating a visual representation of their stories, and painting this design on a movable mural to be displayed at various locations around Albany. "It's simply about empowerment, validation and recognition that anyone's journey through life is never linear," said Andrew Kwok, an Empowering Arts leader who came up with this idea for his summer of service project. Homelessness is a growing issue in the United States, and the number of people experiencing homelessness in Albany, NY has reached a staggering 2,791 during 2019-2020. Behind these numbers are individual stories of homelessness, revolving around themes of hope, family, loss, poverty, and mindfulness that are not well known or discussed in the community.
The Empowering Arts program, a part of Albany Med's service learning curriculum, exposes students to the challenges facing underserved populations while strengthening their compassion and commitment to improving the health of their community through a collaboration with IPH. "Empowering Arts was born out of a desire to help serve our community and promote medical student involvement with and understanding of homelessness in Albany," said Shivali Gupta, who serves on the Empowering Arts leadership team along with Andrew Kwok, Annette Kaminaka, Kathryn Mancini, and Emily McQuaid. "We have been so excited to help get this project off the ground and make the event a success. We hope to help strengthen the connection between medical professionals and the community. And ultimately, we are looking forward to everyone having fun together!"
"Art has the unique power to tell meaningful stories and bring people together," says IPH Community Coordinator Skylin Baestlein. "The Shared Connections project is an important representation of how we can come together as a community to better understand the experiences of individuals experiencing homelessness. We thank the Empowering Arts team and
Albany Med for their vision and leadership in bringing this initiative to life and look forward to seeing its impact in the weeks to come."
Mary Giordano of Family Promise of the Capital Region says, "We are honored and grateful to partner with Albany Medical Center as the individual voices of the homeless and their journeys are captured through the mural project for all to see."
The event is anticipated to engage multiple community organizations and members who will come together to contribute words of affirmation to the mural that has been painted by Jade Warrick, also known as TrashKiD Art. "Art harnesses the power to connect and share stories. To highlight and validate. My inspiration for this piece came from stories and memories shared with me by IPH and Family Promise. I wanted to showcase pieces of those stories to highlight the importance of connection."
Tony Iadicicco, Executive Director at Albany Center Gallery, has partnered closely with Empowering Arts to make this project a reality. "Art has the power to inspire, heal and create change; this program with our awesome partners and artist Jade Warrick shows us art also can connect us to share stories and experiences to uplift and unite."
This community event is occurring at the Jim DiNapoli Park (488 Broadway, Albany, NY 12207) on Saturday, April 23rd from 11 AM to 4 PM. Each person has their unique story to share and this mural will be able to amplify the voices of those experiencing homelessness. We hope that the collaboration between the healthcare community at Albany Med, the Albany art community, and the community organizations that provide services to those experiencing homelessness will create space for empowerment and awareness.
Social Media: @empoweringartsamc @albanycentergallery @iph_ny @family.promise @albanymed @trashkid_art @albanymedfm
Media Contact: Andrew Kwok
Medical Student, Albany Medical Center
646-808-7049
kwoka@amc.edu