September 9, 2023 Art.Work.Space. Workshop with Kenneth Newman
Tags: Gallery News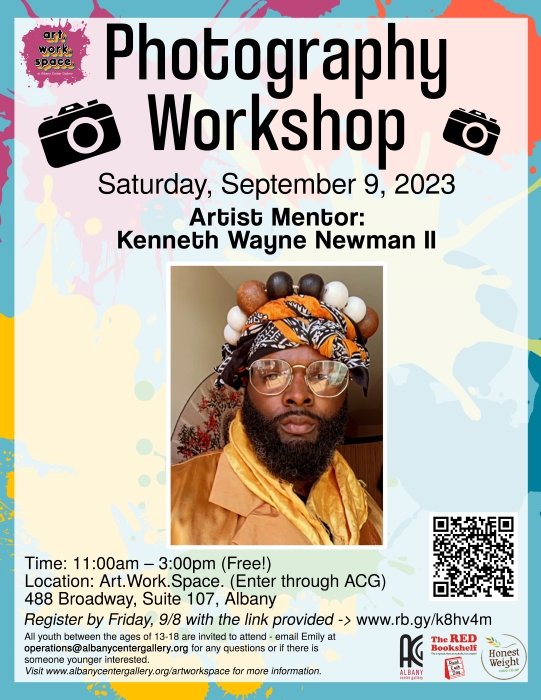 ---
Sign up now!! for the NEXT Art.Work.Space. workshop: Photography with Artist Mentor Kenneth Newman happening on Saturday, September 9th from 11 a.m. – 3 p.m.! Register with the link here by Friday, 9/8! 📷💥
Join us to learn about the basics of photography, and how to shoot photos on a camera or smartphone!  Youth will then walk around Downtown Albany to take photos of nature, buildings, people, and more. The 45th Annual Photography Regional will be on view at ACG, so youth will also learn about different types of photography and see awesome prints from local & regional artists!
About Kenneth: Beyond the realm of codes and algorithms, Kenneth's artistic palette extends into the visual arts. Through the lens of photography and videography, he captures the essence of the world's beauty. His skillful handling of market research and data analytics adds depth and nuance to his creative repertoire. As a published researcher, Kenneth delves into the intricate dance of consumer perception and corporate activism, showcasing his profound curiosity about human behavior.
All youth between the ages of 13-18 are invited to attend. The workshops are free, and there is limited space in order to foster a proactive learning environment. Registration is REQUIRED. No prior knowledge or experience in the arts nor topic of specific workshops is necessary. Please include a valid email with registration, as we will be reaching out to you for sharing logistics and waiver details. 
If you have someone younger interested, please email Emily at operations@albanycentergallery.org
Partners of Art.Work.Space.: The RED Bookshelf and Honest Weight Food Co-op.
Funders and supporters of Art.Work.Space. include: The Carl E. Touhey Foundation and numerous generous individuals.