September 10, 2022 Art.Work.Space. Workshop with Marcus Kwame Anderson
Tags: Gallery News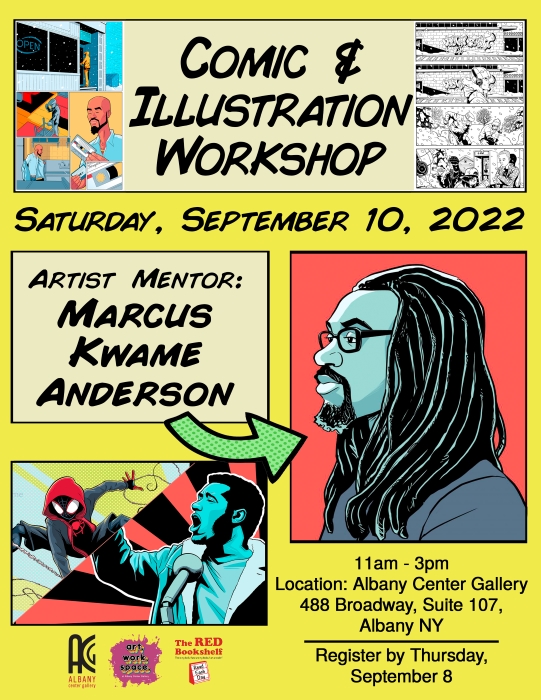 ---
During this workshop, youth learned the basic elements of cartooning like panels, word balloons, composition, sequential storytelling, and more by looking at some examples of Marcus' awesome artwork! Then, they used those skills to work on a 3 panel exercise that guided them through the process of telling a short one page story. The rest of the day focused on Marcus working with the youth through applying the one page story approach to their own ideas as they created a short comic! ✍️

About Artist Mentor Marcus: "Marcus Kwame Anderson is an illustrator, cartoonist, and fine artist who was born in Kingston, Jamaica and moved to upstate New York at an early age. He has long been immersed in the arts with a particular passion for sequential storytelling. Marcus created the independent coming of age comic Snow Daze with Leonardo Faierman, illustrated the all-ages detective story Cash & Carrie, and most recently collaborated with David F. Walker on the Eisner Award winning The Black Panther Party: A Graphic Novel History."

All youth between the ages of 13-18 who live around Albany County are invited to attend. The workshops are free, but there is limited space in order to foster a proactive learning environment and mindfulness of COVID19 restrictions. Registration is REQUIRED. No prior knowledge or experience in the arts nor topic of specific workshops is necessary. Just come with an open perspective! Please include a valid email with registration, as we will be reaching out to you for sharing logistics and waiver details.
See more photos here!