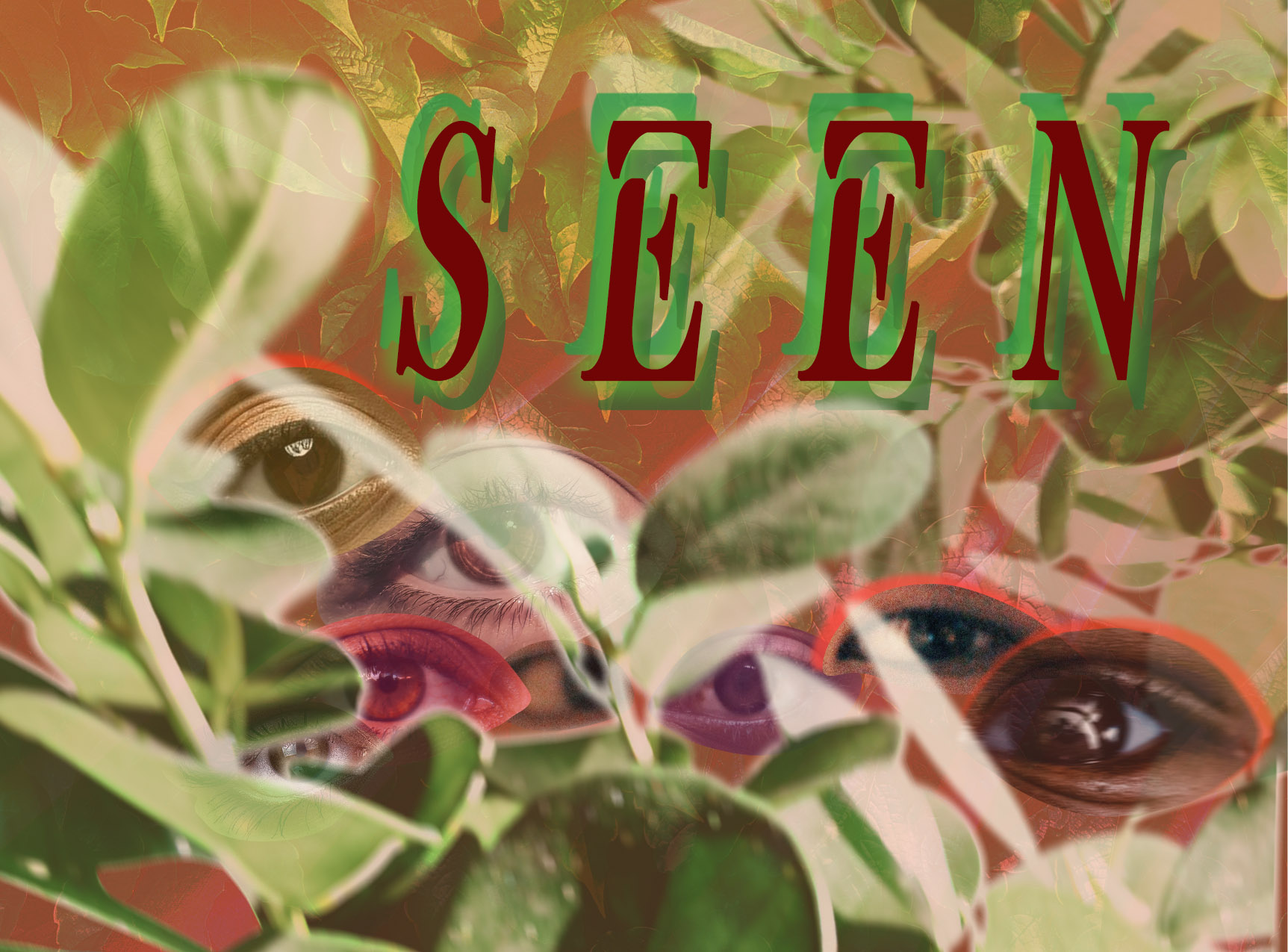 ---
From August 6 – 31, 2021 Albany Center Gallery (ACG) presented SEEN, featuring the works of 7 regional artists: Maryam Adib, Alicia Barton, Sofeia Eddy, Arnela Mahmutović, Alyssa McClenaghan, Aurora Powell, and Caitlin Rose Sweet. SEEN was free and open to the public Tuesday – Saturday, Noon – 5 p.m. An in-person Artists' Reception was held on Friday, August 6, from 5:30 - 7:30 p.m. Mask-wearing and social distancing was required for all guests.  Please visit albanycentergallery.org for full details on COVID19 safety guidelines.
SEEN examined and celebrated the pluralistic experiences that affect and shape the identities of those whose bodies exist at the intersections of race, gender, and sexuality. Many of the works that were exhibited manipulate figures and recognizable anatomy to address subjects such as intimacy, expectations, and autonomy– especially under the viewer's gaze. Abstraction and subversion become tools to create new spaces imbued with cultural histories, spirituality, and introspection. Informed by these multiple sources, the works staunchly reject the limitations of conventional categorization. Instead, they declare unique, undeniable, and unforgettable presences.
In her fine art practice, Maryam Adib uses mostly oil paint, gouache, and screenprinting to confront social and environmental injustices while also exploring consciousness and unconsciousness. Adib utilizes these various mediums to mimic, expose and ultimately unravel the illusions, conventions, and habits of society. Intended to emanate a healing aura, Adib's work intends to manifest joy within her viewers. Adib transforms the frustrating and despondent into beautiful, hopeful, and inspiring. 
Primarily focused in sculpture, Alicia Barton's multi-disciplinary practice functions as a mirror of the artist's internal psyche. These introspective pieces work to navigate anxiety, grief, and abjection all while performing glimpses of recognizable femininity. Drawing from the gothic aesthetic, horror movies and Barton's own lived experiences, Barton fuses and juxtaposes materials in her work to expose how even certain mediums have become gendered. The works aim to confuse the viewer; they balance a tension between desiring to seem attractive and seductive while also seeking to disgust, revolt and repel.
The multi-media collage paintings of Sofeia Eddy are informed by her personal, spiritual connection to nature and are currently focused on realizing and honoring her Afro-Taino roots. Her work reflects the complexities of Indigenous culture and how it was forced to bend to capitalism in order to survive colonial domination. Eddy creates works which affirm her spiritual connection to nature as well as the cosmos which she shares with her pre-colonial ancestors. In defiance of a brutal campaign to systematically marginalize and erase Indigenous cultures, Eddy actualizes how her traditional roots exist within herself.
Born in Germany to parents from the former Yugoslavia, Arnela Mahmutović paints scenes that explore her hybrid upbringing at the intersection of family tradition and Western society. Divorced from any point of origin, "displaced bodies" situated within Mahmutović's "invented spaces" allude to spiritual and psychological relationships informed where her Balkan heritage overlaps with a multitude of other varying sources. These painted figures are thus granted agency over their own narratives within these constructed environments inspired by illuminated manuscripts, contemporary imagery, and personal stories.
Alyssa McClenaghan's current series of flesh-toned radiators continues the artist's exploration of notions of labor, femininity, gender, and her own lived history. Formed from materials typically used in construction and in the adornment of homes, these sculptures and installations center on how the medium relates to domesticity, warmth, comfort, fragility, strength, necessity, and motherhood. The radiator and human body are represented as sturdy yet vulnerable to breakage, addressing many oft-overlooked physical and psychological experiences of the feminine.
Aurora Powell is a multimedia artist working mostly in screen-printing and painting whose creations speak to their experiences with queerness. She directs the viewer's gaze toward abstracted figures who become objects of study or even dissection. Some bodies remain intact, others are chimerically merged together, and others have been fragmented, often nauseatingly or grotesquely. Powell's works represent aspects of the vulnerability, invisibility, and fear associated with navigating a majority cisgendered heteronormative system as a queer body.
Caitlin Rose Sweet's functional ceramics and assemblages consist of found objects and craft scenes. Each addresses implicit and underlying heteronormativity and its effects on the feminine body which refuses to conform to oppressive ideas of feminine labor. In craft, the queer maker's hands are not just semi-autonomous tools but also spaces of political resistance and sexual agency. Sweet continually challenges the moralizing of certain bodies and crafting techniques as "good" or "proper". Allusions to anatomy and domesticity examine how images and objects establish or perpetuate cultural identities.
SEEN was curated by Jennie Tang, ACG Curatorial Associate. The exhibition was made possible by ACG Premier Sponsors: David Phaff & Howard Hanna Real Estate Services; and Kevin Dubner, Partner & Wealth Manager at Steward Partners Global Advisory, LLC. Additional support was provided by Ellen Brickman and the New York State Council on the Arts with the support of Governor Andrew M. Cuomo and the New York State Legislature.