-scapes
Tags: Gallery News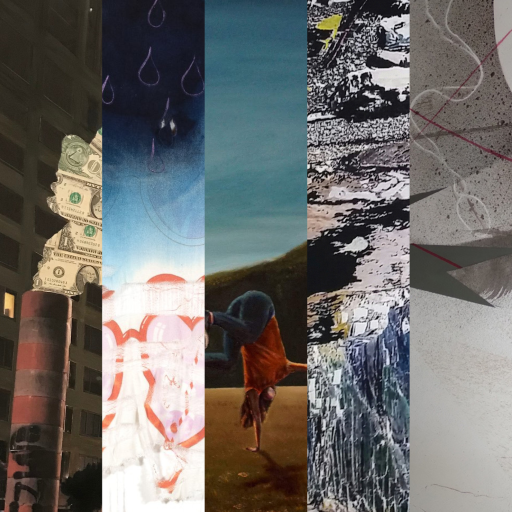 ---
From September 2 - 30, 2022, Albany Center Gallery (ACG) presents -scapes, featuring the work of 5 regional artists: John DeSousa, Josepha Gutelius, Adrian Lee, Colleen O'Hara, and Annika Tucksmith. An Artists' Reception will be held on Friday, September 2, 2022, from 5 - 8 p.m. -scapes is free and open to the public; Tuesday – Saturday, Noon – 5 p.m. Mask-wearing is optional. 
-scapes features work that reimagines or reinterprets our notions of the "landscape" genre. Through layering effects across mediums, the human presence is felt in conjunction with the natural or built scenes around them, resulting in a sense of symbiosis or mutuality. The interferences of people on the -scapes around them are visibly subtle: through the literal construction of the materials and abstraction, or more formally within paintings where street and rural scenes interplay with the leftovers of human activity. 
John DeSousa repurposes thrifted towels, fabrics, and found objects by utilizing the processes of dyeing, unraveling, degrading, and sewing. His passion for creating this work stems from his youth and the connection that towels have to the beach and swimming. There, he has experienced both the pleasures and unpredictability of water. For DeSousa, creating his work revives the same senses of adventure, danger, and play that he has experienced in these spaces.
Josepha Gutelius, an award-winning poet and playwright, made a radical shift to creating visual art in 2015. Her paintings explore a broad range of contemporary life, including all of its vitality, crises, and grim humor. Gutelius' work has often been described as enigmatic, as in a detective story, with an implied narrative, a sociopolitical viewpoint, and "characters" who have secrets they're reluctant to tell.  
Adrian Lee is a mixed-media artist who correlates his experiences and memories by transcribing them through mark making to create a vulnerable sensation that the viewer may then connect with. He holds the belief that biographical moments, although anecdotal, establish a strong connection with the viewer, in the same manner as biographical literature. His mixed-media paintings act as memoirs imbued with urban undertones that originate from his background as a graffiti writer. Similar to graffiti, his work is an acknowledgement and reverberation of his existence distilled in images of himself, muses, and memories. 
Colleen O'Hara creates imaginary landscapes inspired by the interactions she has with physical spaces through the use of paint. She believes that the act of making, doing, and experiencing is what gives us information about our surroundings. O'Hara's large gestural marks refer to the movement of her body, while also complementing the areas of intricate detail that represent micro and macro perspectives. Pairing these contrasting marks allows her work to oscillate between the intimate and the immeasurable. Her work is highly representative of our reaction and response to the physical world. 
Annika Tucksmith was raised in Chatham, NY, alongside four siblings in a family of readers, a love of story-telling was nurtured, which eventually found its way into her artwork. She discovered oil painting at Connecticut College and never looked back. Tucksmith's paintings feature surrealistic narratives of the rural landscapes in which she grew up and still resides, taking the intimacy of the region to explore broader concepts of coming of age. Concurrently tender, quiet, and carrying an indeterminate sense of unease, these are stolen scenes where youthful figures are caught in the unguarded, unchaperoned rituals - mischievous and solemn in the dark.
-scapes is on display at Albany Center Gallery from Friday, September 2 to Friday, September 30 and features the work of five regional artists: John DeSousa, Josepha Gutelius, Adrian Lee, Colleen O'Hara, and Annika Tucksmith. The exhibition is made possible by ACG Premier Sponsors Howard Hanna & David Phaff; and Kevin Dubner, Partner & Wealth Manager at Steward Partners Global Advisory, LLC. Additional support is provided by Annette Nanes and the New York Council on the Arts with the support of the Office of the Governor and New York State Legislature.