Phoebe Rotter Murals at the Shaker Heritage Society
Tags: Gallery News
---
Installation is complete! Thank you to Phoebe Rotter & our friends at the Shaker Heritage Society for this artful collaboration. Scroll to see some images of the mural installation by Phoebe on the windows of the 1858 Shaker Washhouse!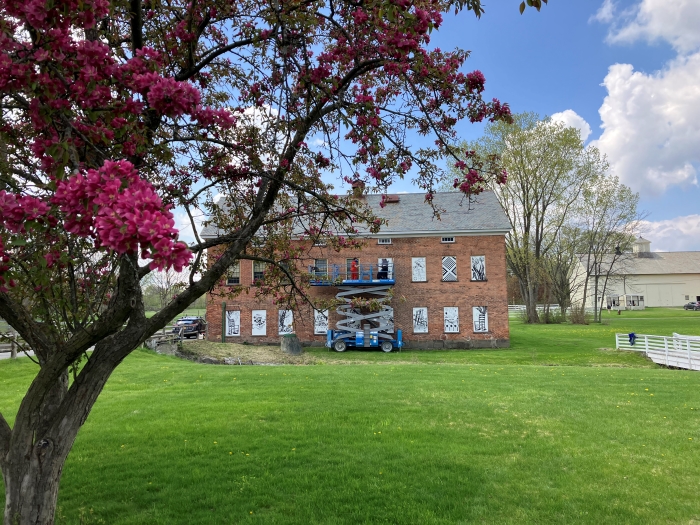 The Shakers at Watervliet were bold and creative innovators, who grounded their vision in an ethos of hard work. These murals link the natural and built environment at the site, and provide an opportunity to explore Shaker values such as pacifism, communalism, equality, and sustainability.
From the Artist Phoebe: "It is such an honor to create this work… my hope is to bridge the careful, effortful precision of Shaker craft with my own contemporary practice, which centers meticulous hand-drawn installation. My hands show up in the work in both process and product, painted alongside the hands of Shaker women who labored at the Watervliet Wash House. It's a privilege to make work of this scale and at this location, particularly because it can be seen and accessed by the public. This mural occupies a space between nature and a built environment, borrowing images from each. I'm deeply grateful to the Shaker Heritage Society and Albany Center Gallery for their trust, time, and expertise." -Phoebe Rotter
Next year marks the 50th anniversary of the founding of the Watervliet Shaker National Historic District. The 250th anniversary of the first Shaker settlement in America here in Albany follows in 2026 and finally the 50th anniversary of our organization, Shaker Heritage Society, in 2027. To honor and celebrate these milestones, SHS aspires to develop new programs that reflect Shaker values and illuminate the continuing relevance of Shaker history.
Another thank you to the Shaker Heritage Society with support from Assemblymember Phil Steck and the NYS Office of Parks, Recreation and Historic Preservation.