New #CapitalWalls Mural: "Love Goes On" by Nick Walker
Tags: Gallery News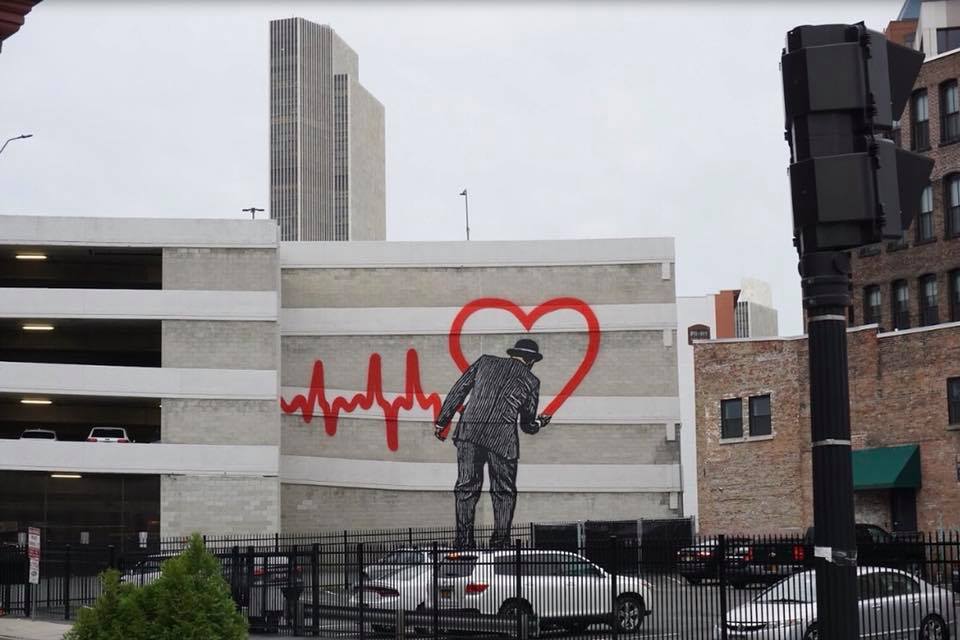 "Love Goes On" by Nick Walker
---
More news articles available here:
Times Union  |   News 10 ABC  |  All Over Albany 

Official Press Release:
Albany, NY - Friday, September 7, 2018 - The Albany Parking Authority, in partnership with the Albany Center Gallery and the Albany Barn, announced today that internationally renowned artist Nick Walker has been commissioned to paint a new mural on the Green-Hudson Parking Garage, marking the eighth mural created as part of the #CapitalWalls initiative.
Walker will paint his famed "Vandal" character, sporting his trademark dark suit and bowler, on the eastern-facing wall of the parking garage along Hudson Street. Walker's mural, titled "Love Goes On," represents the universal message of love having the capability to be the everlasting entity in a world of fleeting things and moments. His mural is asking us to be thankful for love and to allow it to last. The red, white, black and gray mural will be 40 feet by 60 feet. Work began Friday evening and is scheduled to be finished Sunday.
"We are incredibly excited to see Nick's 'Love Goes On' come to life in Albany," said Kevin O'Connor, chair of the Albany Parking Authority Board. "The #CapitalWalls initiative has been successful in bringing otherwise drab walls to life with vibrant art. We thank the Albany Center Gallery and Albany Barn for their continued partnership with us on this important downtown beautification project."
"Public art projects like #CapitalWalls are an important part of rejuvenating our downtown," Albany Mayor Kathy Sheehan said. "With each new mural, the Albany Parking Authority, in partnership with the Albany Center Gallery and the Albany Barn, is helping transform how we view properties that otherwise would receive little attention from the people who live, work and spend time in Albany. I thank them for their commitment to this imaginative project."
"Nick's iconic works in London, Paris, Dubai, New York City and elsewhere around the globe have made him an inspiration for up-and-coming street artists for many years, and we are excited to work with him in Albany to share his vision and story with the city," stated Tony Iadicicco, curator of #CapitalWalls and executive director of the Albany Center Gallery. "Our partnerships and support, both local and international, are necessary to create murals that transform Albany into a living gallery — breaking down barriers to make art more accessible to the community."
"With each new #CapitalWalls mural, it is stunning to see how Albany's buildings transform into living artworks shared with the public," said Kristen Holler, executive director of the Albany Barn. "I am excited to see this initiative continue to grow and am looking forward to how Nick's piece further complements this successful program."
Walker first developed his Vandal character in 2005 in his book, "The Art of Nick Walker." When he "heard the term 'paint the town red,' The Vandal decided he has one mission, take it to the extreme and paint it every colour imaginable, not just the town — the world!" Walker wrote.
"The mural and the concept behind it is simple: 'Love Goes On' … if you let it," Walker said of his universal message for Capital Region residents and visitors alike.
Walker, a native of Bristol, England, who now lives in New York City, has worked with renowned British artists Banksy and Paul Insect, and painted street backgrounds for Stanley Kubrick's film "Eyes Wide Shut." He was inspired to begin painting in the 1980s by graffiti in music videos such as Blondie's "Rapture" and Malcom McLaren's "Buffalo Gals," and like many artists of his generation, he was heavily influenced by the film "Wild Style" and Martha Cooper and Henry Chalfant's seminal book "Subway Art."
Walker's murals, printed editions and gallery works have appeared in New York City, England, Paris, Norway, Dubai, and galleries around the world. Examples of Walker's works can be found here.
The #CapitalWalls initiative is a partnership of the Albany Parking Authority, Albany Center Gallery and Albany Barn. Murals are funded by the Albany Parking Authority. The public can follow along on social media by using the hashtag #CapitalWalls for the work-in-progress photos and videos.