Mohawk Hudson Regional Invitational
Tags: Gallery News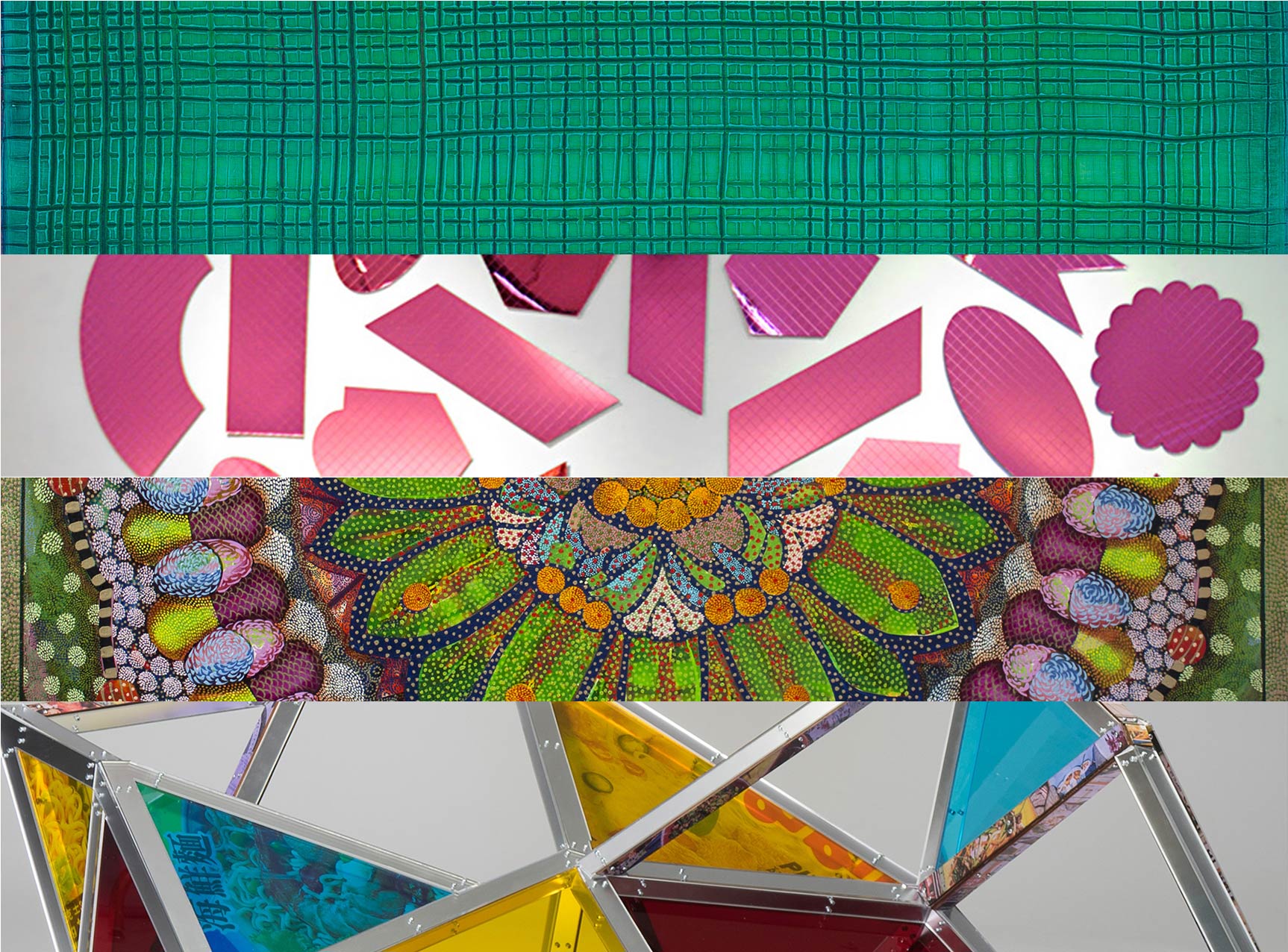 ---
Albany Center Gallery Presents the Colorful Geometry of Four Local Artists in its Annual Mohawk-Hudson Regional Invitational
Exhibiting Artists: Amy Cheng, Susan Meyer, Karin Schaefer, and Amelia Toelke
Exhibition Dates: February 8 - March 16, 2019
Opening Reception: Friday, February 8, from 5 p.m. to 8 p.m.
Exhibit Sponsors: Ann Pfau & David Hochfelder, ParkAlbany, New York State Council on the Arts , and The Albany Wine and Dine for the Arts Festival.
Albany, New York - January 2, 2019 - From February 8 to March 16, 2019, Albany Center Gallery (ACG) will present the 2019 Mohawk-Hudson Regional Invitational Exhibition, featuring the work of regional artists Amy Cheng, Susan Meyer, Karin Schaefer, and Amelia Toelke. An artists' reception will be held at ACG from 5 p.m. to 8 p.m. on Friday, February 8, 2019, and the public is invited to attend.
Each year, ACG selects artists from the previous year's Artists of the Mohawk-Hudson Region exhibit, a rotating, juried exhibition that highlights the work of the best visual artists in the region and one of the area's most prestigious and popular shows. Of the 38 artists chosen by juror Jean Shin for the Mohawk-Hudson Regional show from an original 371, ACG Executive Director Tony Iadicicco selected Amy Cheng, Susan Meyer, Karin Schaefer and Amelia Toelke. The Gallery is honored to provide these four accomplished and distinguished artists with an opportunity to showcase their work in greater depth.
Amy Cheng is a painter who makes intricately detailed, ornamental paintings inspired by the artistic traditions of the Middle Eastern Islamic world, Judeo-Christian Europe and Eastern Hindu-Buddhism. In her paintings, Cheng combines the geometric and floral, the secular and religious, to create mandalas, lace, cells, brocades and patterns reminiscent of the cosmos, exploring repetitive patterns echoing those ubiquitous in nature, even in our own nervous systems. As her friend, artist Thomas Lyon Mills so aptly puts it, Cheng is "painting worlds within worlds with the aim of revealing profound, contemplative, slow truths."
Susan Meyer is a sculptor who uses both digital and handmade materials to create her work, which she says are influenced largely by "experimental communities." From found objects like her husband's notes, rocks, and park benches to wood and brilliantly colorful pieces of acrylic, Meyer creates abstracted worlds of geometry. Based in Hudson, NY, Meyer has previously exhibited across the country. She also currently serves as an associate professor at the College of St. Rose in Albany.
Karin Schaefer is a painter whose works combine an introspective exploration of the place of mind as well as the nature of nature through methods of uncategorizable logging and mapping. The works chosen for this show all come from her Meditation Series, a collection of works inspired by Schaefer's own daily practice of meditation. She says she is "working with condensing and transposing an inner space onto paper, reaching to represent glimpses of a liminal world" by representing the networks of dots, lines, and patterns of lights she sees during meditation.
Originally trained in jewelry-making and metalworking, Amelia Toelke is a visual artist who combines sculpture, collage and installation in her works. She often uses commonplace subjects, like plates, chainlinks and emojis, to create interwoven and repeated motifs. Working in a place between two and three dimensions, Toelke challenges given ideas: object, image, reality and representation. Although Toelke currently works from Chatham, NY, she has exhibited her works both throughout the United States and internationally.
The 2019 Mohawk-Hudson Regional Invitational, on display at Albany Center Gallery from Friday, February 8, to Saturday, March 16, will feature the work of four regional artists: Amy Cheng, Susan Meyer, Karin Schaefer, and Amelia Toelke. The Invitational will kick off with an Opening Reception at ACG on Friday, February 8, from 5 p.m. to 8 p.m. The reception and exhibit are free and open to the public. The exhibit is sponsored by Ann Pfau & David Hochfelder, ParkAlbany, the New York State Council on the Arts, and the Albany Wine & Dine for the Arts Festival.
Pictured (top to bottom): detail of "Inkling" by Karin Schaefer; "Dragonfruit" by Amelia Toelke; "Me Too" by Amy Cheng; and "Noodlebowl" by Susan Meyer.