March 11 Art.Work.Space. Workshop with Lori Kochanski
Tags: Gallery News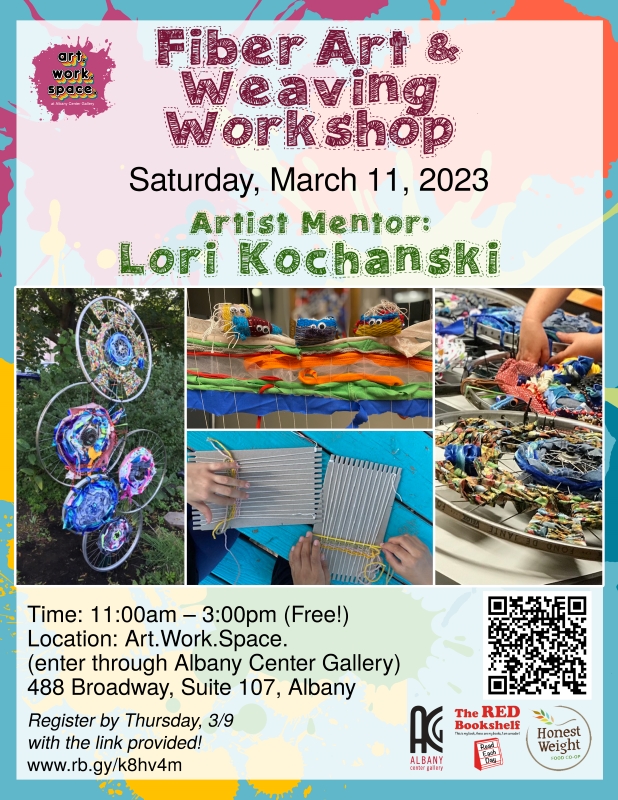 ---
CHECK IT OUT: The next Art.Work.Space. Workshop of Fiber Art and Weaving with Artist Mentor Lori Kochanski is happening on Saturday, March 11! 
 🧣🎨☀️ *Registration has closed until the next workshop announcement for April 8th. Stay tuned for updates!

In this workshop, learn the basics of weaving and create a Squish to take home with you! Participants will also weave designs on recycled bicycle wheels using fabric, yarn and other found objects. When the individual wheels are complete, we will build a sculpture using all the woven wheels which will then be on display in Art.Work.Space.!

About Creative Mentor Lori: "I practice fiber art as work of peace and resistance. My love of fiber and fabric and stories are where all of my projects begin and end. I use yarn and wedding dresses and fabric and buttons and zippers and old shirts and sticks and feathers and things that look like trash to create cohesive, storied pieces of art."

Explore how art, in this case weaving, tells a story without words about the artist and the community. 

All youth between the ages of 13-18 who live in or around Albany County are invited to attend. The workshops are free, but there is limited space in order to foster a proactive learning environment and mindfulness of COVID19 restrictions. Registration is REQUIRED. No prior knowledge or experience in the arts nor topic of specific workshops is necessary. Just come with an open perspective! Please include a valid email with registration, as we will be reaching out to you for sharing logistics and waiver details.

Partners of Art.Work.Space. include: The RED Bookshelf and the Honest Weight Food Co-op 

Funders and supporters of Art.Work.Space. include: The Carl E. Touhey Foundation, Bank of America, and numerous generous individuals and small businesses.