LOOK! The Art of Recycling
Tags: Gallery News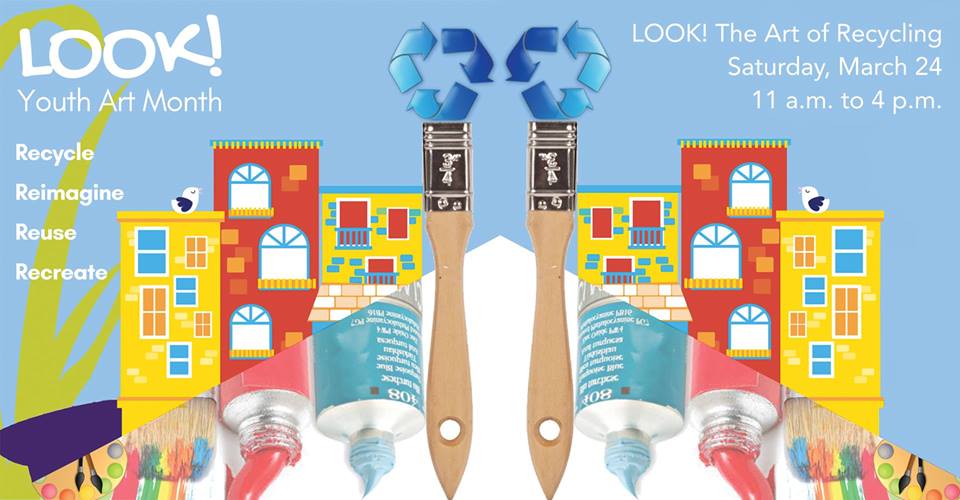 ---
March is National Youth Art Month and is a reminder of art's value in our community. It encourages support for quality art programs that offer students opportunities to foster and develop skills that may not be experienced elsewhere. It also reminds the community of the importance of art for all age groups, demonstrating the significant support art has and its impact on the culture and youth of the Capital Region. ACG has been at the forefront of integrating youth arts in its community work by providing access to contemporary art and educational opportunities for local youth from all backgrounds: hosting field trips, giving lectures, and exhibiting young artists. 

LOOK! is a special event that gives area children the opportunity to work with professional artists and create artwork that focuses on a central theme. On Saturday, March 24, ACG will host 25+ kids from a variety of community groups for a day of education about recycling and creating art in this year's theme, The Art of Recycling! 

This year's group of kids will tour the 2018 Mohawk Hudson Regional Invitational exhibition and discuss the ways artists use materials to convey the subjects of nature, recycling, and caring for our earth. The kids will get to meet several local artists who use found objects to create their unique works. All of this will inspire an afternoon art project: the kids and professional artists will venture into the immediate neighborhood to pick up litter/found objects they would like to use in their artwork. After lunch, the kids and artists will work together to create artwork with the found items. To highlight the work created during the event and reinforce the critical importance of caring for our environment, ACG will then host an Earth Day Event on Saturday, April 21, to which the public is invited - the kids' work will be on view!

To learn more about sponsor opportunities for LOOK!, please visit http://albanycentergallery.org/event/look-sponsorship-opportunities

Event sponsors: M&T Bank; James M. Gaughan & Keith C. Lee; Kevin Dubner, Janney Montgomery Scott LLC

Child sponsors: David Brickman, Lisa Brown In Memory of Steven Brown, Kevin Dubner, Sheila Elario, Fenimore Asset Management/FAM Funds, Carlsbury Gonzalez, William M. Harris, Esq & Holly Katz, Cathy Laccetti, Bob & Nancy Lynk, Jessica Mansmith, Annette Nanes, Georgiana G. Panton, David M. Phaff, Rosemarie V. Rosen, Honorable Kathy M. Sheehan, Theresa Swidorski, Micheileen Treadwell and Linda White-Macaione

Sponsors as of 3/16/18