Keep It Surreal Gala
Tags: Gallery News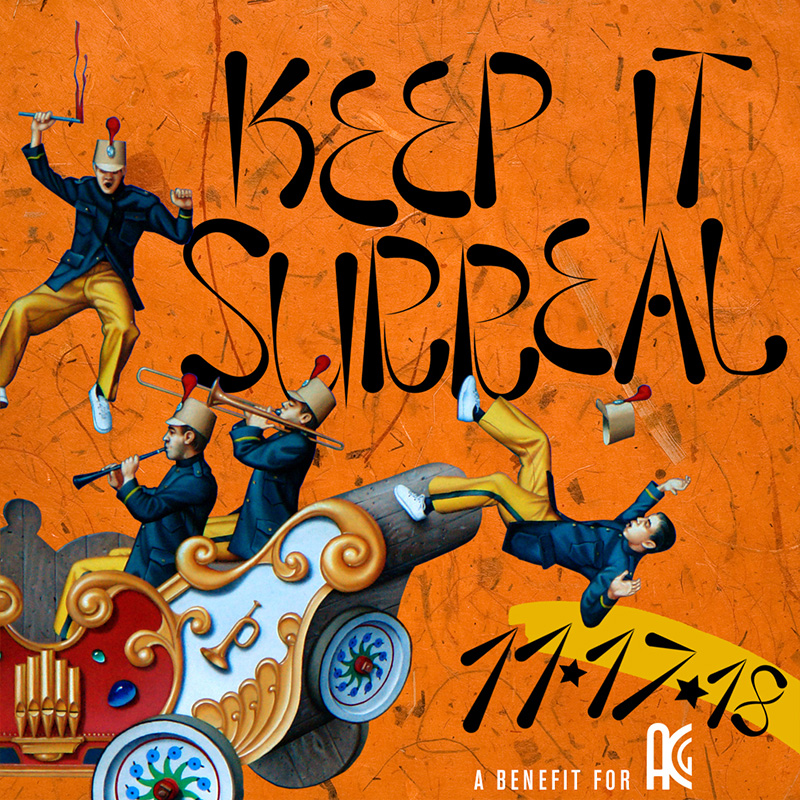 Tickets now on sale for our Keep It Surreal Gala, a benefit for ACG
---
Save the Date: Saturday, November 17, 2018

Mark your calendars and come Keep It Surreal with us on Saturday, November 17th at our benefit of the year! RSVP to our Facebook event for the latest news and updates.
Spend the evening unlocking your subconscious mind, networking with other art enthusiasts, and celebrating creative visions. 
Prepare for an evening filled with mystery and wonder... 
ACG's Keep It Surreal Gala!
Saturday, November 17, 2018
7 p.m. to 11 p.m.
Location: Wolf's 1-11 Restaurant, Bar & Banquets, 111 Wolf Road, Albany NY 12205
Tickets are now on sale! 
Young Professional / Emerging Artist: $75
Individual: $100
Get your tickets to spend the evening unlocking your subconscious mind, networking with other art enthusiasts, and celebrating creative visions. Tickets grant you attendance to a surreal night benefitting ACG, including:
- Surreal spinning by DJ TruMastr
- Exclusive pop-up dance performance by Retold Dance Company
- Phenomenal cuisine choices
- Wine, beer, cider and non-alcoholic beverages
Tickets will not be mailed and a valid photo ID must be presented at the gala. Tickets can be purchased online at albanycentergallery.org or by calling the gallery at (518) 462-4775. Please R.S.V.P. by Oct. 25 if you wish to join our Honorary Committee, become a sponsor or donate an item.
Join the pack of art supporters gathering at Wolf's 1-11 Banquet Hall for a surreal good time!
You can now also purchase Raffle Tickets to win one of three exciting prizes!
Grand Prize: 7-night, 4-star-or-better timeshare resort vacation in either Las Vegas, NV; Orlando, FL; or Sedona, AZ, and a $500 AMEX Gift Card
2nd Prize: $500 Amazon.com Gift Card
3rd Prize: $250 Dining Card to The Culinary Institute of America in Hyde Park, NY
Raffle tickets: one (1) for $25 or five (5) for $100
You can purchase raffle tickets online via our Square Store, by mailing a check to ACG, or by calling or visiting ACG. Please note: Raffle tickets will not be mailed to you. Your name and contact information will be recorded on your tickets for you.

Join the Honorary Committee
Contribute as a Corporate Sponsor
Contribute as an Auction Donor
Looking to support our Keep It Surreal Gala? Click the links above to learn more about how you can support our biggest fundraiser and party of the year! To ensure your name appears on the Gala invitation as an Honorary Committee member, Corporate Sponsor, or Auction Donor, please complete and return the appropriate form and payment to the gallery no later than September 25. The deadline for recognition in the program book is October 25. 
Artwork copyrighted by T. E. Breitenbach, remixed by Mike Schinnerer Creative Services.
Thank you to all who have contributed to the gala so far (list as of 10/1/18)!
SPONSORS: 
Level I - The Treachery of Images by René Magritte
Albany Wine and Dine for the Arts Festival
Upside Collective
Wolf's 1-11 Restaurant, Bar & Banquets
Level II - The Two Fridas by Frida Kahlo
Albany Parking Authority
Jankow Companies
Lavelle & Finn, LLP
Level III - The Elephant Celebes by Max Ernst
All Over Albany
Fairbank Properties
Mike Schinner Creative Services Team
Stacks Espresso Bar
T. E. Breitenbach Studios
Level IV - The Song of Love by Giorgio de Chirico
Accounting for All
Bubba Dog Auctions
Bull Moose Club
Capital Church
CDPHP
Christ's Church Albany
Fort Orange Press
Kevin Dubner, Financial Advisor, Janney Montgomery Scott LLC.
Retold Dance Company
Stewart's Shops
The Hollow Bar + Kitchen
The Rosenblum Companies
Level V - The Harlequin's Carnival by Joan Miró
Balloon Gal Jenny
Broadway Marketing Ltd.
Nicky Lightz

HONORARY COMMITTEE:
Level I - Remedios Varo
Downtown Albany Business Improvement District
Lisa Brown
Lorraine & Sorrell Chesin
Kevin & Cindi Dubner
Carlsbury Gonzalez & Patricia Triller
William M. Harris, Esq. & Holly Katz
Ellen Jabbur
William O. Pettit, III
Joann Ryan
Dr. Joel & Kira Spiro
David & Lois Swawite
Level II - Dorothea Tanning
Ellen B. Brickman
David Phaff
Nancy Pierson & Gary Gold
Level III - Man Ray
David Brickman & Karen Ciancetta
Hon. Richard Conti
Assemblymember Patricia Fahy
Hon. James M. Gaughan & Keith Lee
Tammis Groft
Peter Leue & Nancy Burton
Robert Lynk
John Mesch
Annette Nanes & Scott Meyer
John & Patty Paduano
Ann Pfau & Dave Hochfelder
Susan Richardson
Rosemarie V. Rosen
Hon. Kathy M. Sheehan
Melanie Stevenson
Congressman Paul Tonko

AUCTION DONORS:
Buca di Beppo
Christman's Windham House Country Inn & Golf Resort   
Colonial Cleaners
Crossgates Mall
Fort Orange General Store
Habana Premium Cigar Shoppe
Hoffman Development Corporation
Holly Katz
Homemade Theater
Joann Ryan
Kevin & Cindi Dubner
Lark Street Yoga
Lark Tattoo
New World Bistro
Professor Java's Coffee Sanctuary
Renaissance Albany Hotel
Sam's Italian American Restaurant
Schenectady Symphony Orchestra
Silver Parrot
Trader Joe's
Troy Savings Bank Music Hall
Urban PlaceMatters
USS Slater
Vicarious Visions
Wine & Spirits of Slingerlands

DONATING ARTISTS:
Rachel A. Baxter
William (Billy) Fillmore
Carlsbury Gonzalez
Robert Gullie
Cara Hanley
Ali Herrmann
Sylvie Kantorovitz
Willie Marlowe
Gina Occhiogrosso