Interact: /ˌɪn·tərˈækt/
Tags: Gallery News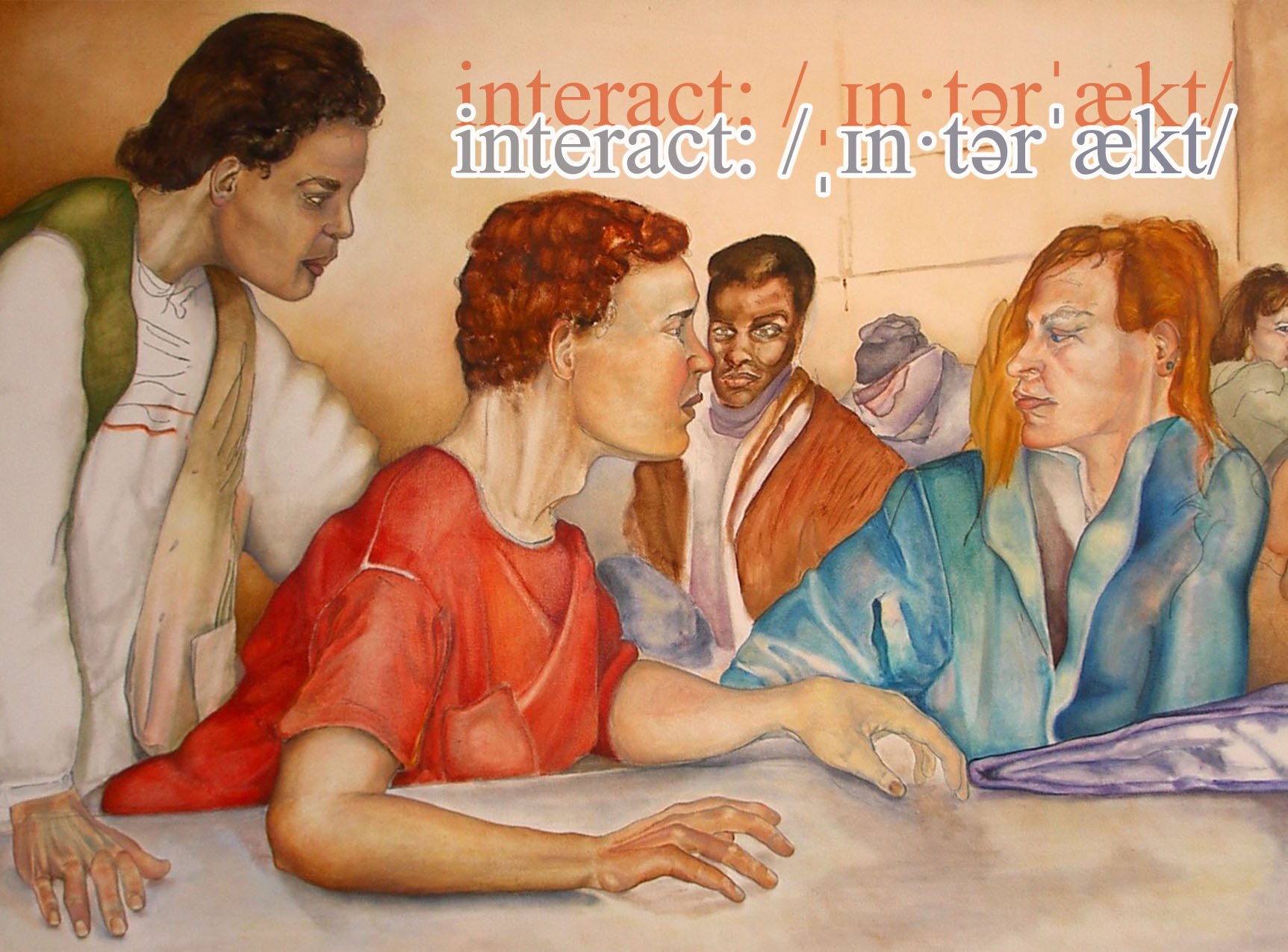 Pictured: School Lunch 1, oil on canvas, 40"x54", Lisa DeLoria Weinblatt
---
Albany Center Gallery Presents Interact: /ˌɪn·tərˈækt/, Six Artists' Explorations of Human Relations
Albany, New York - From May 23 - June 22, 2019, Albany Center Gallery (ACG) will present Interact: /ˌɪn·tərˈækt/, featuring the works of regional artists Ali Herrmann, Danielle Klebes, Reinhardt Moore, Steve Rein, Lisa DeLoria Weinblatt, and Jeff Wigman. An artists' reception will be held at ACG from 5 p.m. to 8 p.m. on Friday, June 7, 2019, and the public is invited to attend.
Humans are constantly engaging with nearby objects, surrounding environments, and other people. These connections are reflected in works of art, which draw in the additional dimension of viewers. They are strangers who walk into a new scene with the potential to relate to it. Interact: /ˌɪn·tərˈækt/ is therefore not merely the interactions between subjects within the frame, or from one piece to another, but also from work to beholder and in dialogues between one viewer and the next.
Ali Herrmann is a mixed media painter whose work explores patterns, repetition, cells, symbols, color, and abstraction. Her Woman Icon series, which will be featured in the show, was begun in 2017. These 'portraits of portraits,' relatives, friends, mentors, movie characters, celebrities, writers, actresses, singers, artists, activists, and scientists all share a common impression and connection to the artist. They are portrayed on a small scale so that the same intimacy Herrmann feels with these women can be shared with the viewer.
In her works, Danielle Klebes often explores differences in closeness: physical closeness but emotional distance. She paints bright, densely packed and patterned scenes, unnatural in their coloring and surreal. In a moment, figures are fading in and out, whole and incomplete, or staring outwards, perhaps demanding something unknown of the viewer. Klebes has exhibited her work both across the continental U.S.A and abroad in Croatia. She currently works in North Adams, MA.
Reinhardt Moore is a portrait painter who studied figure painting at the University at Albany. Moore is exhibiting portraits of friends that came to pose at his studio this past winter. He recently moved to Brooklyn, NY, where he is currently based.
The SCHOOL LUNCH series by painter Lisa DeLoria Weinblatt is focused on presenting images concerning the nature of relationships, with subjects drawn from the real cross-cultural issues and emotional attitudes of educational settings. Weinblatt's paintings are informed by her own personal experiences, imagination, and direct observations. SCHOOL LUNCH aims to create a "humanistic awareness in a framework which is universally recognized." Each individual student is rendered separately from observation as well as the artist's notes so that there is a sense of full integration and contextualization of every single person in the frame.
Drawing from his collection of old snapshots, previously discarded and overlooked photographs, Steve Rein captures "honest moments of unpolished humanity" in his works. Using reclaimed wood salvaged from building renovations in Troy and 1Shot lettering enamel, Rein strives to translate these cluttered, misdirected, poorly composed and often ill-timed photographs into paintings with the same air of intrigue, character of wood, and humanity. Originally hailing from Chicago, Rein enjoyed a 30-year career in the animation field, doing CGI and visual effects for TV, film and interactive media before settling in Troy, NY, where he is still based.
Artist and designer Jeff Wigman's creative process starts from an original point of intrigue; the spark could come from an idea for a compelling image, or simply from the qualities of the materials and colors sitting in front of him. His images range drastically, from the average and quotidian to the wild and imaginative, and are all brought together onto the same plane, equalized on the surface. Each piece is shaped as its made, informed by its own medium and surprises that Wigman comes across as he works. Wigman is currently based in Troy, NY, and has shown his work throughout the region and nationally.
Interact: /ˌɪn·tərˈækt/, is on display at Albany Center Gallery from Thursday, May 23, to Saturday, June 22. It will feature the work of six regional artists: Ali Herrmann, Danielle Klebes, Reinhardt Moore, Steve Rein, Lisa DeLoria Weinblatt, and Jeff Wigman. The exhibition will begin with an Opening Reception at ACG on Friday, June 7, from 5 p.m. to 8 p.m. The reception and exhibit are free and open to the public. Interact: /ˌɪn·tərˈækt/, is sponsored by David Phaff & Associates Inc. at Howard Hanna R.E. Services as well as ParkAlbany, Discover Albany, the New York State Council on the Arts, Renaissance Hotel Albany, Honest Weight Food Co-op, and the Albany Wine & Dine for the Arts Festival.