Home Body Pop-Up Exhibition
Tags: Gallery News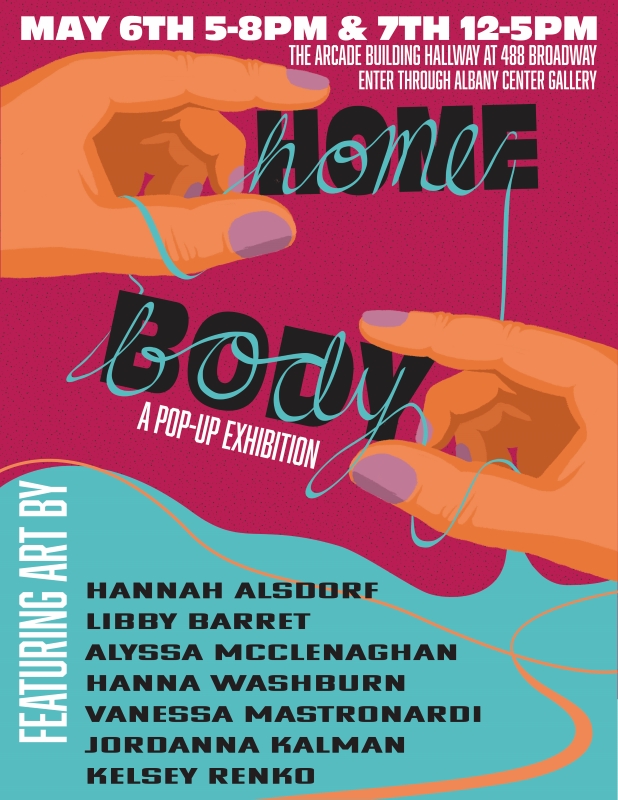 Design by Noah Ross.
---
Next Friday (5/6), we are excited to announce that there will be a Pop-Up Exhibition titled Home Body in the Arcade Building Hallway at 488 Broadway (enter through ACG)! This show features the work of Hannah Alsdorf, Libby Barret, Alyssa McClenaghan, Hanna Washburn, Vanessa Mastronardi, Jordanna Kalman, and Kelsey Renko.
This exhibition is curated by UAlbany Curating Students Brielle, Emily, Jesse, and Madison.
Home Body is free and open to all from 5 - 8 p.m. on May 6 (Friday) and Noon - 5 p.m. on May 7 (Saturday). Mask-wearing is optional. 
This Pop-Up Exhibition will coincide with the Artists Reception for the 2022 Mohawk Hudson Regional Invitational - come on by to check out both of these amazing shows!
From the curators: "Home Body is an examination of the vessels and spaces that hold us. In response to the COVID-19 pandemic, we have collectively created new relationships with our living spaces. These places of safety and shelter become extensions of ourselves. Home Body explores how the body serves as our home and how they shape our experiences, identities, and perspectives."