Help "Ease Our Panes" Campaign
Tags: Gallery News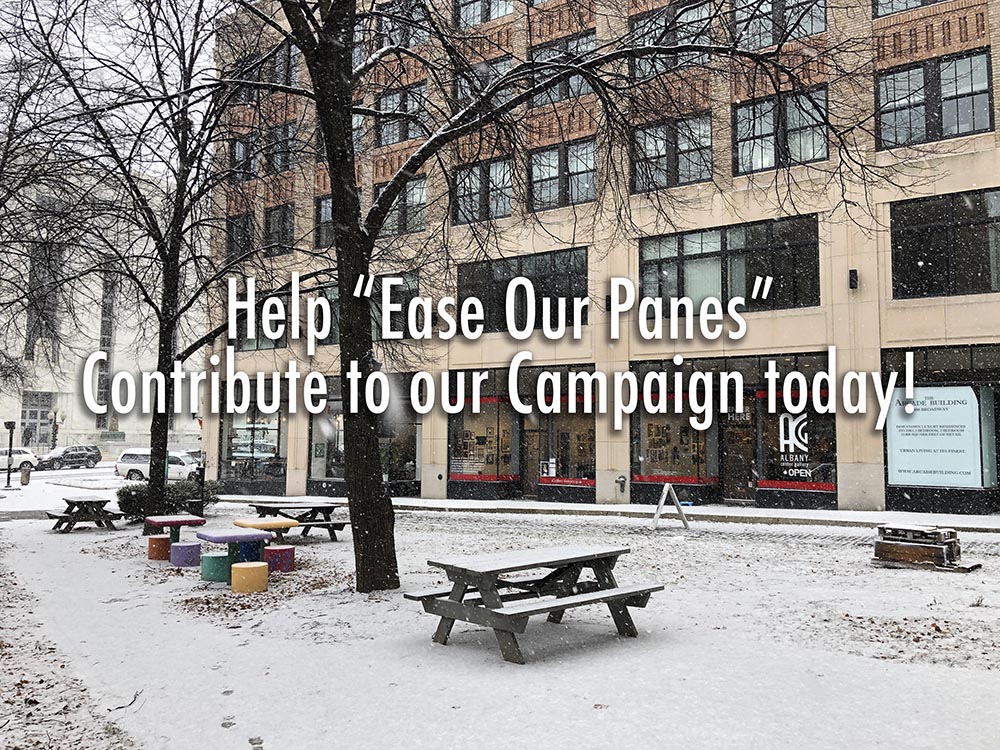 ---
Help "Ease Our Panes"
Here is the perfect chance to renew your ACG membership or join as a new member! Contribute today.
Almost two years ago, Albany Center Gallery moved to its new location in the historic Arcade Building in downtown Albany. It's our first space designed as a gallery since ACG's founding over 40 years ago. The response from our members and the community has been tremendous and we are thrilled to be in our new home, with one exception...
Due to the Arcade Building's historic nature, our staff and patrons have suffered a bit with the weather extremes; like blasts of frigid air racing through the doors in the winter and a constant energy loss through the windows year round. It may have even affected some artwork. In spite of the Arcade Building going through an extensive historic renovation, the building's façade needed to remain as it was, including the original uninsulated glass. 
We need patrons to be comfortable and artwork safe in our space and have found a solution, but we need your help.
Announcing our "Ease Our Panes" Campaign!
It covers our Annual Campaign plus the weatherization plan, which has an estimated cost of $24,000. The Bender Family Foundation has provided us with a $15,000 grant for the weatherization plan and we need you to help us raise the remaining balance. By helping us fund this plan, the money we raise will go toward exhibiting art and promoting our area's artists, not toward excessively high utility bills.
Every donation of $50 or more to the "Ease Our Panes" campaign will be MATCHED by members of Albany Center Gallery's Board of Directors up to $4,000.
But there's more! 
For each $250 contribution, you will receive a raffle ticket for a chance to win a 7-night stay at an all-inclusive Hard Rock Resort in either Punta Cana, Dominican Republic or Riviera Maya, Vallarta or Cancun in Mexico, a $3,000 value (donated by one of our generous Board members). And you can better your odds of winning by increasing your giving. A $500 donation gives you 2 tickets, $750 3 tickets, and so on.
Our campaign goal is to raise $20,000 (not including the Bender Family Foundation Grant and Board matching funds). Thank you for considering this special contribution. Please help "Ease Our Panes" and provide the funding necessary for Albany Center Gallery to continue its mission to exhibit and promote the visual art produced by the emerging and established artists in our region and inspire and provide enjoyment to our increasingly diverse community audience.
In 2017/18, we have expanded our staff from two to three, had 18 interns, consulted on 5 new murals in downtown for #CapitalWalls, exhibited over 400 regional artists and engaged with over 45,000 visitors all around the Capital Region. We could not have done so without the support of our members and community partners. We have ambitious plans for 2019/20 including more outreach programs, various public art projects, special events, Artist Talks, and new artists coming to showcase with us.
The "Ease Our Panes" campaign is a unique opportunity. It funds our operating budget that enables us to continue expanding our reach and impact in the community. It also helps address a problem that impacts the efficiency and effectiveness of the gallery.
And why is this effort so important? It's no secret that funding is an ongoing struggle for ACG and nearly all arts organizations, especially those that promote visual art. When many arts organizations are closing their doors or reducing programs, ACG is very fortunate to have an increased demand for its programs and is meeting that need throughout the region.
Every little bit helps. Whether you give $10, $15, $25 ... $5,000 , your contributions mean the world to us and make a difference in the Arts community! Please note that all donations over $50 will be doubled. Thank you for your generosity and support! 
"Ease Our Panes" and Annual Giving Campaign Benefits:
When you contribute $50+, you will receive:
Name recognition on the donor wall at ACG for one year.
Name recognition on our website.
Invitation to our Appreciation Party.
When you contribute $100+, you will receive:
The benefits listed above, plus
An annual ACG Individual Membership (valued at $60). 
When you contribute $250+, you will receive:
The benefits listed above, plus
For $250 and every multiple of $250, a raffle ticket for a drawing for a 7-night stay at an all-inclusive Hard Rock Resort in either Punta Cana, Dominican Republic or Riviera Maya, Vallarta or Cancun in Mexico ($3,000 Value).*
Remember: members of the Albany Center Gallery Board of Directors will MATCH donations of $50+ up to $4,000, from now until March 29, 2019. Therefore, please make your donation before then to take full advantage of this special MATCH opportunity. Also, a $250+ donation gives you the chance to win a spectacular vacation.
 
* Mexico or Dominican Republic Raffle Information
All-inclusive vacation for 2 includes lodging (room with double or king-sized bed), 7 nights, food, domestic and intl. beverages, tips and non-motorized sports activities, and transport to and from the airport. Reservations are to be made 4 months prior to travel (does not include airfare). Travel dates based upon availability from: Aug. 2019 – Dec. 2022, Jan. 4 - 31, Apr. except Holy Week, May, Jun., Aug., Sep., Oct. & Dec 1 – 23. Drawing to be held on Tuesday, April 16, 2019 at 5:30 PM at Albany Center Gallery.