The Gallery Mixtape, Vol. 1
Tags: Gallery News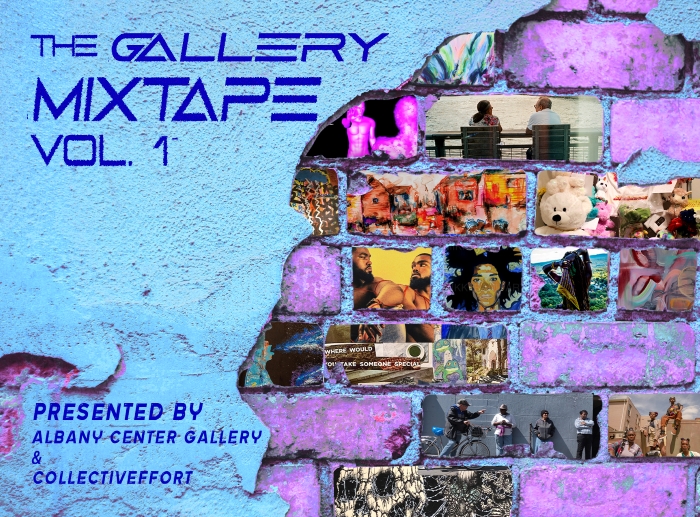 ---
Friday, October 22, 2021, Albany Center Gallery (ACG) and Collectiveffort (CE) present The Gallery Mixtape, Vol. 1. The exhibition will be on display at both spaces in Albany and Troy. There will be Artists' Receptions from 5 - 8 p.m. on Friday, November 5, 2021, at ACG and Friday, October 29, 2021, at Collectiveffort. The exhibition will continue through Friday, November 19, 2021 at ACG and run until Friday, January 14, 2022 at CE. Gallery Mixtape, Vol. 1 compiles a wide range of creative pursuits by local Black, Indigenous and People of Color (BIPOC) artists working across a multitude of mediums, including drawing and painting, digital animation, mixed media installation, photography, written word, and music production. The lineup for Gallery Mixtape, Vol. 1. features: Mopélolá Adesinà, Maryam Adib, Alycia Bacon, Mikki Badu, D. Colin, Robert Cooper, Sofeia Eddy, GATO, Malchijah Hoskins, Jackson, Tyler Ki-Re, Josh Knight, Jahniah Kum, José Santos Nuñez, Jason Blue Lake Medicine Eagle Martinez, Eddie Serrano, Kim Tateo, and Baju Wijono. The exhibition takes place concurrently in both the cities of Albany and Troy. There will also be live performances by Miles Mikofsky and Dorree Sainoi Ndooki (dates TBD).
Gallery Mixtape, Vol. 1 was arranged from a free open call for BIPOC creatives working in any and every medium. Gallery Mixtape, Vol. 1 is the first exhibition of a continued partnership between ACG and CE, with more open calls and exhibitions being planned for the coming future. The aim of Gallery Mixtape, Vol. 1  is to highlight these creative pursuits in order to illustrate the talent of our incredibly diverse local community, as well as break the historical exclusion of non-white artists in art spaces. Although the 2020 census found the American population to be 40% non-white and diversifying increasingly quickly, statistics as recent as 2019 found exhibiting artists in museums and collections across the country to be 85% white. Gallery Mixtape, Vol. 1 challenges such a representation that serves to reinforce systemic marginalization of BIPOC artists and instead build more inclusive spaces for creativity in all forms by all people.
Gallery Mixtape, Vol. 1  aligns with both ACG's mission to highlight local creatives and motto "More Art Everywhere," as well as CE's goal of cultivating a positive creative ecosystem open to any and all talents of our local community. We hope that this exhibition will demonstrate that there is no limitation to the kinds of people who can create or the forms through which creativity can be channeled. Gallery Mixtape, Vol. 1 confronts art world conventions that have long been exclusionary and in doing so, begins to shift this culture to open up new spaces for voices that have always been here but not always heard.
Co-curated by Jamel Mosely, Vice President, Collectiveffort; and Jennie Tang, Curatorial Associate, Albany Center Gallery. 
Albany Center Gallery
488 Broadway, Ste 107
Albany, NY 12207
Tuesday - Saturday, Noon - 5 p.m.
518.462.4775
director@albanycentergallery.org
Learn more about ACG: www.albanycentergallery.org
See the 360° Tour of The Gallery Mixtape, Vol. 1 at ACG here. 
Collectiveffort
415 River St, Fl 4
Troy, NY 12180
Monday, Tuesday, Thursday, Friday, 10 a.m. - 7 p.m.
Closed Wednesdays and weekends
518.752.3007
info@collectiveffort.co
Learn more about CE: www.collectiveeffort.co
See the 360° Tour of The Gallery Mixtape, Vol. 1 at CE here.
The exhibition is made possible by ACG Premier Sponsors: David Phaff & Howard Hanna Real Estate Services; and Kevin Dubner, Partner & Wealth Manager at Steward Partners Global Advisory, LLC. Support is provided by Jammella Anderson // Free Food Fridge Albany, Annette Nanes and the New York State Council on the Arts with the support of the Office of the Governor and the New York State Legislature.