FREE #CapitalWalls Mural BYOB(ike) Tour (Register here!)
Tags: Gallery News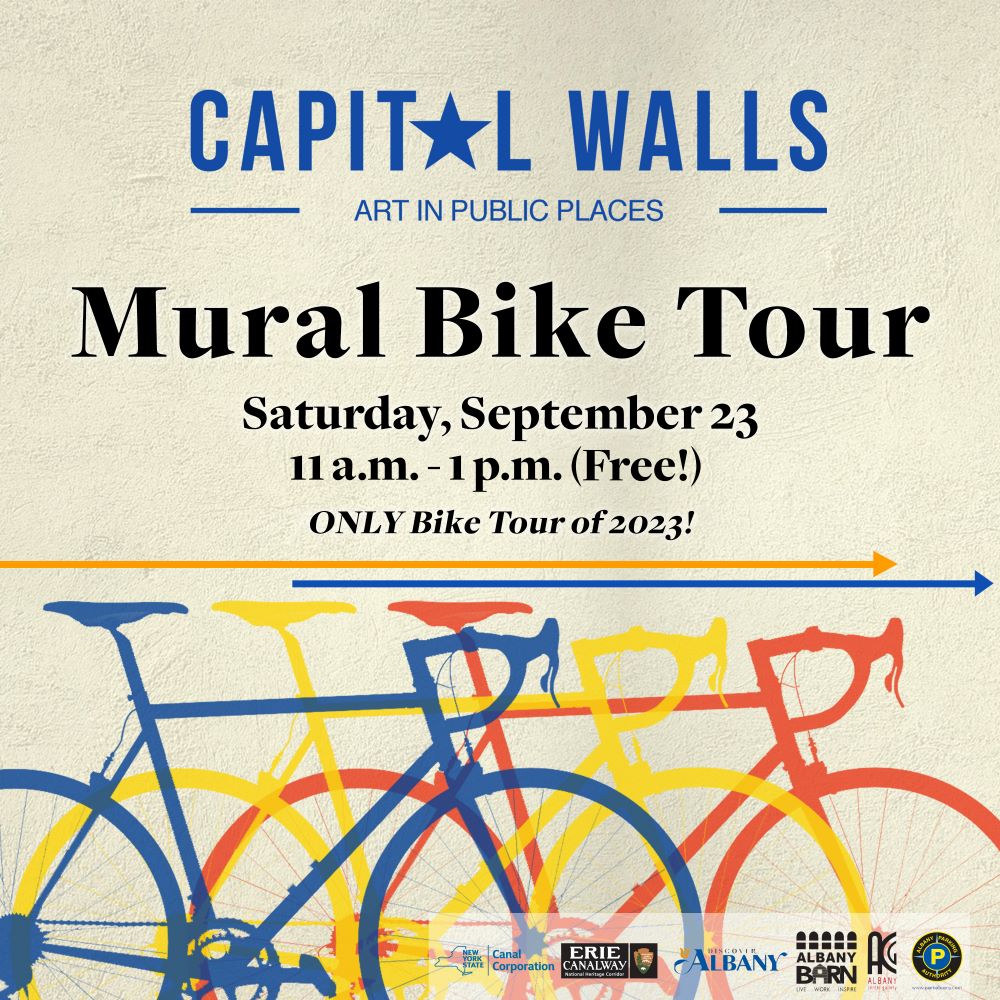 ---
FINALLY HERE! Together with our partners, we are hosting a BYOB(ike) #CapitalWalls Mural Bike Tour on Saturday, September 23 from 11:00-1:00 p.m. The best part? It's FREE. You just have to register on the eventbrite and bring your bike.
The tours are an opportunity to explore the vibrant #CapitalWalls murals in downtown Albany with insights from guest artists, program coordinators & curators, peers, and go for a fun guided bike tour all the while. We will meet at Albany Center Gallery to kick off the journey at 11:00 a.m.. The tour will end around 1:00 p.m. with free snacks from Honest Weight Food Co-op to enjoy.
Mural Partners include: Albany Barn, Albany Center Gallery, and ParkAlbany
Made possible by Discover Albany, as well as NYS Canal Corporation and Erie Canalway National Heritage Corridor
Saturday, September 23, 11:00 - 1:00 pm
Start: 11:00 am Albany Center Gallery, 488 Broadway, Suite 107, Albany, NY 12207
End: 1:00 pm with food from Honest Weight Food Co-op to-go
**RAIN DATE: Saturday, September 30, 11:00 am-1:00 pm. The call will be made the evening prior. **
Tour is free, but an optional donation of $5-10/person can be provided at the door if so inclined. These donations support Albany Barn and Albany Center Gallery in ensuring the sustainability of programs like these.
Many have called the #CapitalWalls murals the "hidden treasures" of Albany. Join us on the tour to learn more about them!
There are only 15 spots available for this tour. This is a Bring Your Own Bike tour.
Additional details: We encourage you to wear a helmet if you own one. If you do not have a bike, you can rent a CDPHP Cycle bike if there is one available. One email address is equivalent to one participant during registration. No group sign-ups. If you are registering on behalf of someone else, use their email address. If you have any questions about your ability to participate, please feel free to contact Emily at operations@albanycentergallery.org, Christie at christie@albanybarn.org, or call at 518-462-4775 to ask!
*You must confirm 24 hours prior via email to tour time, otherwise members on the waitlist will be asked. Please confirm your bike status at this time as well.
Visit parkalbany.com/find-parking for some parking options in downtown Albany.