Frame // Unframe
Tags: Gallery News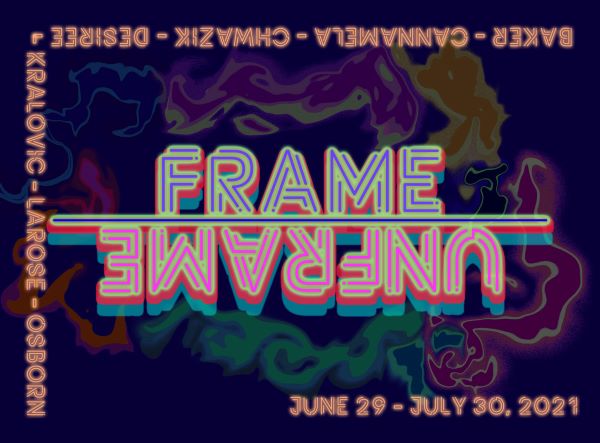 Frame // Unframe Postcard
---
From June 29 - July 30, 2021, Albany Center Gallery (ACG) presented Frame // Unframe, featuring the work of 7 regional artists: Justin Baker, Laura Cannamela, Katherine Chwazik, Sean Desiree, Amanda Kralovic, Drea LaRose, and Dorothea Osborn. Frame // Unframe was free and open to the public Tuesday – Saturday, Noon – 5 p.m. An Artists' Reception was hosted in-person at the gallery on Friday, July 9, from 5:30 - 7:30 p.m. Masks were required for all guests during the reception. Please visit albanycentergallery.org for full details on COVID19 safety restrictions.
Frame // Unframe was an exploration of how different artists approach the formations of various visual structures around and within us: the frameworks of our psyches, patterns and details in nature, and the architecture and streets of the cities we live in. The works in this show represented interdisciplinary, mixed media practices as well as experimental and pluralistic creative processes that push the limitations of their respective mediums, such as photography and printmaking. In many of the exhibited pieces, images are subjugated to manipulations of the physical material of the work, emphasizing the real space the work exists in rather than the space being represented.
The work of photographer Justin Baker is an exhaustive and comprehensive exploration of the reaches of the photographic medium. Beginning with a film-based process that later combines with digital manipulation, Baker creates his imagery using older now obsolete processes or long-expired film. The history and medium of film photography for Baker is in many ways magical in addition to how it is viewed as a scientific or objective tool, involving an alchemical process. These analog photos take new forms on a computer, reworked in small areas and sometimes with fictitious additions. Baker currently lives in Troy, teaching at Hudson Valley Community College and serving as a board member for Collar Works Gallery there.
Laura Cannamela's clay sculptures, inspired by the natural patterns and cycles of the glacially formed gorge near her residence, reflect the notion of geological time. The emulation of rock formations in the folds and textures of these intimately detailed sculptures recall the gradual natural processes that have shaped our present world and continue to slowly alter the environment. Cannamela's process, which includes layering different kinds of clay and special firing, reflects real-world geological patterns and constructions.
Referencing the local and regional architecture of our area, Katherine Chwazik combines printmaking, drawing and sculpture to explore ideas of memory, place and home. Steeped in research and personal experiences— including interviewing residents of some of her subject neighborhoods, on-site sketching and incorporating the layers of our city's architectural history into her work. Chwazik is also currently an art educator and curator, curating and managing the Smallbany Gallery.
Bronx native Sean Desiree is a self-taught artist and furniture maker who uses found wood from pallets, demolished buildings and discarded scraps. Works range from two-dimensional, pattern-based pieces to three-dimensional sculptures that all prioritize and focus on issues of race, gender, and safety. Currently, Desiree's new work has been informed by their experience as a nonbinary person. Desiree is an Engaging Artist Fellow at More Art and will be participating in the Workspace Residency at Wave Hill in New York City this year.
Amanda Kralovic's experiments in printmaking mediums have produced fluid works that have been exhibited nationally and internationally. A competitive swimmer for most of her youth and young adulthood, Kralovic is especially inspired by her emotional connection to water. Kralovic plays with colors, shapes, patterns and transparencies to create dynamic works that reflect her personal experiences of the world and the introspective processes of her perceptions. In the continual endeavor to challenge herself in her creative and technical practices, Kralovic's work creates an oscillating effect that moves between being full of depth and surface-level.
In the past year, Drea LaRose has found her practice shifting towards the inherent beauty, conflict and security within our conception of "home." Combining the imagery of real architectural spaces from her neighborhood in historic downtown Troy with manipulation of physical form onto which these images are printed, LaRose's works play on the tension between objectivity and representational subjectivity. Thus, LaRose creates visual experiences that mirror the uncertainty of our present moment.
Dorothea Osborn creates hybridized works combining techniques of painting with mixed media, vintage clothing and other materials. Opposing forces of abstraction and representation are imbued in Osborn's allusions to human experience, intelligence and ecofeminism. The physicality of the work with its contained signs engenders discourses between paradoxical binaries: material vs. non-material, representation vs. abstraction, humor vs. solemnity. Osborn's process similarly involves contradicting methods, integrating destruction with creative practice, sometimes to the point of near-complete obliteration.
Check out the 360° tour here. 
Listen to the Frame // Unframe artist round table talk here. 
Frame // Unframe was made possible by ACG Premier Sponsors Howard Hanna & David Phaff, with additional support from Jessica and Thomas Hansen and the New York State Council on the Arts with the support of Governor Andrew M. Cuomo and the New York State Legislature.