February 11 Art.Work.Space. Workshop with Aaron Moore
Tags: Gallery News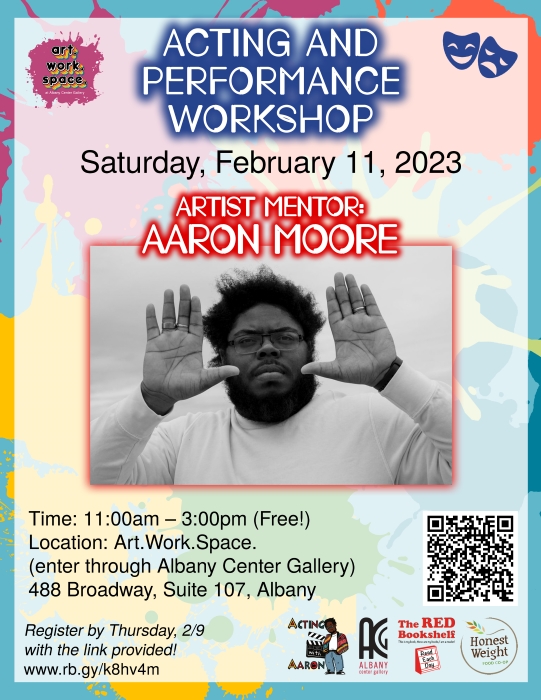 ---
Now that 2023 is in full swing, Art.Work.Space. Workshops are BACK!! On February 11, there was an Acting & Performance Workshop with Aaron Moore! 🎭🎬🎨
*Registration for this workshop is closed* 

About Creative Mentor Aaron: Aaron Moore is an actor, director, and playwright living in Albany. After studying theater at SUNY Potsdam, Aaron returned to Albany and started Acting with Aaron in 2014 so that he can inspire and educate underserved youth. Aaron has performed and worked with companies such as Pendragon Theatre, Capital Repertory Theatre, Proctors Theatre, the Roundtable Theatre Company. He has appeared on NBC, Showtime, The History Channel, and much more.

This workshop focused on acting, monologuing, performance, and reading from scripts. The youth participated in exercises in those areas to practice and become more comfortable with the art of performance, acting in a play, and even audition skills! The kids also received some written materials and an acting book to bring home. 📚

Attending youth learned so much about acting and performance with the skilled and experienced Aaron! 🎭💥

All youth between the ages of 13-18 who live around Albany County are invited to attend Art.Work.Space. Workshops. The workshops are free, but there is limited space in order to foster a proactive learning environment and mindfulness of COVID19 restrictions. Registration is REQUIRED. No prior knowledge or experience in the arts nor topic of specific workshops is necessary. Just come with an open perspective! Please include a valid email with registration, as we will be reaching out to you for sharing logistics and waiver details.

Partners of Art.Work.Space. include: The RED Bookshelf and the Honest Weight Food Co-op 

Funders and supporters of Art.Work.Space. include: The Carl E. Touhey Foundation, Bank of America, and numerous generous individuals and small businesses.