Capital Walls Mural Walking Tour on June 24, 2023
Tags: Gallery News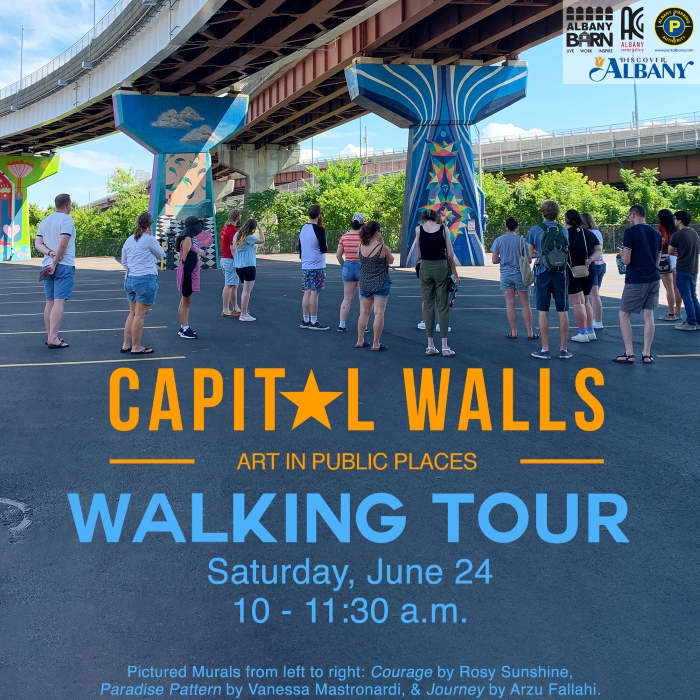 ---
Join the team behind Capital Walls for the Community Mural Walking Tour on Saturday, 6/24 at 10:00-11:30 am. It's a chance to explore the #CapitalWalls murals in downtown Albany with knowledgeable tour guides, guest artists, and program coordinators/curators.
Guests of the 6/24/23 tour will enjoy some coffee and light morning snacks before the tour departs.
Attendees must register no later than 24 hours before the tours via Eventbrite.
Start at Albany Center Gallery, located at 488 Broadway (Entrance facing Maiden Ln) in Albany. See 10+ public art pieces a part of the #CapitalWalls Program and learn about the ins and outs of how a mural comes to be.
What: Free Capital Walls Community Walking Tour
Where: Start at Albany Center Gallery (488 Broadway, Suite 107, Albany)
When: 10:00-11:30 AM
Why: To see and celebrate public art together!
Walking tour is free, but an optional donation of $5-10/person can be provided at the door if so inclined. These donations support Albany Barn and Albany Center Gallery in ensuring the longevity and possibilities of programs like these.
Support from Discover Albany via the Michele L. Vennard Hospitality Grant Program of the Albany County Convention and Visitors Bureau Fund, a fund of the Community Foundation for the Greater Capital Region
#CapitalWalls is a public art initiative by Albany Barn, Albany Center Gallery, and Albany Parking Authority.