Capital Walls: Mural Bike Tours
Tags: Gallery News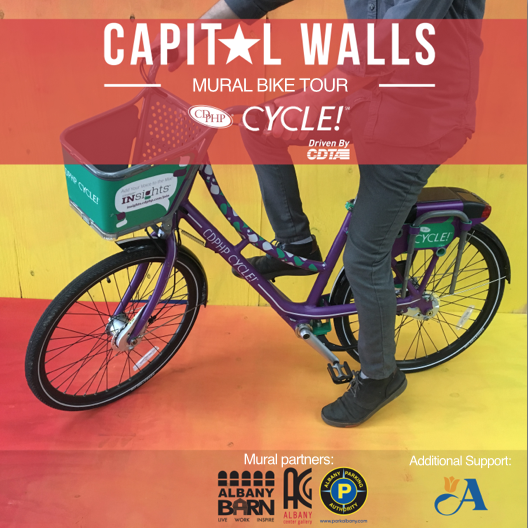 Bike tour promo
---
Sunday, July 21, 2019: Come Explore Vibrant Public Art In Downtown Albany With The Capital Walls: Mural Bike Tour!
FREE tour of downtown Albany on CDPHP Cycle! bikes to visit #CapitalWalls murals. The tour will be led by program curator Tony Iadicicco who will speak about the process and inspiration behind each mural. We will meet at Albany Center Gallery to kick off the journey.
Schedule: Pick one of two options
Morning Tour
11:00 a.m. start time with free Cider Belly doughnuts and Stacks Espresso coffee

1:00 p.m. end time
Evening Tour
3:00 p.m. start time

5:00 p.m. end time with light refreshments from Olde English Pub
Mural Partners include: Albany Barn, Albany Center Gallery, Albany Parking Authority
Mural Tour Sponsors: CDPHP Cycle! Driven by CDTA
Event Disclaimer: Must be 18 years or older to attend the event. By registering, you are agreeing to participate at your own risk. We encourage you to bring a helmet if you own one. One email address is equivalent to one participant during registration. No group sign-ups. If you are registering on behalf of someone else, use their email address. If you have any questions about your ability to participate, please feel free to contact Karina at kwojnar@albanycentergallery.org or call at 518-462-4775 to ask!
*You must RSVP 24 hours prior via email to tour time to confirm the reserved spot, otherwise members on the waitlist will be asked. The tour will happen rain or shine, excluding severe weather-- Check social media for final updates if unsure.
There are only 20 spots available for this tour. Priority for July's tours will be given to those on June's waitlist.
Visit http://parkalbany.com/find-parking to find parking options in downtown Albany.
Secure your spot here!