BODY (An Experiential Art Installation )
Tags: Gallery News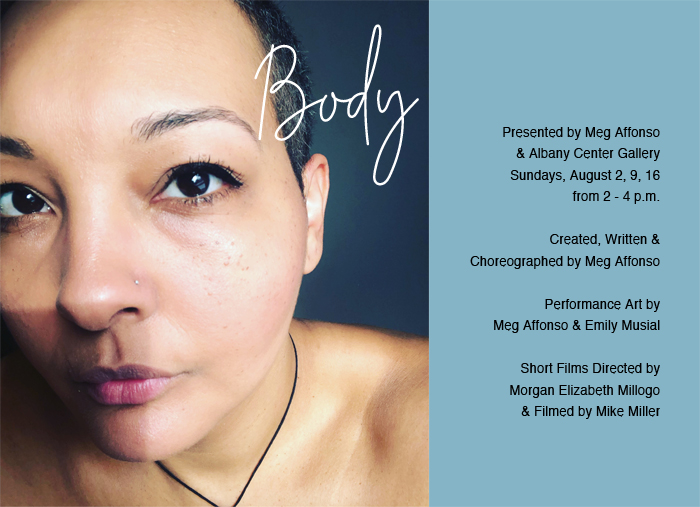 ---
BODY, presented by Meg Affonso and Albany Center Gallery (ACG), an experiential art installation coming this August to Albany
Sundays, August 2, 9, & 16, from 2:00 - 4:00 p.m. -- Meg Affonso and Albany Center Gallery present BODY, an experiential and immersive art installation that explores the sacred connection between the body and the soul that exists in each individual. The public is invited to attend free of charge (ages 12 & up, content not suitable for small children). Signing up in advance is encouraged to reserve a spot, but walk-ins are accepted if there is available room. The event will take place inside Albany Center Gallery from 2:00 - 4:00 p.m. on Sundays August 2, 9, and 16. 
The elements of BODY include: three short dance/dialogue-based films, live sculpture + movement, an immersive audience experience, collective artistic creation, photography, and movement labs and release through writing that will be transformed into physical art that represents rebirth. BODY is inspired by the poem "I Sing the Body Electric" by Walt Whitman and also by the current events in today's world. BODY is representative of the struggles that individuals face from birth through death and the beauty that exists in between all of the difficulties. BODY is an examination of our ego, prejudices, biases and the truth of what we can be if we choose to grow and live our soul's truth. This piece is a collective experience for the community not just by telling a story, but also by encouraging art as a path to the healing and joy that we can all experience no matter our backgrounds or beliefs.
BODY is created, written and choreographed by Meg Affonso. Performance Art by Meg Affonso & Emily Musial. Short Films are directed by Morgan Elizabeth Millogo and filmed by Mike Miller.
ACG will be following CDC guidelines for visitation to ensure the safety and wellness of all our visitors.
Link to the Eventbrite here.