Assemblages Exhibit
Tags: Gallery News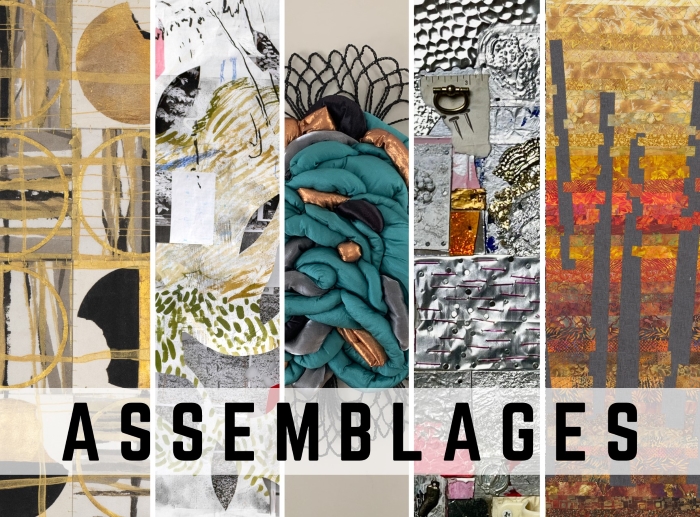 ---
From January 31 - March 3, 2023, Albany Center Gallery (ACG) presents Assemblages, featuring the work of five regional artists: Alicia Mikles, Carolyn Olsen, Jae Schalekamp, Charles Steckler, and Christian Wechgelaer. An Artists' Reception will be held on Friday, February 3, 2023, from 5 - 8 p.m. Assemblages is free and open to the public; Tuesday – Saturday, Noon – 5 p.m. 
Click here to view Assemblages' photo gallery.
Assemblages features installations, collages, fiber arts, and works that combine objects, images and/or mediums from multiple sources. The artists combine several items and mediums in a way that re-envisions or re-writes original narratives of said items. Some artists' method requires repurposing, while others provide meaning to fabric and textures, once combined. The artists reconstruct the stories and memories saturated within the materials to illustrate new narratives and in turn, exposes what is typically expected of said materials. 
Alicia Mikles graduated from Syracuse University with a B.F.A. She is indebted to the matriarchal seamstresses in her family who taught her to move the needle. Her work explores symmetry, nostalgia, and the push-pull of repulsion and desire. While creating her work, Mikles' primary focus is to raise awareness within the viewer to allow them to connect with the earth and all of the life forms it holds. Her life-size fiber works combine readymade vintage lingerie pieces with sensuous and monstrous bodily forms. Her most current fiber work, wall sculptures of ovarian forms, grapples with biomorphic exquisiteness, vogue materiality, and science. She currently lives in the Hudson Valley with her family, where she continues to broaden her range of art and design projects.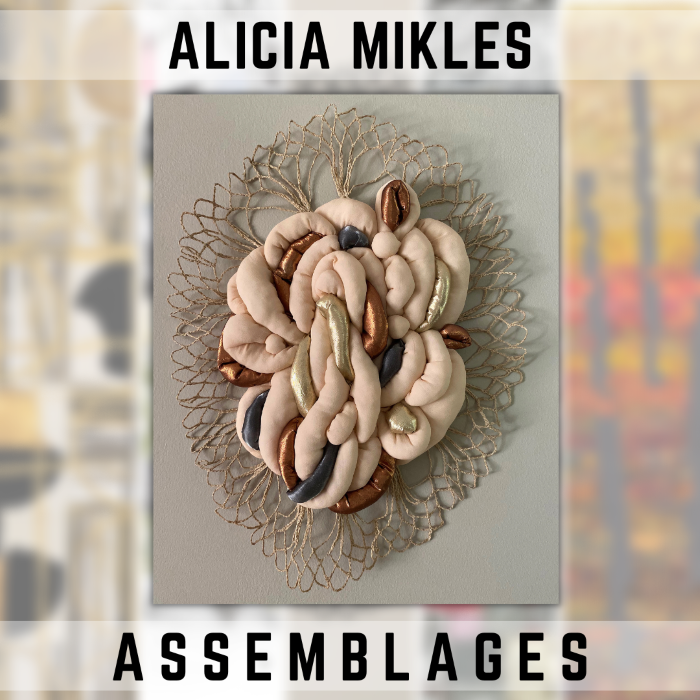 Carolyn Olsen has always had a strong passion for sewing, which traces back to her early childhood. In 1994, Olsen enrolled in her first quilting class, which began her quilting journey. Quilt making, which combines art and sewing, is her absolute passion. Olsen's inspiration and sourcing for designs often come from her own photographs, drawings, and visual memories of gardens, landscapes, and scenes from recent travels. Sometimes, Olsen is inspired by a particular fabric, which leads her to work spontaneously as the design unfolds. Olsen is passionate about and focuses on producing interesting surface textures and secondary patterns, while occasionally embellishing the piece with buttons, trims, beads, and hand stitching. Olsen has been an active member of Q.U.I.L.T., Inc. in Delmar, New York, since 1996.
Jae Schalekamp was born and raised in South Korea. After obtaining a B.F.A. from Hong-Ik University in Seoul, South Korea, she came to the United States in 1993 to pursue a broader experience in art and culture. She studied studio art at Mason Gross School of Art and textile surface design at F.I.T.. Her recent works on paper explore arrangements that resemble life's patterns which are created by coincidence and inevitability. Schalekamp's work includes paintings that are inspired by nature and paper works that are driven by geometric patterns and textures. Though the two outlets are visually and methodically distinguished from each other, both are in search of metaphors to make sense of life. She is currently maintaining her light-filled art studio in the Warehouse District of Albany, New York.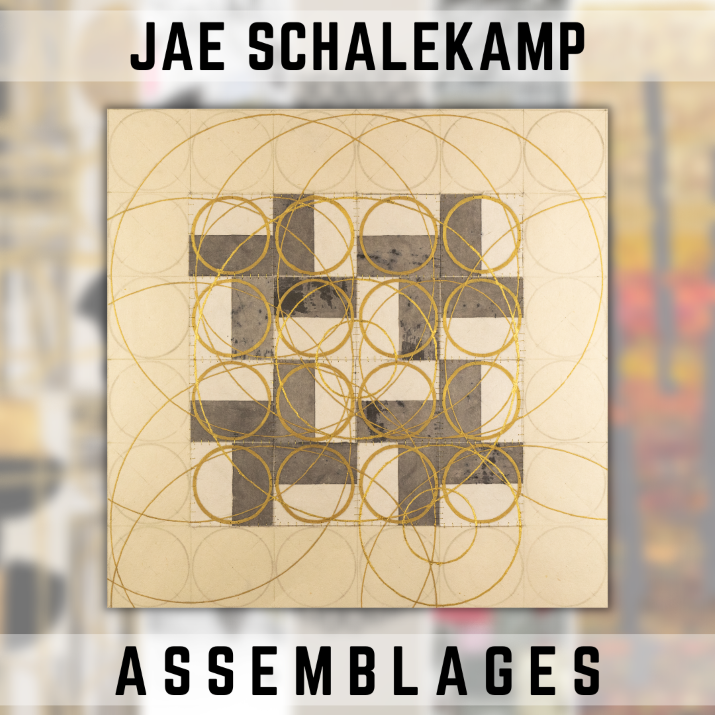 Charles Steckler received his B.A. from Queens College in New York and his M.F.A. from Yale University. He is a professor emeritus of theater and designer-in-residence at Union College in Schenectady, New York. Steckler is a bricoleur; and collage is his primary method. His work mainly consists of household junk and items that are then repurposed and incorporated into his artwork. Inspiration and ideas come to Steckler as he works spontaneously through a process of arrangement and discovery. He works to transform frivolous items into pieced-together stories and expressions that represent his inner world. Steckler's main inspiration is to create intimate works suffused with atmosphere, nostalgia, humor, and the memory of childhood's simple delights.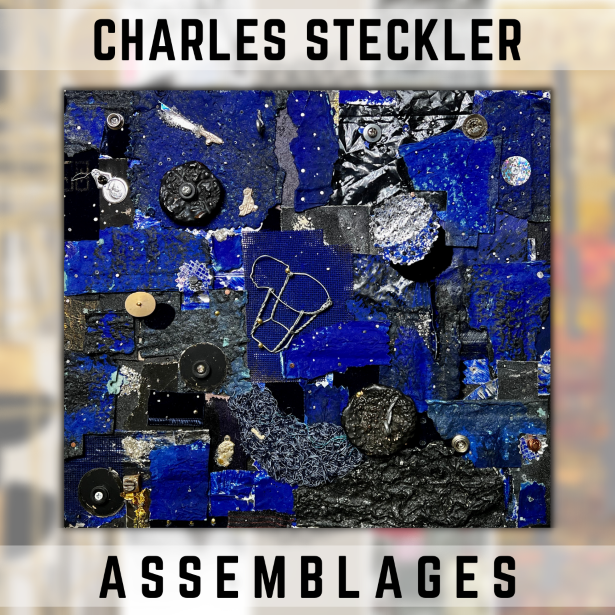 Christian Wechgelaer is an interdisciplinary artist living and working in Halfmoon, New York. In 2021, he received his B.F.A. in Printmaking and Photography from The College of Saint Rose. Wechgelaer uses printmaking, drawing, and collage to create stable representations of memory images, which is spurred by the displacement that accompanies nostalgia. His work examines the relationship between said memory images and the imagination, and how they are affected by the visual information we intake throughout our lives. He questions how parts of our visual culture and history become part of our subconscious, while constantly chasing the nostalgic spark that is at their core. Images become blurred and rearranged, and I begin telling new stories with these fragments. The results are paper reminders and temporary altars to fleeting spirits.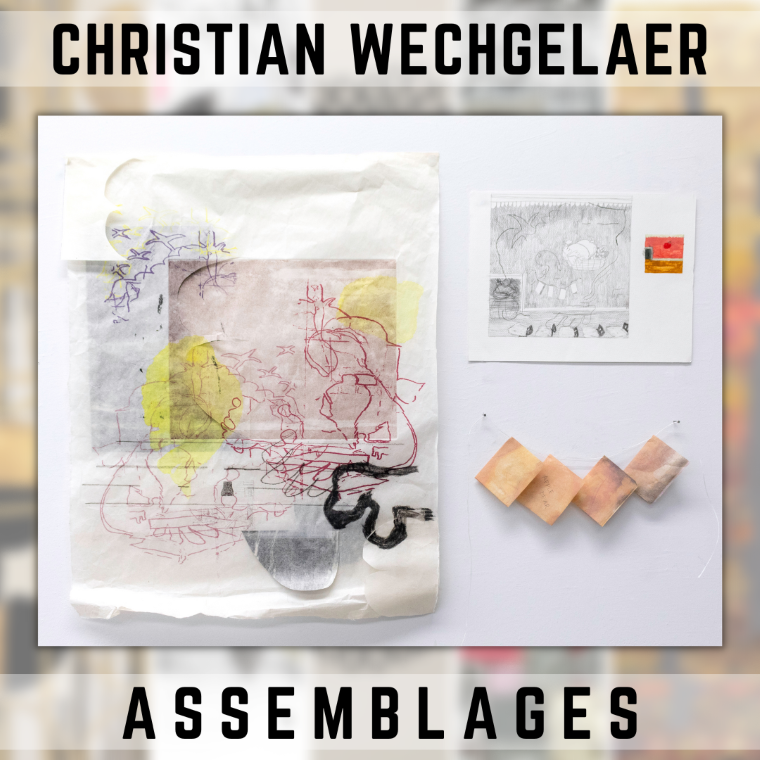 Assemblages is on display at Albany Center Gallery from Tuesday, January 31 to Friday, March 3, 2023, and features the work of five regional artists: Alicia Mikles, Carolyn Olsen, Jae Schalekamp, Charles Steckler, and Christian Wechgelaer. This exhibition is made possible by ACG Premier Sponsors Howard Hanna & David Phaff; and Kevin Dubner, Partner & Wealth Manager at Steward Partners Global Advisory, LLC. Additional support is provided by David Hochfelder & Ann Pfau and the New York Council on the Arts with the support of the Office of the Governor and New York State Legislature.
Convenient parking for ACG events is available at the nearby Riverfront Garage or on-street. For additional parking information, please visit: www.parkalbany.com/find-parking
Albany Center Gallery is a 501(c)(3) Organization for your tax purposes, contributions are tax-deductible within the limits of the law. We are always accepting donations, please consider contributing so we can continue energizing the community through art and empowering artists. We are better together, donate here.