Artists of the Mohawk Hudson Region Exhibition
Tags: Gallery News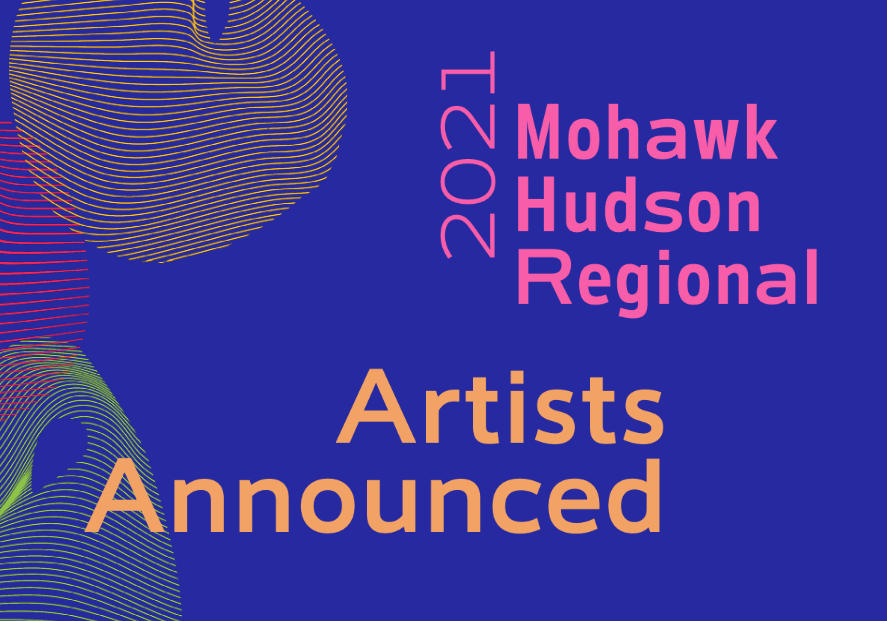 ---
For the first time in its 85-year history, the Mohawk-Hudson Regional exhibition will be presented at three locations simultaneously: Albany Center Gallery, Albany International Airport Gallery and Opalka Gallery at Russell Sage College. While for decades, the exhibition has rotated among the Albany Institute of History & Art, The Hyde Collection Art Museum in Glens Falls, and The University Art Museum, University at Albany, this year's reimagined version reflects the spirit of creative innovation that distinguishes our regional arts community. The exhibition call was open to all visual artists residing within a 100-mile radius of Albany, NY and Glens Falls, NY.
Traditionally, the annual Artists of the Mohawk-Hudson Region exhibition is curated by a single guest juror and presented in a one location. By expanding to include three Albany galleries, with a different juror selecting work for each space, this year's exhibition will be broader in scope than those of the past, and each iteration will reflect the distinct mission of each gallery and the vision of each juror. Mixed media artist Alisa Sikelianos-Carter selected the work for Albany Center Gallery, curator and artist Tommy Gregory selected the work for Albany International Airport Gallery, and gallerist Pamela Salisbury selected the work for Opalka Gallery.
We were honored and delighted to receive 561 entries by artists from across our region. From those, our jurors selected 143 works of art from 96 outstanding artists. A special thank you to our jurors for this arduous task and to everyone who submitted their work. It was a truly remarkable year!
At Albany Center Gallery, we are excited to showcase the work of the following artists: 
Maryam Adib
Tania Alvarez 
Justin Baker 
Sharon Bates 
Berly Brown 
Gabe Brown 
Donnabelle Casis 
Ryan Chase Clow 
Jane Ehrlich 
Ray Felix 
Abby Golodik 
Shanti Grumbine 
Josepha Gutelius 
Huê Thi Hoffmaster 
Olivia Hoover 
Cheryl Kass 
Tatana Kellner 
Jahniah Kum 
Madison LaVallee 
Darian Longmire 
Iain Machell 
Melinda McDaniel 
Claudia McNulty 
Theresa McTague 
Alicia Mikles 
Robert Moylan 
Stephen Niccolls 
Julie Pereira 
Emily Prosper 
Joe Putrock 
Regina Quinn 
Sam Reeder 
Kelsey Renko 
Gia Sabatini 
Jae Schalekamp 
Julie Shapiro 
Charles Steckler 
Kamilla Talbot 
Amelia Toelke 
Stephen Tyson 
Victoria van der Laan 
Catalina Viejo Lopez de Roda 
Carolyn Webb 
Mimi Young
Please visit our co-hosts' websites to view their selected artist lists. 
Featured at Albany International Airport from September 10 - November 8, 2021, juried by curator and artist Tommy Gregory:
Fern Apfel
Arlene Baker
Susan Berger
Marc Bernier
Stephanie Blumenthal
Julie Branch
Michelle Brandemuehl
Scott Brodie
Seth Butler
Lisa DeLoria Weinblatt
George Dirolf
Sally Eckhoff
Rebecca Flis
Scott Foster
Niki Haynes
Paula Heisen
Mara Lefebvre
Naomi Lewis
Stephen Mallon
Andrew Pellettieri
Victoria van der Laan
Mary Pat Wager
Hanna Washburn
Wendy Williams
Trevor Wilson
Deborah Zlotsky
More information at: https://www.albanyairport.com/airport-amenities/art-and-culture-program
Featured at Opalka Gallery from September 7 - October 9, 2021, juried by Pamela Salisbury Gallery owner & director Pamela Salisbury:
Yura Adams
David Behl
Farrell Brickhouse
Scott Brodie
Laura Cannamela
Beth Caspar
Matt Chinian
Katie DeGroot
Chris DeMarco
John Dobbie
Chris Duncan
Jean Feinberg
Jeanette Fintz
Leah Frankel
Richard Garrison
Ellen Kozak
Ann Ledy
Kristin Locashio
Joel Longenecker
Iain Machell
Mark McCarty
Laura Moriarty
Robert Oehl
Denise M. Oehl
Mark Olshansky
Ruby Palmer
Margaret Saliske
Greg Slick
Kamilla Talbot
Tony Thompson
Victoria van der Laan
Carolyn Webb
More information at: https://opalka.sage.edu/exhibitions/mohawkhudsonregional/
Each venue will be hosting an in-person Reception & Awards Ceremony on three consecutive days, as well as maintaining their own show dates and open hours. Please visit each venue online for updates about hours and events.
Albany Center Gallery
Juror: Alisa Sikelianos-Carter, Mixed Media Artist
Exhibition Open: Sept. 10 through Oct. 9, 2021
Reception & Awards: SAT, Sept. 18, 3-5pm 
488 Broadway, Suite 107, Albany, NY
Juror: Tommy Gregory, Public Art Program Sr. Manager and Curator, Port of Seattle
Exhibition Open: Sept. 10 through Nov. 8, 2021
Reception & Awards: THUR, Sept. 16, 6-8pm
3rd Floor, Main Terminal, 737 Albany Shaker Rd, Albany, NY 
Juror: Pamela Salisbury, Owner & Director, Pamela Salisbury Gallery in Hudson, NY
Exhibition Open: Sept. 7 through Oct. 9, 2021
Reception & Awards: FRI, Sept. 17, 5-7pm
In conjunction with Opalka's Pop-up Beer Garden, 6-9pm
Russell Sage College, 140 New Scotland Ave., Albany, NY
If you have questions about the exhibition format, please contact us at director@albanycentergallery.org.