Art in the Garden 2021
Tags: Gallery News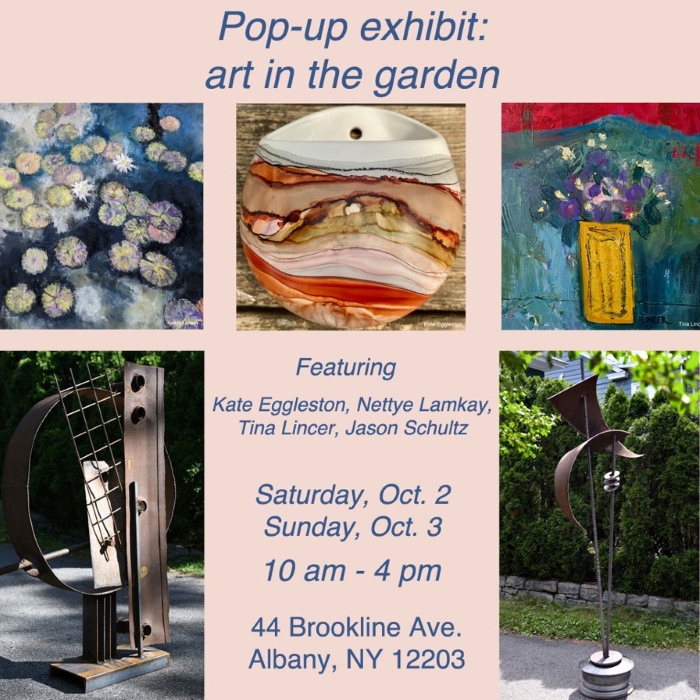 ---
Albany Center Gallery partnered with local sculpture artist Jason A. Schultz for a weekend Pop-Up Exhibit: Art in the Garden! This event featured artwork by local artists Jason Schultz, Tina Lincer, Kate Eggleston, and Nettye Lamkay. The Pop-Up Exhibition was at Jason's Albany home on Saturday & Sunday, October 2-3, 2021 from 10:00 a.m. to 4:00 p.m. with a unique art and sculpture sale plus a free garden tour. A portion of the proceeds from art sales benefit ACG.
A special membership opportunity was also available: ACG was offering $5 off any membership (Artist & Friend level and above) purchased the day of the event - thank you for showing your support of the local arts community by taking home a piece of art and joining ACG as a patron of the arts! ACG had a table at the event on both days, with some merch and artwork for sale.
Event details:
Pop-Up Exhibit: Art in the Garden
October 2-3, Saturday & Sunday
Time: 10 a.m. - 4 p.m.
Location: Jason Schultz's Home, 44 Brookline Ave, Albany, NY 12203
Exhibiting artists: Jason Schultz, Tina Lincer, Kate Eggleston, and Nettye Lamkay 
Jason Schultz is a reclaimed artist and landscape designer living in Albany, NY. Jason hunts for common and uncommon materials, and he turns them into abstract and representational sculptures. Whereas others may see scrap, refuse or everyday raw materials, Jason envisions their potential for engaging art. He says the assorted objects tell him what they want to become as he welds, grinds and transforms them into unique works of art for the home and garden.
Tina Lincer, a painter and writer, grew up drawing, painting and composing stories on the stoops of her native Queens, N.Y. She holds a B.A. in English and Fine Arts from the University at Albany. Incorporating texture and swaths of vivid color in an expressionist style, Tina paints a range of subject matter, primarily in oil. She also makes small collages from recycled materials and mixed media pieces on vintage wood. Her work has been exhibited at galleries and other venues throughout the Capital-Saratoga Region. She works full time as associate director of communications at Union College. Her personal essays have been published in local and national newspapers, magazines and anthologies. 
Kate Eggleston is a New York native, born and raised in the capital region. Obsessed with and inspired by
the natural world, Kate works with subject matter that varies from birds and insects, to mosses and
ferns, to mammals and fungi. Kate works mostly with natural materials including wood, glass, metal,
paper, clay, cotton and leather. Her focus is on creating items that pay homage to nature and the outside
world, while also creating functional goods for the home.
Nettye Lamkay is a representational artist who draws and paints using several mediums but primarily uses pastels. She attempts to capture the everyday visual beauty in the subjects that most move her: light, seasons, settings in the natural world, the elegance of birds and, having been a people watcher all her life, people in their sculptural forms, moments and gestures. Although starting her artistic career later in life, she has exhibited, sold paintings and won awards in a variety of local shows and art leagues. Nettye has been an Albany resident for 44 years. She currently splits her time between her Pine Hills home and Vermont's Northeast Kingdom.