The Art of Bonsai
Tags: Gallery News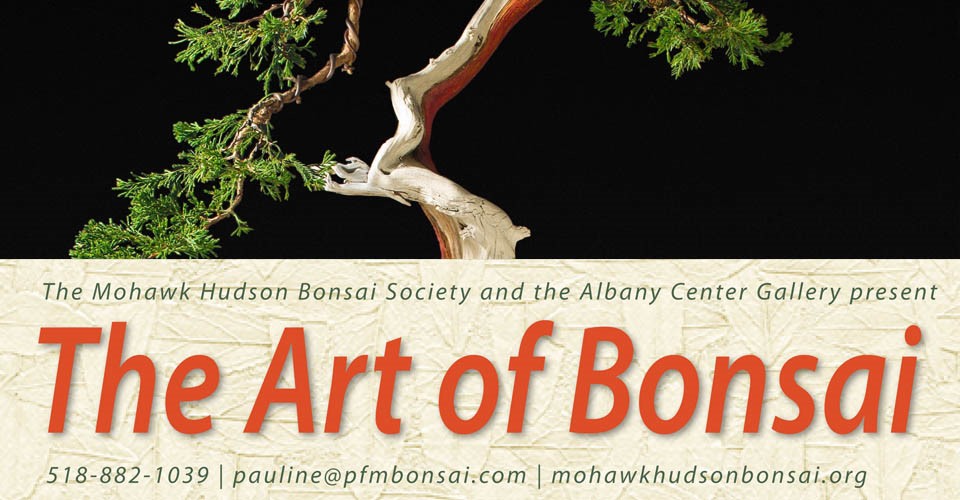 ---
The Mohawk Hudson Bonsai Society and Albany Center Gallery are excited to announce a weekend filled with the Art of Bonsai. Bonsai is the Japanese art form of using cultivation techniques to produce small trees in containers. At Albany Center Gallery (488 Broadway, Suite 107, Albany, NY) from September 20 - 22, 2019, you can see beautiful specimen bonsai trees as well as trees in training, and hear their stories as you learn about this ancient and challenging art form. Bonsai trees are by members of the Mohawk Hudson Bonsai Society. Gallery hours will be Friday, Noon - 5 p.m., Saturday from Noon to 5 p.m. and Sunday from Noon to 4 p.m. A bonsai tree is never finished. It is art that is alive and always evolving. Artists can spend decades working with one of their creations.
Club members will hold bonsai demonstrations in the park next to the gallery. The public is invited to bring in their bonsai for advice. The club will have bonsai and bonsai materials available for sale during the show. The Mohawk Hudson Bonsai Society meets monthly at PFM Bonsai Studio in West Charlton, NY. 
Bonsai in all stages of their journey in development will be on display during this special event. Learn about the art of bonsai! 
Mohawk Hudson Bonsai Society contact: Pauline Muth, 518-882-1039, pauline@pfmbonsai.com, pauline@pfmbonsai.com, mohawkhudsonbonsai.org