Annual Members' Show
Tags: Gallery News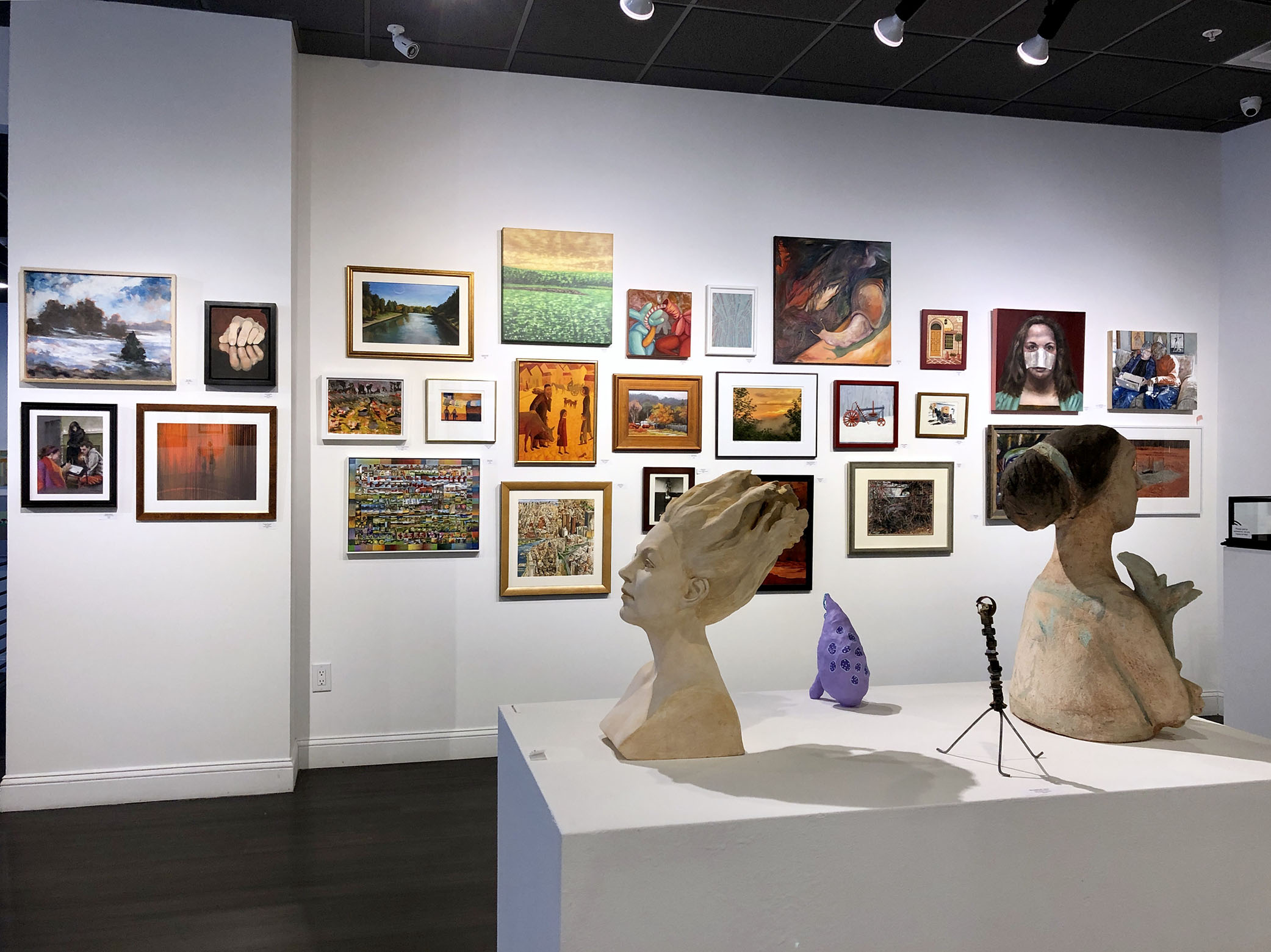 ---
Join us for our Annual Members' Show, featuring over 150 works of art by local and regional artists! Visit our Facebook event for updates and sneak peeks.

Exhibit Dates: Friday, December 7, 2018 to Friday, January 19, 2019
Opening Reception: 1st Friday, December 7, 5 to 8 p.m.
Exhibit Sponsors: Joann Ryan, NYSCA, ParkAlbany and The Albany Wine and Dine for the Arts Festival.
Additional Support: DJ TruMastr and Honest Weight Food Co-op

Exhibiting artists: 
Irena Altmanova, Bob Anderson, Fern T. Apfel, Dianne Pearson Applin, Deyva Arthur, Katherine Ashby, Tony Avacato, Marty Bannan, Cyndy Barbone, Marghee Barrows, Leslie Berlinsky, Natalie Boburka, Corinne Brennen, David Brickman, Bill Broderick, Christopher Brown, Bob Buck, Lynne Bunnell, Laura Cannamela, Steven Carberry, John Catalfamo, Paul Chapman, Lorraine Chesin, Anthony Cintula, Maura Clancy, Michael Clancy, Stephen Condon, Triya Elena Cruz-Allen, Sierra Davenport, Stephen de Waal Malefyt, Lindsey DeBerry, Chris DeMarco, David DiPasquale, Gregory Maxwell Dunn, Charles Economos, Joseph M. Elario, Sheila Elario, Dorothy Englander, Karen Fabiane, Jeanne Finley, Sid Fleisher, Dee Foley, Paula Drysdale Frazell, Jay Freud, Daniel Frinta, Connie Frisbee Houde, M. C. Furlong, Ginnie Gardiner, Karen Gerstenberger, Jacqueline Gibbons, Brian Gibbs, Robyn Morgan Giddings, Alexander Girshin, Gary Glinski, Carlsbury Gonzalez, George Guarino, Thomas Hansen, Patrick Picou Harrington, Martin Hatcher, Niki Haynes, Duane Ivan, Andrea Hersh, Suzanne Hicks, Dave Higgins, Susan Himmel, David Hinchen, Gail Hinchen, Susan Hoffer, Paul Holloway, Fred Holman, David Hopkins, Cheryl Horning, Ellen Hughes, Ken Hughes, Tony Iadicicco, Christine Jaworski, Michael Joyce, Sylvie Kantorovitz, Tyler Kellogg, Amber Kelly, Kristine Kelly, Clarence King, Dodji Koudakpo, Amanda Kralovic, Kevin Kuhne, Phyllis Kulmatiski, Nettye Lamkay, Sonja LaPointe, Stephanie Levay, Michelle Lee, Tina Lincer, Rob Longley, Patricia A. Loonan Testo, Criss Macaione-Bilodeau, Linda MacRitchie Graf, Jessica Mansmith, Gary Masline, Greg Matusic, Laura McCarthy, Mark McCarty, Dan McCormack, Bradley McCrary, Dan Mehlman, Julie Mereson, Chuck Miller, Jim Miller, Rene Molineaux, Gail Nadeau, Nedra Newby, Ken Newman, Thomasa Dwyer Nielsen, Ann Norsworthy, Holly Northrop, Ed O'Connell, Hazal Ozturk, Philip J Palmieri, Tris Paniccia, Rita Papandrea, Andrew Pellettieri, Bill Pettit, Beca Piascik, Linda Pinkans, Pam Poquette, Ellie Prakken, Hillary Raimo, Steven Rein, Jennifer Richard-Morrow, Julia Rosen, Megan Ruch, Anthony Ruscitto, Shari Sarachan, Jae Schalekamp, Susan Schmader, Mark Schmidt, Cadence Schwartz, Heather Shalhoub, Ritvik Sharma, Laura Shore, Margo Singer, Elizabeth Smith, Jacqueline Smith, John Smolinsky, Christine Snyder, Sean Stewart, Audrie Sturman, Marguerite Takvorian-Holmes, Jennie Tang, Grace Tatara, Jennifer Tharp, Yeachin Tsai, Israel Tsvaygenbaum, Carol Turner, Michelle M. Vara, Elisabeth Vines, Richard Vitkay, Carl Voegtling, Takeyce Walter, Alex Waters, MaryK Weeks, Anna Wettergreen, Larry White, Jeff Wigman, Thom Williams, Karina Wojnar, Yohe & Sons, Ruth Young, Trisha Zigrosser

Award Winners:
Small Work, Big Impact Best in Show: Takeyce Walter, Moonshine, Pastel
Large Work Best in Show: Gregory Maxwell Dunn, Short Circuit, Mixed media welded scrap metal
ACG Board President's Select: John Smolinsky, Curious Creature, A branch, twigs, vines, a shrimper, blade protector, wire and other found objects
Juror's Select: Stephen Condon, Untitled, Lithograph
Juror's Select: Clarence King, Plum and Pears, Oil on canvas
Honorable Mention: Cheryl Horning, Study of Cora with Billowing Seaweed Hair, Stoneware clay
Honorable Mention: Tris Paniccia, Or, Orbit, Acrylic on canvas
Honorable Mention: Susan Schmader, Fences, Mixed media
Honorable Mention: Mark Schmidt, Portal, Photograph
Honorable Mention: Jennifer Tharp, Dear God, make me a bird, Mixed media
Honorable Mention: Alex Waters, The Honest Ones, Mixed media

The Members' Show will be held from Friday, December 7, 2018 to Friday, January 19, 2019. The Opening Reception will be held on Friday, December 7, from 5 p.m. to 8 p.m. in conjunction with the Fort Orange Holiday Market taking place in the Arcade Building hallway. At the Opening Reception, we will be awarding over $300 in cash prizes, along with other prizes and awards. Erik Laffer of The Laffer Gallery will jury the show and select a variety of works to receive awards.

About the Juror: Erik Laffer of The Laffer Gallery in Schuylerville, NY is also a partner with AMP Gallery in Saratoga Springs. Laffer says "In recent years, I have sought to help other talented artists with important voices find an audience by providing them with representation through The Laffer Gallery, a fine art gallery and custom framing shop in Schuylerville, N.Y., which is located just 10 minutes east of downtown Saratoga Springs.
As I've gotten older, I've come to truly value the relationship between artist and audience, particularly in regard to how the work can become a bridge to dialogue and discovery. The Laffer Gallery has afforded me with the opportunity to create these conversations—both with my own work and the work of the artists I represent. Painting—art—has always been my passion…my voice. I am grateful for the artists who share my vision, the collectors who value my work, and the Saratoga and Schuylerville communities who have so welcomely embraced me."

About the Members' Show: ACG's Members' Show highlights and recognizes a wide range of talented members, bringing together a dynamic cross-section of artists, diverse in medium and degree of establishment. Members range from student and emerging artists to established and international artists, from painters and photographers to sculptors and mixed media artists. ACG sees this show as an opportunity for exposure, promotion, and appreciation of all who have invested their time and energy in making our gallery what it is today.

This year for our Members' Show, we are focusing on the concept "Small Works, Big Impact" and encouraged all artists to submit a work of art that is 12" x 12" or smaller. This small size suggestion is due to the fact that we have over 250 members of ACG (yay!) and limited wall space available at the gallery to showcase members' artwork. As you may have seen from past Members' Shows, 150+ artworks are hung salon-style (floor to ceiling). By submitting small works, artists are helping us to showcase as many members as possible. As an incentive to submit a small work of art, we have adjusted our awards as follows:
- All artists who submit a work of art that is 12" x 12" or smaller will be eligible to win the "Small Works, Big Impact" Best in Show award of $200
- All artists who submit a work of art that is larger than 12" x 12" (up to 24" x 24") will be eligible to win the Best in Show award of $100