Annual Meeting 2022
Tags: Gallery News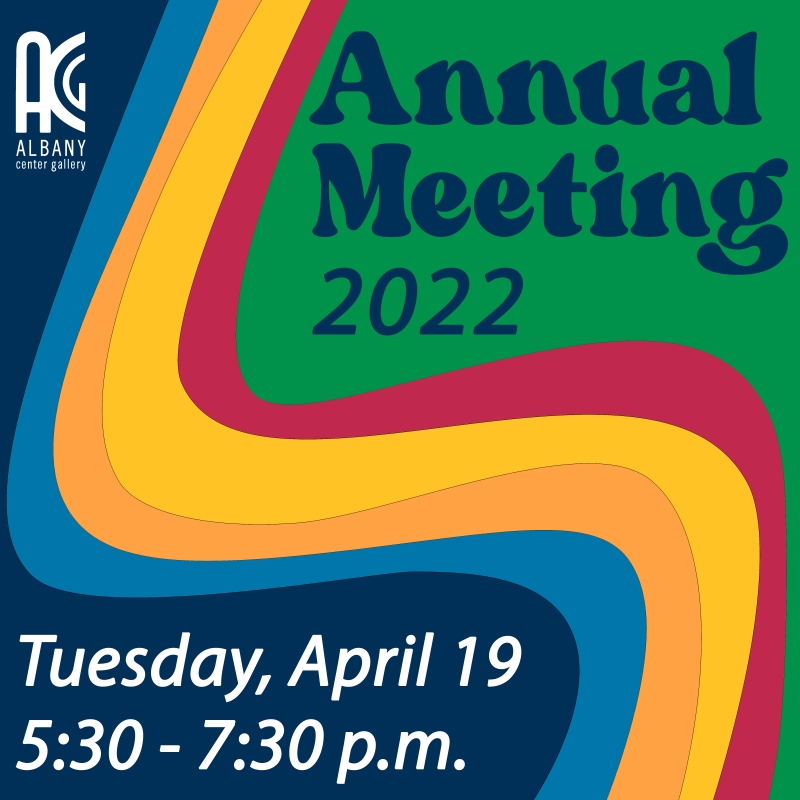 ---
On Tuesday, April 19, ACG's Board of Directors hosted our Annual meeting IN PERSON from 5:30 - 7:30 p.m.! Thank you so much to all who joined. View the Zoom Recording and Annual Report HERE.

Did you know that members of Albany Center Gallery get a vote? There was a presentation of the Fiscal Year (FY) 2023 Slate of Officers & Directors, recap of successes and challenges of the last year, and celebration of all of you! There will be a vote on the Slate of Officers & Directors for the next FY.

The Annual Meeting was hosted at the gallery starting at 5:30 PM on Tuesday, April 19. It was required to be an ACG Member (of any level) to attend the Annual Meeting and registration was needed in advance by April 16 before Noon via the EventBrite at the link below or on our website. Only those who registered were able to attend the event. 

Eventbrite Link

If you'd like to join as a member, you can click the link here! If you're unsure of your membership status, please reach out to Karina at kwojnar@albanycentergallery.org prior to registration.

Thank you so much for joining us for a recap of what was certainly a year for the books. We talked more about the exhibitions, programs, and art initiatives we hosted. This was an opportunity for all of us to have a conversation about the future of the arts in the Capital Region (& beyond).

Meeting was FREE to attend for members. There is an annual fee associated with membership. This is a donation to the gallery. If purchasing a membership is not possible for you, please do NOT hesitate to mention this when you email Karina, so we can find ways to accommodate.

Please visit here for full COVID guidelines.