Annual Appeal: Aid the Arts with ACG
Tags: Gallery News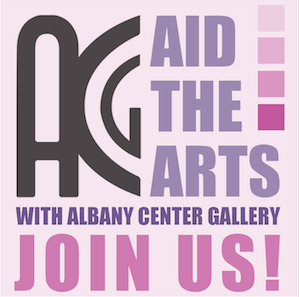 ---
Aid the Arts with ACG
Together, we can do so much more.
UPDATE 1/8/2021:
Thank you community and art friends!!! We are delighted to share that not only did we reach our fundraising goal of $16,000, but we surpassed it. Together, we are aiding the arts with the grand total of $18,085. Every dollar goes BACK into the local creative economy. Funds will be used towards ACG's mission of promoting and support local and regional artists. Because of you, we can do so much more. Thank you thank you thank you. 
If you'd still like to donate to Albany Center Gallery, you can do so here:
---
First of all, thank you. Thank you for your encouragement and support during an especially challenging year. Throughout the pandemic, ACG has been a regional leader of sharing more art everywhere with the community both in-person (socially distanced), as well as virtually. ACG presented 7 gallery exhibitions during this time, making them all available online as virtual 3-D tours. ACG also collaborated with partners to spearhead the Creative Impact: Capital Region Artist Fund raising over $10,000 for local artists in need. Through the Summer Youth Employment Program, we mentored 8 youth over 4 weeks as they created their own moveable murals. These are but a few examples of the past several months with ACG.
We are particularly grateful this year for our community's trust and collaboration in sharing creative work. Humanity turns to art for comfort, for healing, for expressing. We believe art is not a want, but a need. Join us in aiding the arts and artists of the region. If you have the means, consider contributing to the cause.
$25+        you will be listed on the ACG website and receive a handwritten "thank you" card.
$50+        you will receive the benefits listed above, plus name recognition on the donor wall at ACG for one year.
$100+       you will receive the benefits listed above, plus an annual Artist Friend ACG membership.
$250+       you will receive the benefits listed above, plus a pair of ACG wine glasses.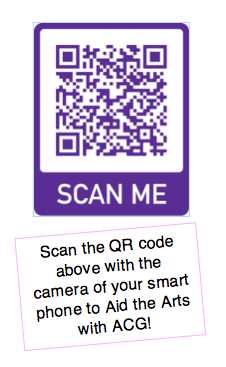 Why ACG? Albany Center Gallery is more than a gallery space that showcases high-quality exhibitions. We focus on creating and providing opportunities for regional artists, offering impactful programming and outreach, inspiring young creatives, and introducing community members to thoughtful artwork, all while collaborating with local businesses and fostering an inclusive, welcoming art space for individuals of all backgrounds.
Each dollar you donate is invested into ACG's mission to promote and exhibit contemporary visual art produced by artists living primarily in the region and to inspire interest and provide enjoyment to an increasingly diverse audience.
The future is uncertain, but we know we need art to be in it. We embark on our year-end campaign with a goal of raising $16,000 by December 31st, but we can't do it without your help. Every dollar you donate will be matched by ACG's Board of Directors and an anonymous donor up to $8,000. This means the impact of your gift is doubled: $25 becomes $50, $50 becomes $100, $100 becomes $200, and so on.
You are invited to text "donate" to (218) 595-2294 to join the movement of aiding the arts together or donate HERE.
please use this link to donate if the above does not process.
ACG can also accept gifts of appreciated securities. Please contact us for additional information. Only with you are we able to continue the work we do with the creative community. Any amount of contribution is appreciated.
Stay safe and thank you,

Tony Iadicicco, Executive Director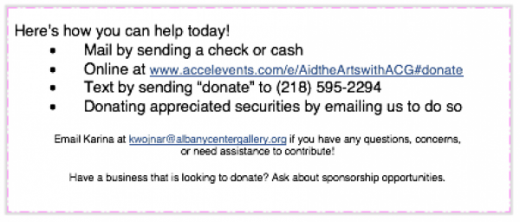 ​
Thank you for your ongoing support. 
Annual Appeal donations as of 1/21/2021
Thank you to our donors:
Anonymous Donors, Anja Adriaans, Linda L. Bacon, Marty & Dena Bannan, Cyndy Barbone, Pennie Brantley & Robert Morgan, Steve Bratspis, Anna Brickman, Dorice Brickman, Ellen Brickman, Mark Brogna/ Capital Wine Bob Buck, Steven Carberry, James Carr, Dylan Carey, Sue Cleary, Steve Condon, Richard S. Conti, Becky Daniels, Kevin & Cindi Dubner, Steven J. Fink, Jeanne E. Flanagan, Robert Fullem & Marilyn Kaplan, Carlsbury Gonzalez, Robin Goodman, Robin Gordon, Sally Gordon Willse, Linda D. Graf, George Guarino, Cara Hanley, Jessica Hansen, William Harris & Holly Katz,  Mark Harris & Melanie Greenspan, Constance Hasko, Dave Higgins, Lucinda C. Huggins, Heather Hutchison, Eric Incitti, Lauren Incitti, Ellen Jabbur,  Steven Katten, Holly Katz, James Kellerhouse, William Hetzer, Andrew Koski, Catherine Laccetti, Nettye Lamkay, Elaine Lasda, Lori Lawrence, Chloe Lichtenstein, Tina Lincer, Kyle Lochner, Julie Lundgren, Andrew Luyckx, Robert J. McNamara, Jessica Mahoney, Kyle Patrick Maloney, Willie Marlowe, Mark & MaryKate McCarty, Matt Miller, Catherine Minnery, Gabrielle Miranda, Rene Molineaux, Mary Szypulski Morehouse, Sabr Mosseau, Annettee Nanes, Fred Neudoerffer, Mary Catherine O'Neill, Chet & Karen Opalka, William O. Petit, Thomas F. Pfeiffer, David Phaff, Timothy Pierce, Corey Pitkin, Alysia Plaza, Joseph Putrock, Elizabeth Reiss, Rosemarie Rosen, Sandra Rowbo, Jean Buzz Rosenthal, Joann Ryan, Mike Schinnerer, Susan Schmader, Jason & Cindy Schultz, Timothy Seguia, Sharon Siegel, Jacob Shen, Rick Sicari, Ruby Silvious, Rachelle Smith-Stallman, Donald Stauffer, Audrie Sturman, I. David Swawite/ Omni Development Co. Inc., Theresa Swidorski, Ronald Symansky, Sara Tack, Stephen Tyson, Daniel Vaughan Cherubin, Carl Voegtling, Ryan Watroba, Joseph Watroba, Lawrence & Judith White, Nan Wilson, Terry Wise, Karina Wojnar, Edytta Wojnar, John & Karen Wolner, Becky Zeh, Sandra S. Zwink.