ACG's Members' Show 2021
Tags: Gallery News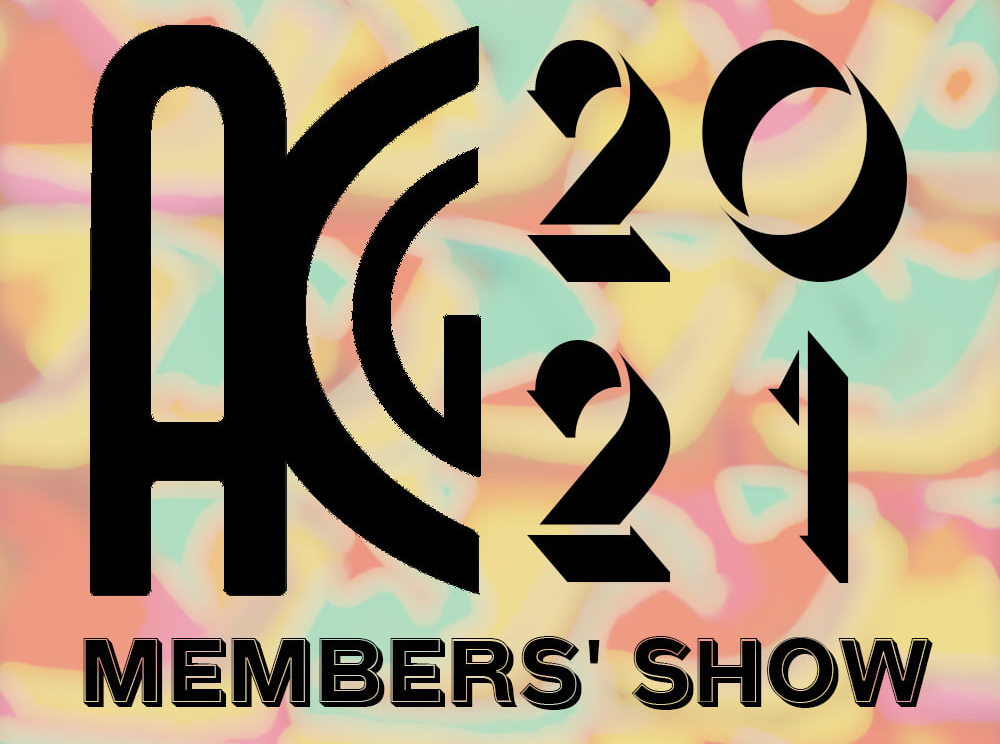 ---
See photos of the Members' Show Here!
UPDATE 1/5/22: Due to the level of COVID-19 cases in the community, Albany Center Gallery decided to increase its precautionary measures. We remained open to finish the Members' Show until January 14, but BY APPOINTMENT ONLY. Mask wearing and social distancing was and continues to be mandatory. 
Update 1/5/22: If you are IN the Members' Show, you can schedule a pick-up date to retrieve your art on January 15, 18, 19, or 20 using the same link. Please schedule a time you are available to come to the gallery and pick up your Members' Show piece. Due to Covid-19 guidelines, we are by appointment only and pickup shouldn't take more than 5 minutes. Please wear a mask at all times when in the gallery. If you CAN, please pick up a friend's piece as well to maximize appointments. The friend must email us to let us know and do be sure you have explicit permission to acquire the artwork on their behalf. If you have any questions, please reach out to (518) 462-4775 or email Karina kwojnar@albanycentergallery.org. Thank you!
The 2021 Annual Members' Show focuses on the importance of art and supporting local and regional artists living and working within 100 miles of Albany. 
This year's Members' Show was held from Friday, December 3, 2021 to Friday, January 14, 2022. An Artists' Reception was hosted in-person on Friday, December 3, 2021.
Artist Awards have been announced! Read below:
Albany Center Gallery Select Award:
Kate Wolford

ACG President's Choice Award:
Carolyn Olsen

Director's Choice Awards:
Larry Rappoport
Tai Ortiz
Royal Brown
Regina Quinn
Uman

Honorable Mention Awards:
Ali Hermann
Linda Bacon
Andrew Pellettieri
Sylvie Kantorovitz

Thank you to all the members who joined us for this year's members' show. We hope everyone enjoyed celebrating and experiencing our talented members' artwork! This exhibition was on view until Friday, January 14, 2022. ACG is free and open to the public Tuesday - Saturday from Noon - 5 p.m.
For more information on our Covid-19 guidelines, please visit albanycentergallery.org
ACG's Members' Show highlights and recognizes a wide range of talented members, bringing together a dynamic cross-section of artists, diverse in medium and degree of establishment. Members range from student and emerging artists to established and international artists, from painters and photographers to sculptors and mixed media artists. ACG hosts this show as an opportunity for exposure and appreciation of all who have invested their time and energy supporting ACG, so we can continue our mission of highlighting the local creative talents.
Artists include: Wendy Allen, Ronda Anderson, Fern T. Apfel, Alison Bachorik, Linda L. Bacon, Mikki Badu, Arlene Baker, Marty Bannan, Leslie Berlinsky, Joel Best, Natalie Boburka, David S. Brickman, Royal G. Brown Jr., Lynne Bunnell, Berta Burr, Ashley Busby, Laura Cannamela, Steven Carberry, James Carr, Michael Clancy, Michael Cassin, D. Colin,, Stephen Condon, Jan Conn, Robert Cooper, Jaime Courcelle, Keith J. Davidson, Mary Davidson, Maria DeAngelo, Chris DeMarco, Steve Derrick, Jennifer Duke Anstey, Julia Durgee, Denise Ferrari, Jeanne Finley, Paula Drysdale Frazell, Jay Freud, Patricia Garrett, GATO, Karen Gerstenberger, Robyn Morgan Giddings, Alice M. Gilbert, Ed Gilbert, Julia Greiner, Juliana Haliti, Lexi Hannah, Patrick Picou Harrington, Martin Hatcher, Niki Haynes, Ali Herrmann, Susan Himmell, Frederick Holman, Stephen Honicki, Cheryl Horning, Elizabeth Iadicicco, Camille Jobin-Davis, Michael Joyce, Sylvie Kantorovitz, Clarence King, Danyel King, Lori Kochanski, Amanda Kralovic, Katharine Kreisher, Kevin Kuhne, Christine Lally, Lori Lawrence, Barb Lennox, Stephanie Levay, Tina Lincer, Alexandra Lindsay, Patty Lipman, Linda MacRitchie-Graf, Gary Masline, Ronn Mattia, Dan McCormack, Robilee McIntyre, Chuck Miller, Makkaebuprofen, Makkaebuprofen, René Molineaux, Katherine Mulvaney, Gail Nadeau, Steven Nicholson, Thomasa Dwyer Nielsen, Carolyn Olsen, Tai Ortiz, Dorothea Osborn, Philip J. Palmieri, Rita Papandrea, Andrew Pellettieri, Pepper Spray Press & Sunil Pawar, Linda Pinkans , Casey Polomaine, Aurora Powell, Ellie Prakken, Emily Prosper, Erica Quick, Regina Quinn, Itter Randazzo, Larry Rappoport, Steve Rein, Christie Rose, Richard Ruotolo, Jeannette Sheehy, Sharon Siegal, Willow Blue Silver, Israel Singer, Margo Singer, DhaSean Skillz Serrano, Darren Skotnes, Jacqueline Smith, John Smolinsky, Altin Stoja, Susan Stuart, Audrie Sturman, Theresa Swidorski, Grace Tatara, Kim Tateo, Ethan Townsend, Joe Ulrich, Uman, Michelle Vara, Richard Vitkay, Anthony Vitukevich, Mary Pat Wager, Takeyce Walter, Alex Waters, Heidi Weinman, Matthew Wierzbowski, Sandra Williams, Sally Willse, Karina Wojnar, Kate Wolford, Leslie Yolen, and Rebecca Zeh.
The exhibition was made possible by ACG Premier Sponsors: David Phaff & Howard Hanna Real Estate Services; and Kevin Dubner, Partner & Wealth Manager at Steward Partners Global Advisory, LLC. Additional Support Provided by: Carlsbury Gonzalez; and Dave Hochfelder & Ann Pfau; and the New York State Council on the Arts with the support of the Office of the Governor and the New York State Legislature.