ACG Annual Meeting to be held via ZOOM
Tags: Gallery News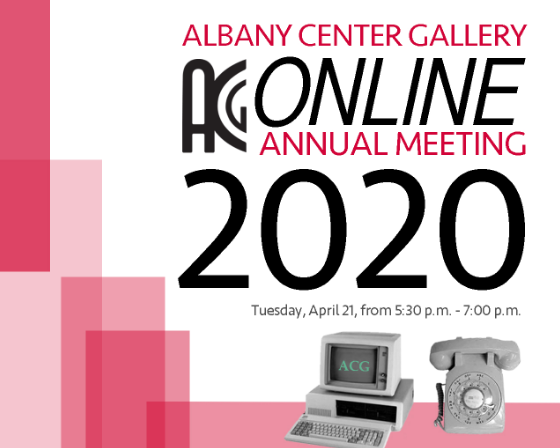 ---
Save the Date: ACG's Annual Meeting will be held on Tuesday, April 21, 2020, from 5:30 - 7:00 PM 
Did you know that as a member of Albany Center Gallery you get a vote? Here's how to use it: On Tuesday, April 21, ACG's Board of Directors are hosting the Annual meeting, where we will present the Fiscal Year 2021 Slate of Officers & Directors and other business, recap successes and challenges of the last year, and celebrate all of you! Although we are unable to gather in person this year due to the coronavirus (COVID 19), ACG will be hosting the Annual Meeting as a live stream on Zoom starting at 5:30 PM on April 21. The annual Member Appreciation Reception that we usually pair with the meeting will be held on a later date to be announced, so stay tuned for the rescheduled reception date! 
You must be a Member in good standing to attend the ACG Annual Meeting and register in advance.
After registering, you will receive a confirmation email containing information about joining the meeting. If you are unsure of your membership status, please reach out to Karina at kwojnar@albanycentergallery.org prior to registration.
We hope you can join us for a recap of what was a record Fiscal Year for ACG and to get a glimpse of what's in store for Fiscal 2021. See you on the 21st. Stay safe!

If you are not able to log in on a computer or use ZOOM you can call in. Once you register you will be given a call in number.