2023 Mohawk-Hudson Regional Invitational
Tags: Gallery News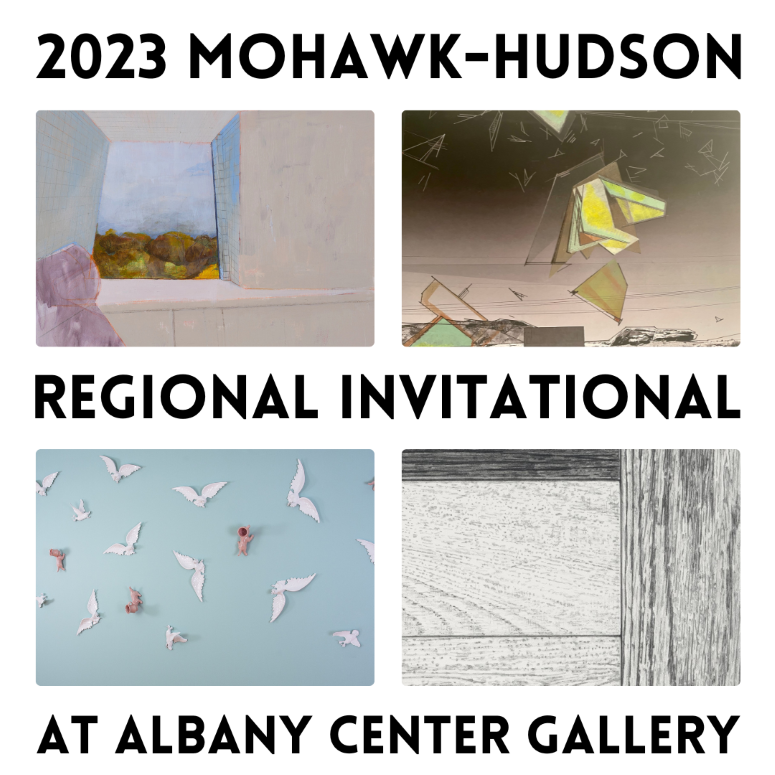 ---
From May 5 to June 2, 2023, Albany Center Gallery (ACG) presents the 2023 Mohawk-Hudson Regional Invitational (MHRI) exhibition, featuring the work of 4 regional artists: Tania Alvarez, Genève Brossard, Melinda McDaniel, and Rita MacDonald. The Artists' Reception was held on Friday, May 5, 2023, from 5 - 8 p.m. The 2023 MHRI is free and open to the public Tuesday through Saturday, Noon to 5 p.m.
Annually, ACG selects artists from the previous year's Artists of the Mohawk-Hudson Region (AMHR), a rotating, juried exhibition. The AMHR highlights the work of some of the best visual artists in the region and is one of the area's most prestigious and popular shows. Out of over 900 submissions from 324 artists, juror Sophie Landres chose 24 artists to exhibit this past fall at The Hyde Collection in Glens Falls, NY. ACG has selected 4 artists from the AMHR to further highlight their work: Tania Alvarez, Genève Brossard, Melinda McDaniel, and Rita MacDonald. Albany Center Gallery is honored to provide these 4 distinguished and accomplished artists with an opportunity to showcase their work in greater depth. 
The Times Union published a review of the 2023 Mohawk-Hudson Regional Invitational. To read it online, click here. Subscription may be required. 
Tania Alvarez earned her MFA at the New York Academy of Art in 2017 and her BFA at Pratt Institute in 2005. She is currently working in Catskill, NY. Alvarez paints primarily based on her memories, so the subjects of her paintings are often the spaces in which she spends large portions of her time. These are mostly intimate interiors, or the places her mind escapes to, which are drawn from her imagination and devoid of other people. Alvarez uses acrylic and oil paint as her primary mediums, and she often scratches into the surface with a variety of materials, fading it in and scrubbing it out; in an attempt to mimic memory, scarring, and mending. All of her paintings are self-portraits, but rather than directly painting an image of herself, she is tracing her life with every mark, memory, or object she leaves behind on her canvas. Alvarez is able to tell her story through her artwork, which embodies and preserves her experiences.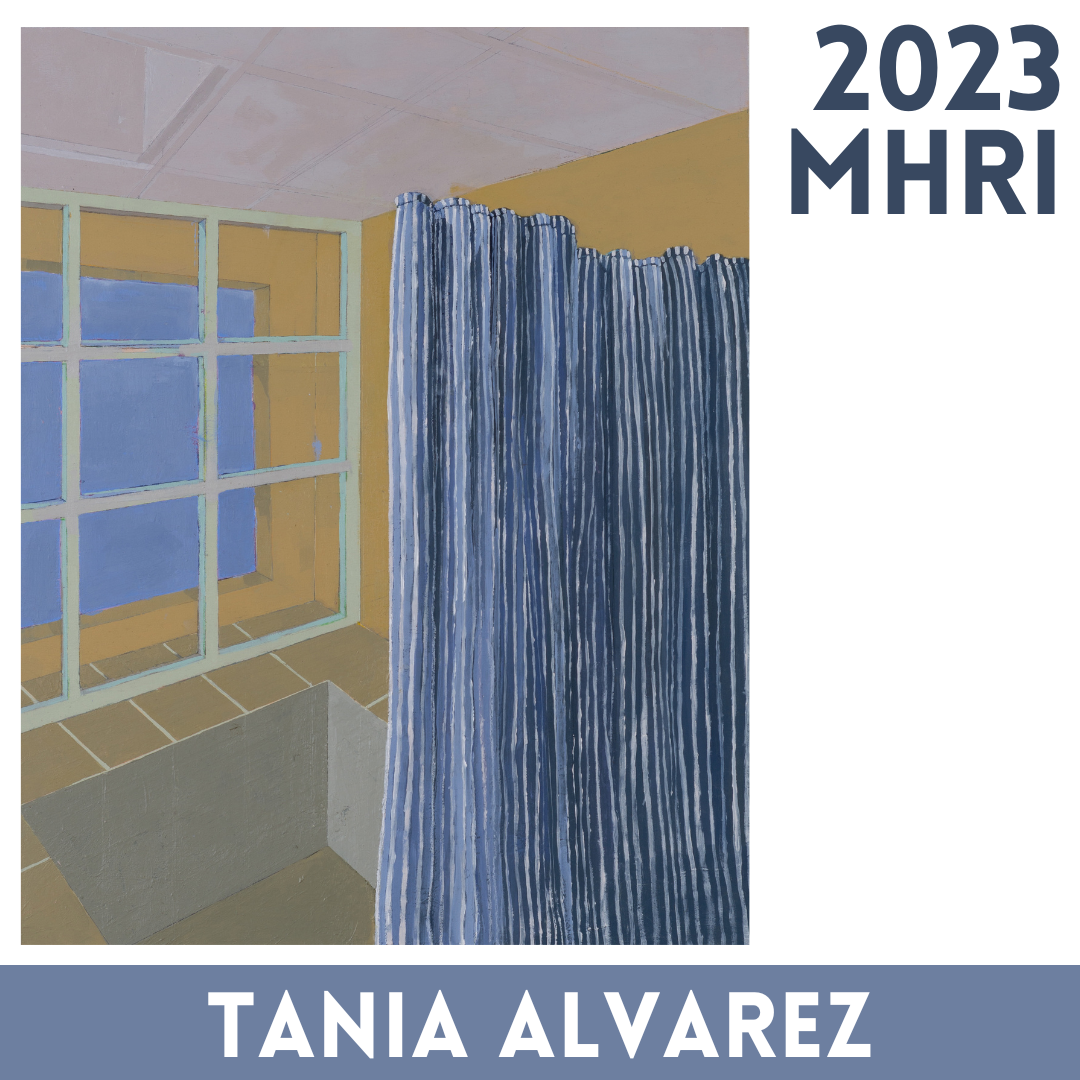 Genève Brossard received her practice-led PhD in Art from Goldsmiths, University of London in 2016. She has also received an MFA in Art Education from Brooklyn College, an MFA in Sculpture/New Forms from Pratt Institute, and a BFA in Fine Art from Mount Holyoke College. She is based in NYC and the Berkshires and has been a high school art teacher for 25 years. Her practice is centered around taking photographs and creating mixed-medium work that reveals a productive instability through the reorganization and abstraction of the image. As Brossard manipulates the image through rearranging, drawing, folding, stenciling, taping, and other processes, she questions finality while making space for uncertainty and the potential to vary. Her creative process is primarily a search for a paradox: one that illuminates spaces, bodies, objects, and understandings as both situated and irresolute; whole and also becoming. Her interest is in creating new landscapes, relationships, and chronologies.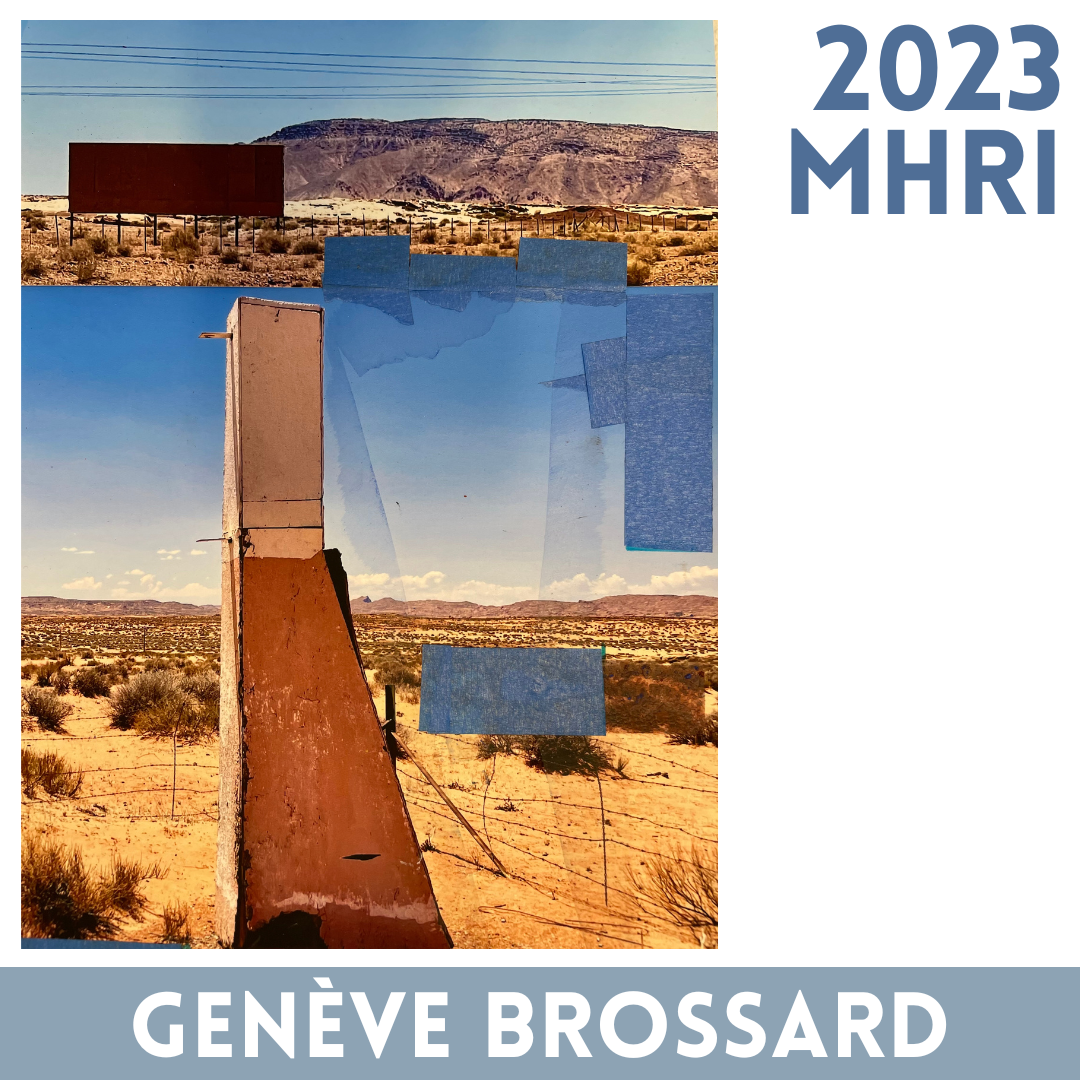 Rita MacDonald holds a BFA from Rhode Island School of Design and an MFA from School of Visual Arts. She is currently living and working in Olivebridge, NY. She is a visual artist whose work explores the experience of perception and its relationship to place through two related bodies of work. In one, she creates detailed pencil drawings on paper inspired by objects and patterns found in and around her home. In the other, she uses everyday building materials to make images of domestic decorative patterns into site-responsive and large-scale architectural interventions. With both, MacDonald uses the images to describe and map space to explore the line between the grandness of scale of public architecture and the intimacy of personal domestic space. At the same time, she creates a friction between the work being seen as formal abstraction and as recognizable observations of ordinary subjects.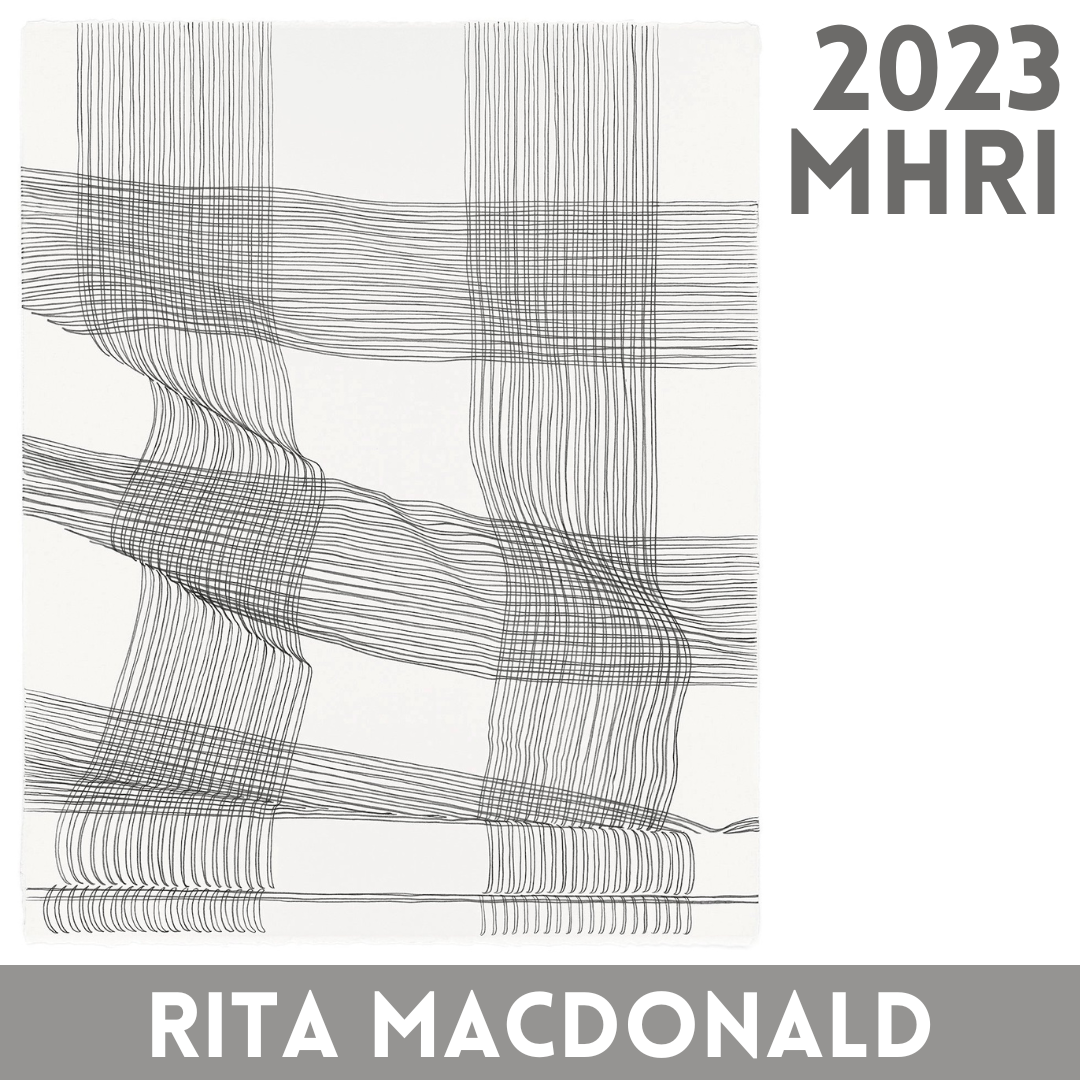 Melinda McDaniel received a BFA in Studio Art from Florida State University and an MFA in Photography from The Ohio State University. She resides in Albany, New York, and is an associate professor in the Visual and Performing Arts Department at Russell Sage College. McDaniel grew up in Florida, inspired by the visual overload of Walt Disney World and the endless light at the center of the state's predictable weather. The ceramic figurines featured in her work, presenting sweet on the surface, are both recognizable and strange; they are one thing and another at the same time. They playfully act out themes associated with endless news cycles, politics gone wild, recognition of privilege, and understanding new definitions of identity. The figurines are displayed directly on the wall, attached to decorative panels, or rested on custom tables. Their arrangement describes both duality and contradiction, a menacing innocence, and absurdity at its best.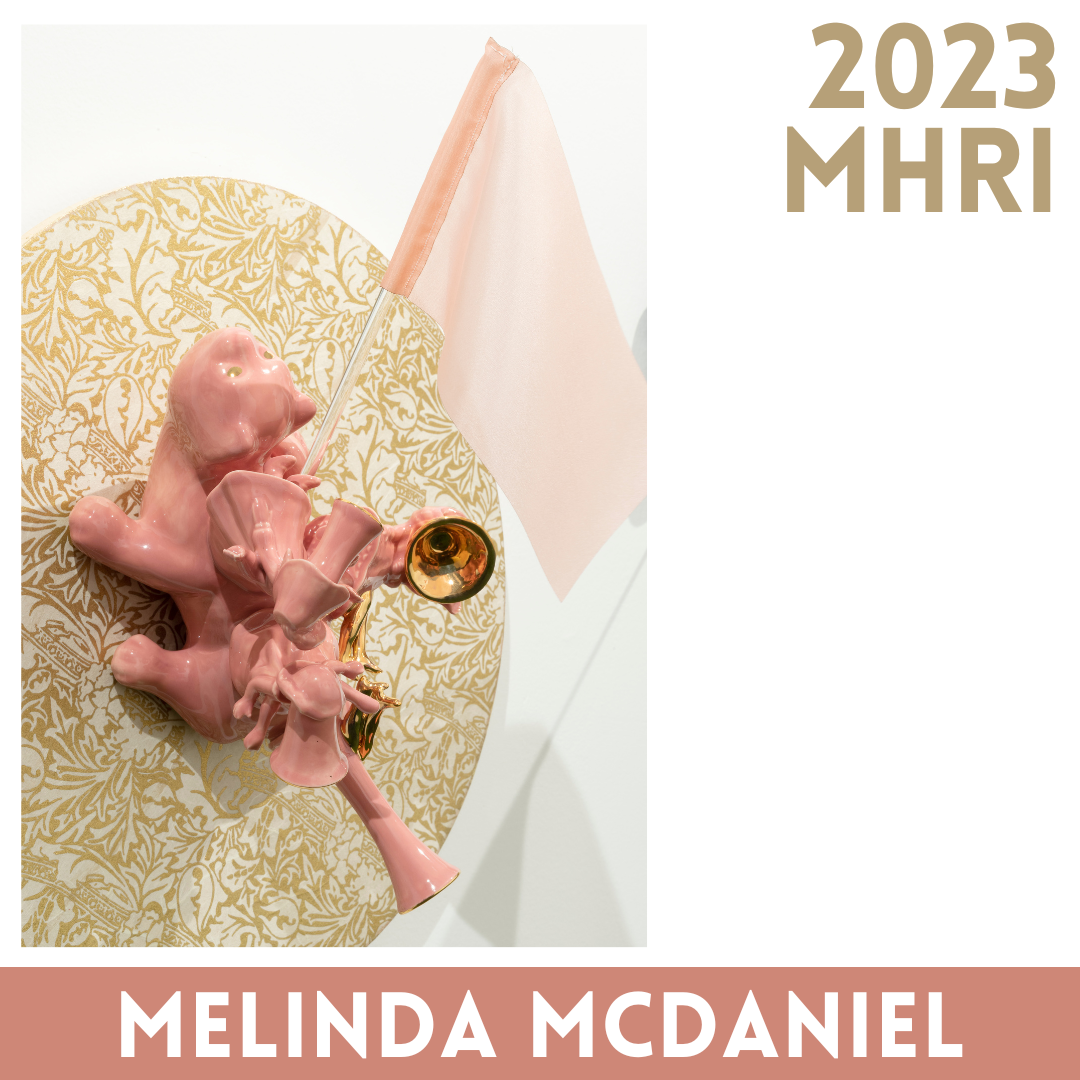 The 2023 Mohawk-Hudson Regional Invitational is on display at Albany Center Gallery from Friday, May 5 to Friday, June 2 and features the work of four regional artists: Tania Alvarez, Genève Brossard, Melinda McDaniel, and Rita MacDonald. This exhibition is made possible by ACG Premier Sponsors Howard Hanna & David Phaff; and Kevin Dubner, Partner & Wealth Manager at Steward Partners Global Advisory, LLC. Additional support is provided by William Harris, Esq & Holly Katz and the New York Council on the Arts with the support of the Office of the Governor and New York State Legislature.
Convenient parking for ACG events is available at the nearby Riverfront Garage or on-street. For additional parking information, please visit: www.parkalbany.com/find-parking
Albany Center Gallery is a 501(c)(3) Organization for your tax purposes, contributions are tax-deductible within the limits of the law. We are always accepting donations, please consider contributing so we can continue energizing the community through art and empowering artists. We are better together, donate here.