2021 Mohawk Hudson Regional Invitational
Tags: Gallery News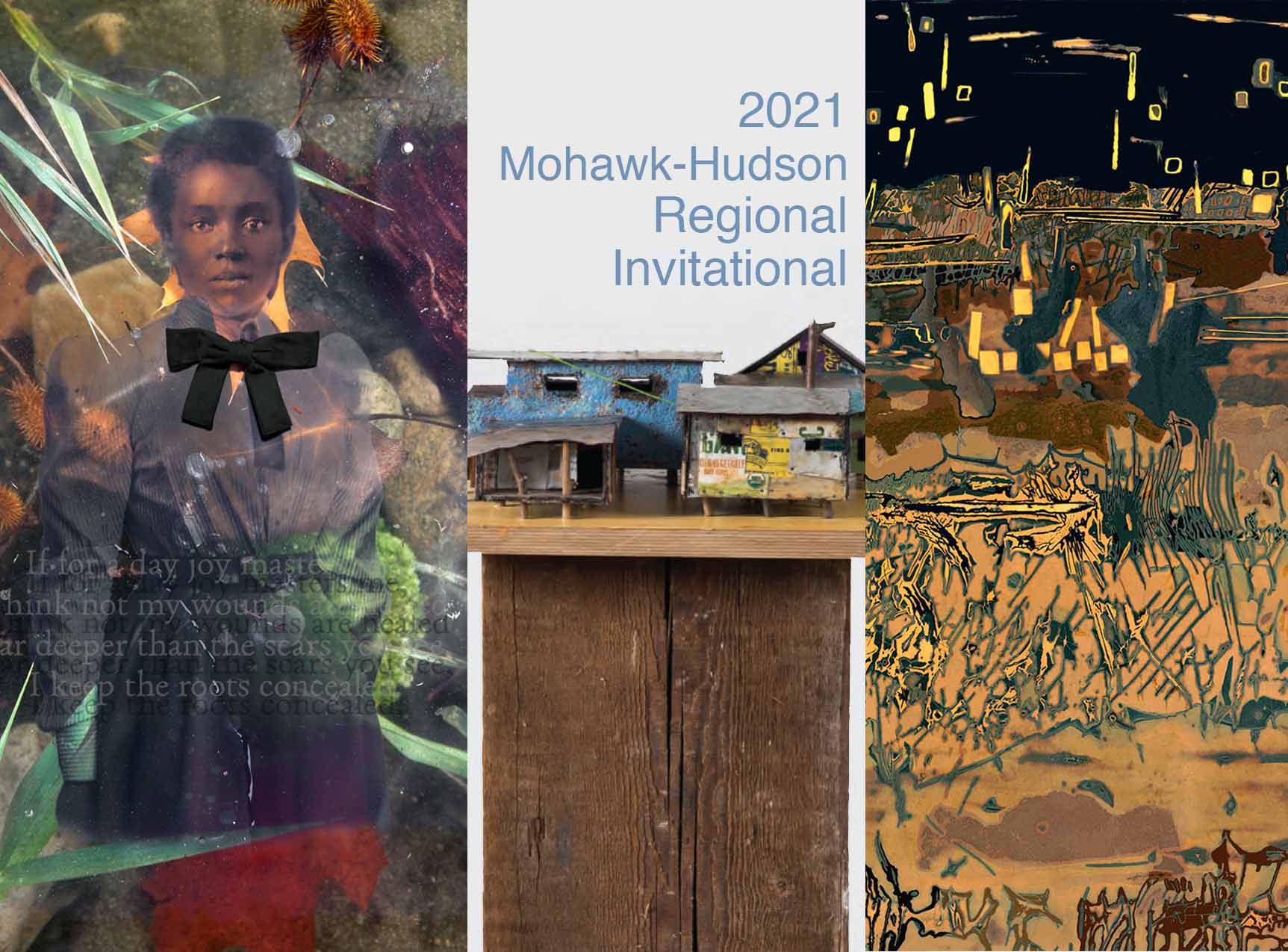 ---
From May 4 to June 11, 2021, Albany Center Gallery (ACG) presented the 2021 Mohawk-Hudson Regional Invitational exhibition (MHRI), featuring the work of regional artists Daesha Devón Harris, Kingsley Parker, and Peggy Reeves. There was no Artist Reception for this exhibition, however the 2021 MHRI was free and open to the public Tuesday – Saturday, Noon – 5 p.m. Mask-wearing and social distancing were required. Please visit albanycentergallery.org for full details on COVID19 safety restrictions. 
Each year, ACG selects artists from the previous year's Artists of the Mohawk-Hudson Region exhibit, a rotating, juried exhibition that highlights the work of some of the best visual artists in the region and is always one of the area's most prestigious and popular shows. Of the 73 artists chosen by juror Susan Cross for the Mohawk-Hudson Regional show at the Albany Institute of History & Art, ACG selected Daesha Devón Harris, Kingsley Parker, and Peggy Reeves for the Invitational. The gallery was honored to provide those three accomplished and distinguished artists with an opportunity to showcase their work in greater depth. 
Daesha Devón Harris's Just Beyond the River series reflects the artist's personal interest in exploring the African American experience through the course of American history to the present, especially in regard to the ongoing pursuit of the American Dream and realization of full citizenship. This series incorporates a combination of historical imagery, text, and found objects to convey stories and messages of Negro Folklore, Slave Narratives, and Harlem Renaissance poetry. Although visually suggesting a far-removed past, the juxtaposition of text with Harris's imagery serves as a powerful reminder of America's enduring colonial and systemically racist legacy.
Artist Kingsley Parker addresses current issues pertaining to the environment, through mixed-media installations, two-dimensional wall pieces and hybrid works. Parker uses vegetation as a metaphor for how the Earth would change in the absence of human activity, inspired conceptually by the book The World Without us. Other works confront issues with our forests and oceans, and how humans have affected those delicate ecosystems. However, there is a distinct sense of humor throughout Parker's work often seen in playful compositions and creative uses of various mediums including found objects and materials typically discarded.
The chemigrams of Peggy Reeves, hybrids of chemistry-based photography and painting, inherently involve a process of gradual deterioration that leaves behind visual remnants of this creative history. Subsequent digital editing finalizes these landscapes, creating what Reeves considers "a metaphor for natural and man-made forces on the environment." This body of work concerns itself with the physical and geographic challenges faced by refugees attempting to cross the United States' southern border. In lieu of human figures, Reeves places her emphasis on the obstacles and barriers presented by the land and nature which inhibits these migrants' safe crossing.
The 2021 Mohawk-Hudson Regional Invitational, on display at Albany Center Gallery from Tuesday, May 4 to Friday, June 11, was made possible by ACG Premier Sponsors Howard Hanna & David Phaff, with additional support from Annette Nanes and the New York State Council on the Arts with the support of Governor Andrew M. Cuomo and the New York State Legislature. 
About the Albany Institute of History & Art 2020 Exhibition by Artists of the Mohawk-Hudson Region: https://www.albanyinstitute.org/id-2020-exhibition-by-artists-of-the-mohawk-hudson-region.html.